I didn't have the energy to go to the grocery store today, but luckily I had just enough ingredients to make a small batch of Chocolate Espresso Cookies from the current issue of Every Day Food. Along with loads of chocolate, the recipe has a full tablespoon of espresso powder -- and you can really taste it. These are excellent! I personally would not leave out the espresso even though the intro to the recipe tells you it's okay. Use the full amount (and hide them from the kids).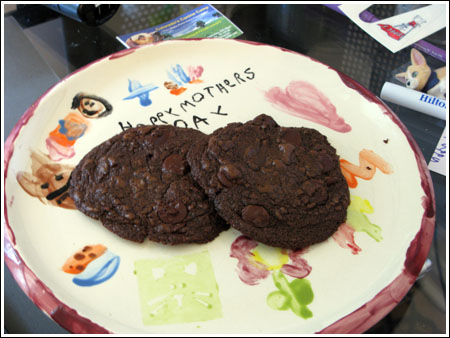 By the way, I mentioned earlier that I thought I was the only person who liked cookies set and cooled better than hot out of the oven. Well, it was nice to read a few comments from people who agreed. And this, like so many others, is a cookie that tastes even better after it's completely set.
For the chocolate, I used Ghirardelli 58%. RECIPE HERE
Using melted chocolate chips instead of melted chocolate may give you slightly thicker cookies, but melted chocolate usually makes cookies a little softer and with a slightly more pleasing texture.  It depends upon the recipe.