My favorite flourless chocolate cookies all seem to rely on nuts or melted chocolate. There's nothing wrong with that, but I wanted to share a cocoa powder version as well. The cookies are made with egg whites, confectioners' sugar, Dutch process cocoa powder, a little salt and good quality chocolate chips. A bonus to the recipe is that it doesn't require an electric mixer! Just grab a bowl and a whisk.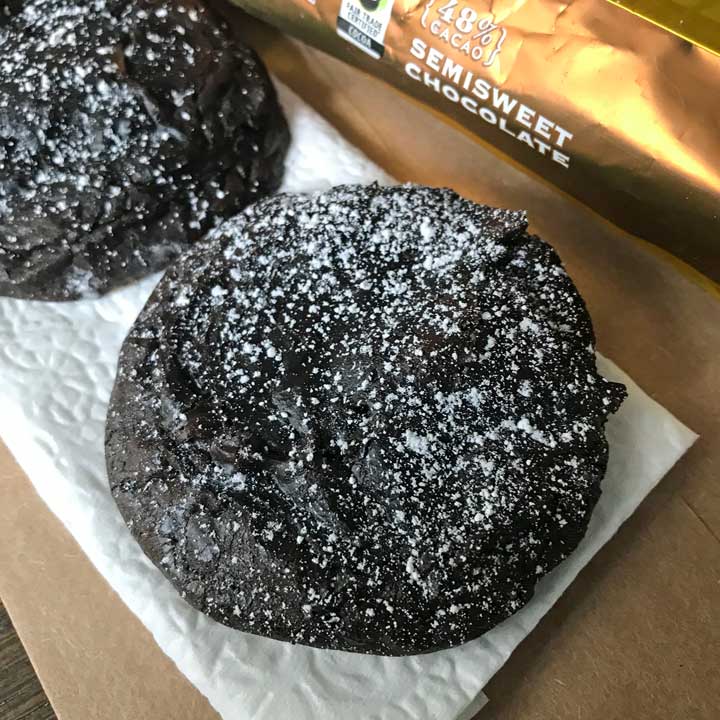 Dutch Process Cocoa Powder
Flourless Chocolate Cookies are only as good as the cocoa powder you use, so break out the best! I recently purchased some Double Dutch Dark Cocoa from King Arthur and it worked perfectly. I usually prefer natural style cocoa rather than Dutch, but sometimes Dutch process is a better choice. Dutch process cocoa has more fat than natural cocoa powder, and in this case that's probably helpful because there's no added fat in the recipe. The fat in the cocoa powder gives the cookies a better mouthfeel.
Flourless Chocolate Cookies with Chips
Good cocoa powder is important, but so are good chocolate chips. I'm on a Guittard kick right now (more on that in a later post) so I used their Guittard Super Cookie Chips which are 48% chocolate and stay soft even when the cookie reaches room temperature. I ran out of my Black Onyx chips and have found these to be a decent substitute.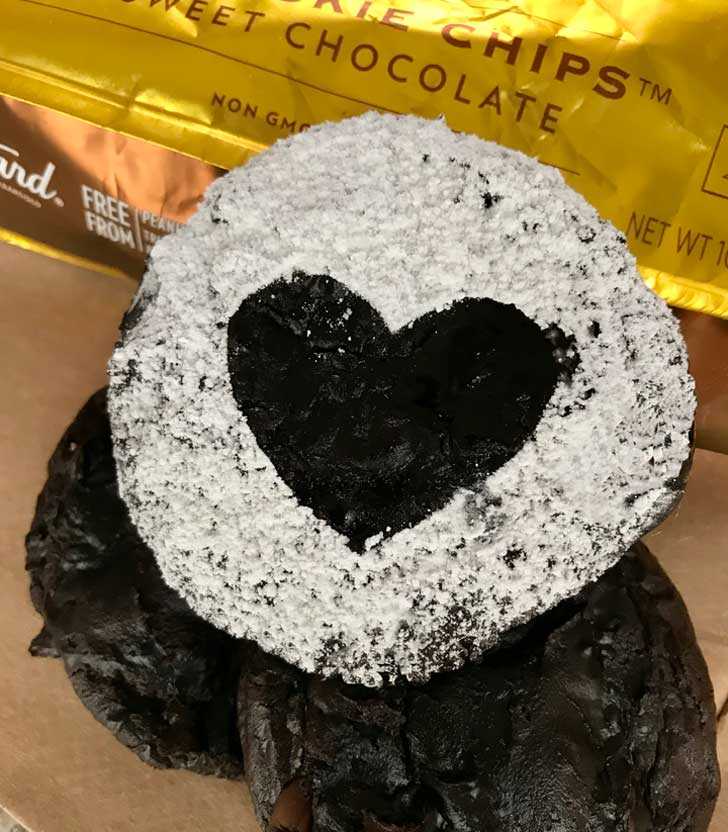 A Dusting of Sugar
One of the best things about these cookies is the level of sweetness. They're definitely not too sweet and are pretty much a full on blast of chocolate. That said, I felt like they needed to be prettier so I did a very thin dusting of confectioners' sugar. Or at least that's what I settled on after trying to do a thicker dust with a heart in the middle! I felt like my heart version had too much sugar, but if you like the idea of putting a shape in the middle just cut a shape out of a little piece of parchment (or you can use a cupcake wrapper), dampen it a bit and lay it on the cookie. Sift the flour over, then peel it off.
Recipe
Flourless Chocolate Cookies
Super fudgy flourless chocolate cookies made with cocoa powder.
Ingredients 
3

large

egg whites

(90 grams)

1 ½

teaspoons

vanilla extract

2 cups

plus 2 tablespoons

confectioners' sugar

(250 grams)

1

cup

Dutch process cocoa powder

(85 grams)

⅛

teaspoon

kosher salt

1

cup

dark or semisweet chocolate chips
Instructions 
Line two baking sheets with parchment paper and spray the parchment with cooking spray. Normally you wouldn't use cooking spray on parchment, but with these types of cookies it helps. They are sticky!

In a large mixing bowl, whisk together egg whites, vanilla, sugar, cocoa powder and salt. The mixture should be very thick and may cling to the whisk. Do your best to get it all mixed and scraper off the whisk.

With a heavy duty scraper or big spoon, stir in the chips.

Using a medium size cookie scoop, scoop about 16 portions (8 on each sheet). Allow dough to sit for 20 minutes while you preheat the oven. Preheat to 350 degrees F.

Bake cookies one sheet at a time for 10 minutes. Let cool completely on baking sheets, then peel off and let cool. Top with flaky sea salt if desired.