Unless you enjoy waking up very early and baking, Make Ahead Cinnamon Rolls are the best kind. You start the dough the night before, let it rise slowly in the refrigerator overnight, then assemble the next morning.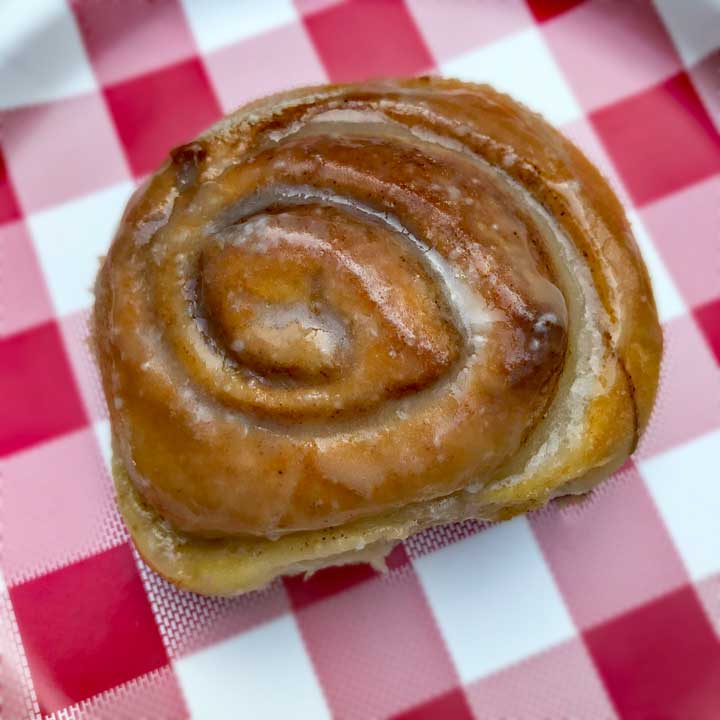 The original version of this recipe comes from Domino Sugar, and at one point was on the side of their brown sugar box.  Their recipe is not for Make Ahead Cinnamon Rolls, but rather traditional, which means you'll have to tack on an hour or so rise time. The changes I've made are chilling the dough overnight for a slow rise, doubling the brown sugar and eliminating the pecans and raisins.  I love raisins, but my family politely picks them out of things, so I'm saving them the trouble. Another change is adding a little butter to the icing. It gives it a little more richness and body.
Half Batch Make Ahead Cinnamon Rolls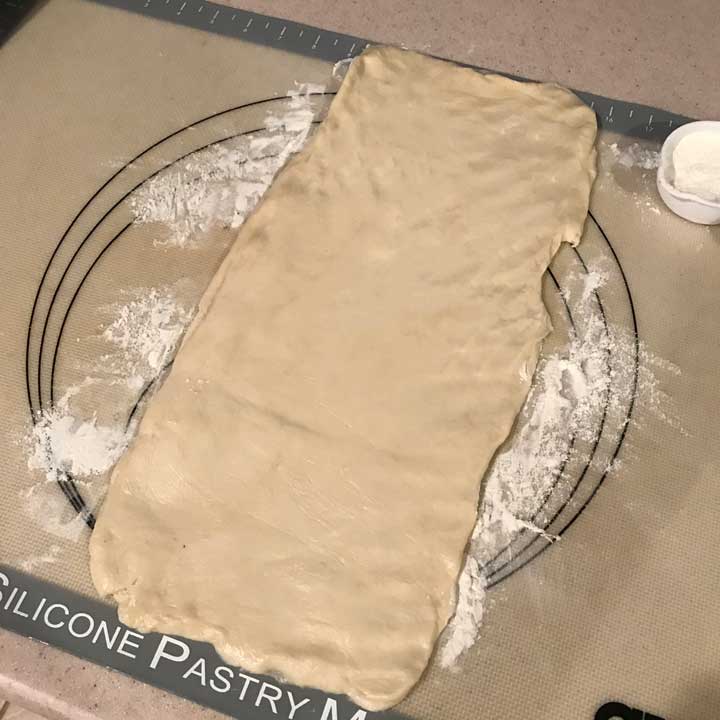 The recipe below makes 12 large rolls, but it also halves well if you don't need so may. If you want to make a half batch, just halve all the ingredients, chill overnight, and make a narrower rectangle of about 6x14. You'll fill, roll, and cut into 6 rolls instead of 12. The cold dough is extremely easy to work with, which is always a plus when it's early in the morning and you haven't had your first cup of coffee yet.
A half batch fits perfectly into a 7x11 inch pan. The dough will rise quite a bit during baking.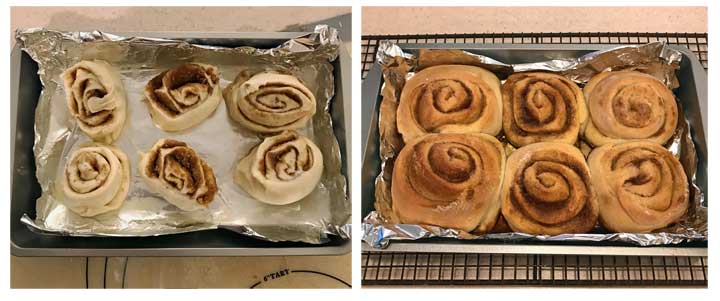 Recipe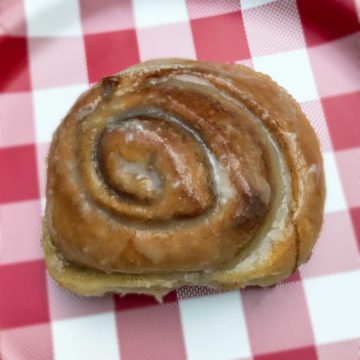 Make Ahead Cinnamon Rolls
Make the dough in the evening, then assemble cinnamon rolls the next day.
Ingredients 
2

large eggs

¾

cup

warm water

1

package active dry yeast

2 ¼ teaspoons

3 ½

cups

sifted all-purpose flour

440 grams

1

teaspoon

salt

2

Tablespoons

– Domino Granulated Sugar

50 grams

1

stick

114 grams unsalted butter, cut into chunks
Filling
¼

cup

butter

56 grams

⅔

cup

brown sugar

140 grams

1

tablespoon

cinnamon

(can use more if you like)
Icing
2

teaspoons

butter

10 grams

¾

cup

confectioners' sugar

80 grams

3

tablespoons

milk
Instructions 
In a medium size bowl, beat the eggs with a fork. Add ¾ cup warm water and yeast, stirring to dissolve yeast. It may not dissolve completely at this point, but that's okay. Refrigerate mixture for 10 minutes.

Meanwhile, in a large mixing bowl, mix the flour, salt and sugar. With a pastry blender or fork or your fingers, blend in butter, until it resembles coarse crumbs.

Make a well in the center and pour in the yeast mixture. Stir to blend. Dough will be loose and a little sticky. Gather dough onto a floured surface and knead until smooth, about 2 minutes. If you prefer, you can do this all in a stand mixer bowl and knead with the dough hook.

Dough should be smooth and elastic, but still very soft. Form dough into a ball and place in lightly greased bowl. Cover bowl and chill for at least 2 hours, or overnight.

When ready to bake, roll dough into a 12x14 inch rectangle. IF you made a half batch of dough, make a rectangle that is 6x14. You can do this on a pastry mat or a well-floured surface. If your dough is oily and stiff from the refrigerator and you are using a pastry mat, you can probably get away without using any flour on the surface.

In a bowl, mix together the brown sugar and cinnamon. Brush the dough with melted butter and sprinkle with the sugar mixture, leaving a 1-inch border. Starting at the short side (12 inch) Roll the dough up to form a jelly roll. With a serrated knife, cut the roll into 1-inch slices.

Place slices on a greased baking sheet and allow to rise in a warm place about 30 minutes. Generously sprinkle with the granulated sugar if desired. Bake in a preheated 350°F oven for 25-30 minutes. Allow rolls to cool slightly on wire racks placed over wax paper.

To make Icing, mix the melted butter confectioners' sugar and milk together until smooth. Drizzle icing over rolls and serve.
Notes
Yield: 1 dozen rolls
Rolls can be wrapped in aluminum foil and individually frozen. To serve, heat in a pre-heated 350°F oven 5 minutes.
Tip from Cookie Madness:
You can freeze the spirals of dough. Just cut the jelly roll into rounds, arrange however many you need for the occasion, then put the remaining dough in the freezer to solidify. When dough spirals are firm, put them in an air-tight freezer bag. The next time you want to make cinnamon rolls, arrange the frozen dough spirals in the pan the night before, let them rise overnight, then wake up and bake.