If you love cinnamon rolls but dread waking up early to make the dough, this one's for you! These make ahead cinnamon rolls are so good that Domino Sugar put the recipe on the back of their box.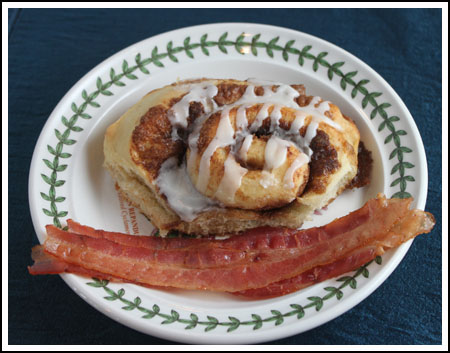 This recipe is fairly convenient, not only because it can be made ahead, but because the dough requires only 2 minutes of kneading. After a quick knead, you just stick the dough in the refrigerator and let it rise overnight. When you wake up, the only thing left is the fun part — filling and shaping the rolls.
Make Ahead Cinnamon Rolls
Dough:
2 large eggs
1 package active dry yeast
3 1/2 cups sifted all-purpose flour
1 teaspoon salt
2 Tablespoons – Domino Granulated Sugar
1/2 cup (4 oz) unsalted butter
Filling:
1/4 cup (2 oz) butter, melted
1/3 cup –Domino Brown Sugar (I used dark)
1 tablespoon ground cinnamon
1/4 cup – raisins
Domino® Granulated Sugar, for sprinkling (optional)
Icing:
2 teaspoons melted butter
3/4 cup – Domino® Confectioners Sugar
2 to 3 Tablespoons – milk
Beat eggs in medium size bowl. Add 3/4 cup warm water and yeast, stirring to dissolve yeast. Refrigerate mixture for 10 minutes – I believe the purpose of refrigerating is to make sure the liquid is not too warm to melt the butter when you add it to the flour/cold butter mixture.
In a large bowl mix the flour, salt and sugar. With a pastry blender or fork, blend in butter, until it resembles coarse crumbs. Make a well in the center and pour in the yeast mixture. Gradually blend the mixtures together; it will be loose and a little sticky. Gather dough onto a floured surface and knead until smooth, about 2 minutes. Form dough into a ball and place in lightly greased bowl and cover with plastic wrap. Chill for at least 2 hours, or overnight. When ready to bake, roll dough into an oblong shape (I made a rectangle of which was about 12 by 14) on a well-floured surface, about 1/4 inch thick.
In a bowl, mix together the brown sugar and cinnamon. Brush the dough with melted butter and sprinkle with the sugar mixture, leaving a 1-inch border. Roll the dough up to form a jelly roll. With a serrated knife, cut the roll into 1-inch slices. Place on a greased baking sheet and allow to rise in a warm place about 30 minutes. Generously sprinkle with the granulated sugar (I skipped this step). Bake in a preheated 350°F oven for 25-30 minutes. Allow rolls to cool slightly on wire racks placed over wax paper.
To make Icing, mix the melted butter confectioners' sugar and milk together until smooth. Drizzle icing over rolls and serve.
Yield: 1 dozen rolls
Tip from Domino:
Rolls can be wrapped in aluminum foil and individually frozen. To serve, heat in a pre-heated 350°F oven 5 minutes.
Tip from Cookie Madness:
You can freeze the spirals of dough. Just cut the jelly roll into rounds, arrange however many you need for the occasion, then put the remaining dough in the freezer to solidify. When dough spirals are firm, put them in an air-tight freezer bag. The next time you want to make cinnamon rolls, arrange the frozen dough spirals in the pan the night before, let them rise overnight, then wake up and bake.