Whole Wheat Caramel Rolls is a recipe from the 1957 Pillsbury Bake-Off. They're a little different in that they don't call for cinnamon, but rather a mixture of brown sugar and pecans, which go well with the light wheat flavor of the bread.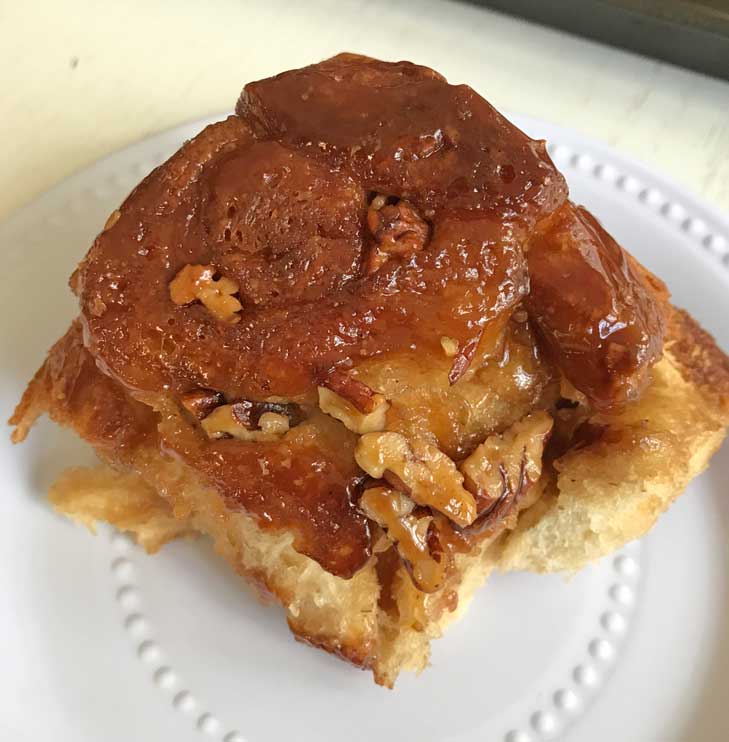 With this recipe you don't need to worry about icing, because the rolls are flipped and served upside down.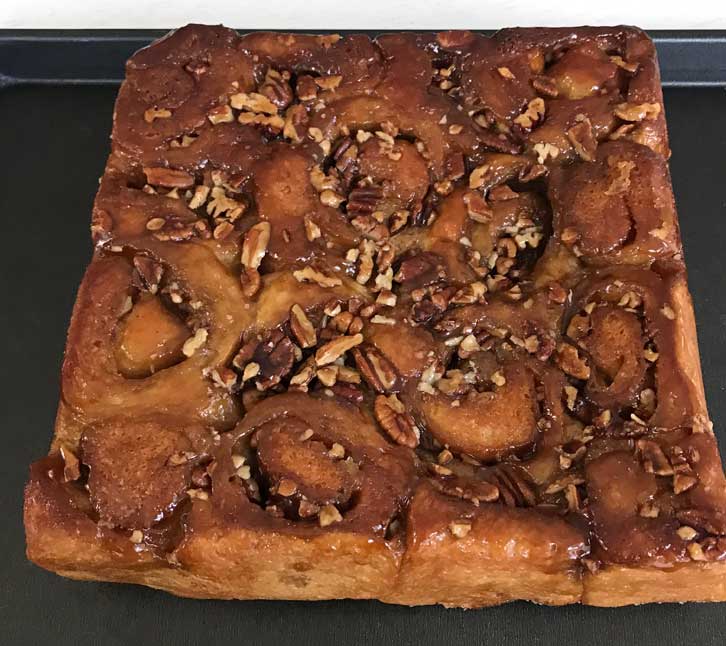 The original recipe was kneaded by hand, but I always use a stand mixer. My version also calls for bread flour ( but you can always use all-purpose), some extra butter for the pan, a little vanilla and white whole wheat instead of plain whole wheat. If you have some vital wheat gluten around, you can throw in a tablespoon of that for even lighter rolls.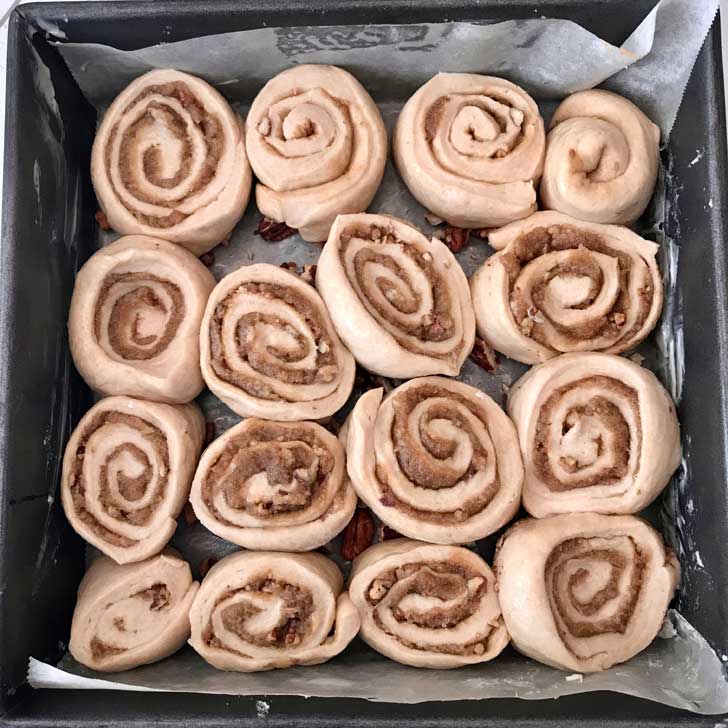 Whole Wheat Caramel Rolls Ingredient Notes
Flour -- I use bread flour and white whole wheat, 140 grams per cup. If you love really dark wheat, you might want to try using organic whole wheat.
Sugar -- Granulated sugar for the dough and brown sugar for the filling. I use half light and half dark. If I had to choose one brown sugar for these it would be dark.
Butter -- Salted butter or unsalted plus a little extra salt is fine. Butter is a highlight in these so if you have European style or a really good Vermont butter, it's worth using.
Vanilla -- This gets mixed in with the salted butter. The original recipe didn't have it, so you can leave it out if you feel you won't miss it.
Milk -- I only use whole milk for baking.
Yeast -- The batch in the photo was made with Rapid Rise yeast. The dough took one hour for the first rise and ½ hour for the second rise.
Nuts -- I use pecans, but walnuts would also be good. The recipe calls for ½ cup, but you may want to use slightly more. I recommend scattering some on the bottom of the pan so when you flip the rolls you'll have more nuts. That is, if you like nuts!
Shortening -- I haven't tested with oil, but shortening helps keep the rolls light. Butter would probably be good too.
Parchment paper -- This is probably not necessary, but I like using it anyway.
Recipe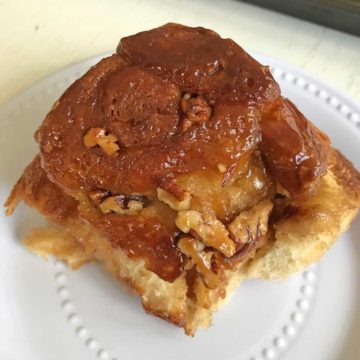 Whole Wheat Caramel Rolls
Adapted form a 1957 Bake-Off recipe, these are kind of a sticky bun. You can add cinnamon if you like, or leave it out.
Ingredients 
1

cup

all-purpose flour or bread flour

(140 grams)

1

cup

whole wheat flour or white whole wheat flour

(140 grams)

3

tablespoons

sugar

(40 grams)

1

teaspoon

salt

1

package active dry or Rapid Rise yeast

(2 ¼ teaspoons)

¾

cup

whole milk

whole

¼

cup

water

2

tablespoons

shortening or vegetable oil

¼ to ¾

cup

optional additional bread flour

(100 grams), but you shouldn't need it all
Filling
1

cup

firmly packed brown sugar

(200 grams)

⅓

cup

butter, softened plus extra for pan

(80 grams)

⅛

teaspoon

salt, only if using unsalted butter

¼

teaspoon

vanilla extract

optional

½

cup

toasted chopped nuts, plus more for pan
Instructions 
In the bowl of a stand mixer, combine 1 cup (140 grams) of the bread flour, whole wheat flour, sugar, salt and yeast; blend well.

In small saucepan or microwave-safe cup, heat milk and water for about a minute or until very warm (120 degrees F). Add warm milk mixture along with shortening or oil to flour mixture. Stir by hand until dry ingredients are moistened.

Stir in an additional ¼ cup flour to form a stiff dough. You most likely will not need the remaining flour unless you are kneading by hand or need it for the mat.

Set the bowl on the stand mixer and attach the dough hook. Begin kneading with the dough hook. At this point dough should leave the sides of the bowl and maybe cling just to the bottom. Knead for about 5 to 8 minutes or until smooth and elastic. Transfer dough to greased bowl, then cover and let rise for 1 hour or until doubled in bulk. If you used regular yeast it might take 1 ½ hours. If you used Rapid Rise it might take 45 minutes to 1 hour.

While the dough is rising, line a 9 inch square pan with parchment paper and rub generously with butter. If you want, sprinkle some chopped pecans across the bottom of the pan.

In small bowl, mash the softened butter and stir in the vanilla. If you are using unsalted butter, add a pinch or two of salt. Stir in the brown sugar.

Punch down dough and remove all air bubbles. On lightly floured surface, roll into16×12 inch rectangle.

Spread the brown sugar mixture evenly over dough then sprinkle with nuts. Roll into a 16 inch spiral/log pressing edges to seal. Cut into 16 slices and place cut side up in greased pan. Cover and let rise for 45 to 60 minutes (30 if using Rapid Rise).

Bake in a preheated 350 degree oven for 30-35 minutes. Cool two minutes, then turn onto a sheet of foil so that bottom side is up.