This year I made a lot of lemon meringue pies but never got around to doing a rundown on which ones I liked best. Well, here's that rundown. I'll leave it to you to decide which to make, but for those of you new to lemon meringue pie baking, I highly recommend the Sunset recipe.  If you like the idea of lemon pie but not necessarily the meringue,  I've included some non-meringue pies such as Dorie Greenspan's Lemon Tart (okay, so it's not really a pie) and an old famous Bake-Off recipe called Lemon Supreme Pie which lives up to its title.
Here's the round-up.
Sunset's Fool-Proof Lemon Meringue Pie -- Tart, sliced perfectly, not much butter, easy to prepare. This is a solid choice and one I'd recommend to anyone who doesn't yet have a favorite Lemon Meringue Pie or who hasn't made it yet.  Here's a photo.  It's not in the table below.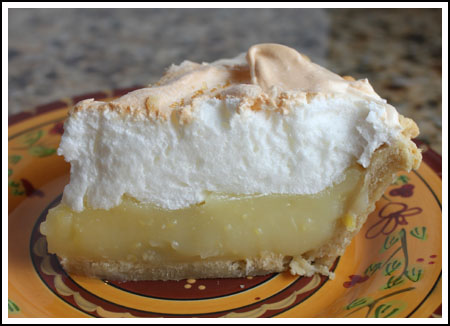 CI Dessert Bible Meringue Pie -- Sue and I both made this. Recipe is from The Dessert Bible.  Filling was very good, but the meringue was kind of a hassle and it still wept.
Cheryl's Lemon Meringue Pie -- From a reader named Cheryl.  Very tart pie!  Less butter, kind of light.  Excellent.
Betty Crocker Lemon Meringue Pie -- This was another good pie and the meringue that goes with it is a tried and true standard. That post links to an article with lots of lemon meringue pie making tips.
Sour Cream Lemon Meringue Pie --This is a Paula Deen recipe. It has 4 tablespoons of butter and a cup of sour cream to enrich the lemon filling with extra creaminess yet keep it tart at the same time. This pie was excellent and might surprise people who are used to typical Lemon Meringue Pie.
Lemon Supreme Pie -- If you really want to blow people away, make this pie. It's a clone of a recipe from Baker's Square and it's terrific.
Creamy Lemon Tart --Everyone seems to like these cookies even though they sound weird. In the photo below, I didn't chop the Cheerios very much so they have an odd appearance as well.