Self-Rising Flour Red Velvet Cake is a good way to use self-rising flour. If you have all-purpose flour, you may want to try a different red velvet recipe, but if you are just trying to use some self rising flour and want a great tasting cake, this one's perfect. It's also super easy to make because you just stir the batter together and pour it in the pan.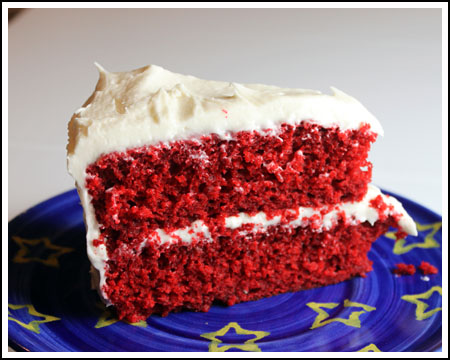 The recipe is based on a different recipe that calls for 1 1 /2 cups of oil. Since this is a half cake, there normally would be 3/4 cup of oil. Over the years I've tested the cake with 1/2 cup of oil and 3/4 cup oil. Both versions are fine, the higher oil cake being a little lighter in texture. But both versions taste good and both are moist, so I usually just go with the 1/2 cup oil.
Buying and Using Self Rising Flour
So far I've tested this recipe with both Gold Medal and Pillsbury Self Rising Flour.  White Lily will work too, but if you use White Lily make sure to use the weight (165 grams) rather than just volume because White Lily is a little lighter in weight per cup. Self rising flour can be clumpy, so make sure to sift it or whisk it before using.  If you are measuring by volume, make sure to measure and THEN sift.  If measuring by weight it doesn't matter. With the self-rising flour, you will get a little sinkage in the middle. This is why I recommend this cake as "a way to use self-rising flour" and not as the go-to red velvet cake. Want a cake that sinks less? Don't need to use self-rising flour? Here's another good one.
Notice there's no salt in the recipe?  That's because self-rising flour already has salt in it.  If for some reason you don't think the cake is salty enough you can add a pinch.
Red Food Coloring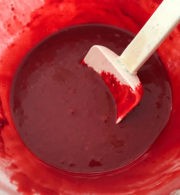 The red food coloring I use most often is McCormick because it's easy to find, but I also love Americolor Super Red (#ad)If you use Americolor Super Red, you only need 2 teaspoons and not 2 full tablespoon. The redness of the cake might also be affected by what type of oil you use. I like baking with grapeseed oil, but it has a bit of a green cast to it which doesn't seem to affect the color much.
9 Inch Cake Pan or Two 6 Inch Cake Pans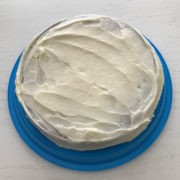 For this recipe you'll need a 9 inch cake pan (#ad) that is at least 2 inches high. The first time I made this I realized my 9 inch pan wasn't deep enough and had to use a springform. Since the first time I made this cake I've acquired a lot of pans including 6 inch cake pans. This cake works well with those, too.
Sweetness of Frosting
The frosting for this cake is pretty sweet when made with the full 2 cups of sugar, so feel free to use less if you prefer a frosting with less sweetness and more cream cheese flavor. With 2 cups, the frosting tastes very sweet at first, then kind of mellows out after a few hours. So it might taste too sweet in the bowl, but once it's on the cake it's fine. Also, with 2 cups of sugar the icing holds better at room temperature, whereas if you cut it down to 1 or 1 1/2 cups you'll have a higher ratio of butter & cheese and will need to refrigerate. I store the cake in the refrigerator anyway, but sometimes I'll cut a slice and leave it out for a while.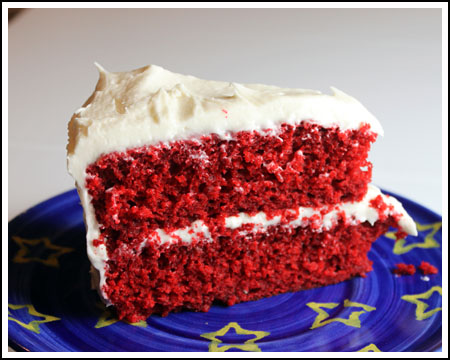 Self-Rising Flour Red Velvet Half-Cake
Recipe for a Red Velvet half-cake made with self-rising flour.
Ingredients 
1 1/4

cups

self-rising flour

165 grams

1

tablespoon

natural cocoa powder

not dark cocoa powder

1/2

teaspoon

baking soda

1/2

cup

buttermilk

1/2

teaspoon

vinegar

3/4

teaspoon

vanilla extract

2

tablespoons

red food coloring

1

large egg

1/2

cup

vegetable oil

3/4

cups

granulated sugar

144 grams
Frosting:
4

oz

cream cheese

softened, 114 grams

2

oz

butter

softened, 56 grams

2

cups

powdered sugar

(You can use less if you want)

1/2

teaspoon

vanilla
Instructions 
Preheat oven to 350 degrees F. Grease and flour a 9x2 inch cake pan.

Mix the flour, cocoa and baking soda together in a small bowl and set aside.

Mix the buttermilk, vinegar, vanilla and food coloring together in a liquid measuring cup and set aside.

In a mixing bowl, whisk together the egg, oil and sugar. Using a heavy duty scraper or large spoon, add the flour mixture and milk mixture to the egg mixture alternately in three parts, stirring until flour is mixed in.

Pour batter into the prepared pan and bake for 25 to 30 minutes or until a pick inserted in the cake comes out clean. Let cool in pan on a rack for 10 minutes, then carefully remove from pan. If using a springform, you can remove the sides and invert.

Let cool completely.

To make frosting, mix together the cream cheese and butter. Gradually add the sugar. Using an electric mixer, beat until creamy. Beat in the vanilla.

To make a layer cake, cut the cake round in half. Ice one half. Stack second half on top and ice the whole half-cake.
Notes
If you don't have a 9x2 inch cake pan, you can use a springform pan.  If using a springform, line the outside of the pan with foil to prevent any leakage.