This recipe for self-rising flour banana bread might come in handy when you're looking to use up some self-rising flour. Perhaps you bought some for biscuit-making and have over-ripe bananas?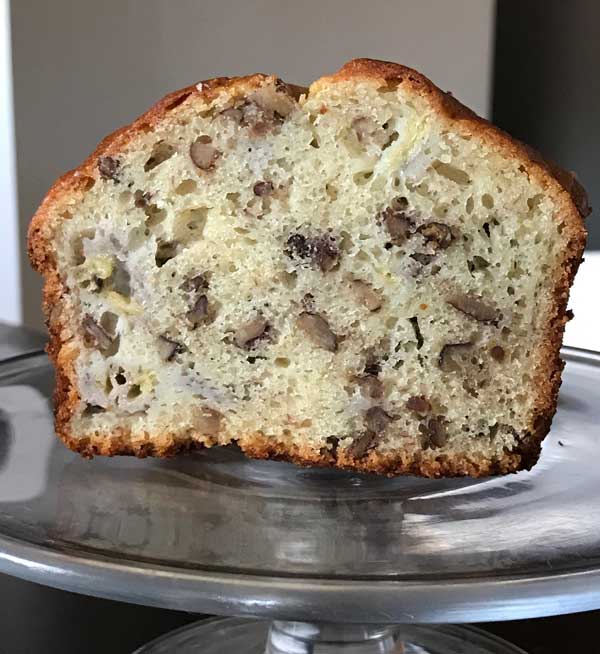 The original version is from Martha White, but I actually used White Lily self-rising. Any brand will do. This recipe gives you a nicely shaped loaf with a lovely crack down the center. Because self-rising flour is somewhat acidic from the baking powder, the non-crumbly banana bread bakes up paler than usual. It has a golden brown crust and if you follow the technique carefully without over-mashing the bananas or using too much flour, you should get a lovely domed top.

Self-Rising Flour Banana Bread
Ingredients
1 1/2 cups self-rising flour (190 grams)
2/3 cup sugar (132 grams)
2 large eggs
3 tablespoons buttermilk
1 teaspoon vanilla extract
1/2 cup vegetable oil
2 large bananas (8 oz)
3/4 cup chopped roasted pecans
Instructions
Preheat the oven to 350F. Grease bottom only of an 8 1/2 by 4 1/2 inch loaf pan. If desired, line vertically with a strip of parchment paper to make a sling.
In a large mixing bowl, mix together the self rising flour and the sugar. Add the eggs, buttermilk and vanilla and stir until well blended, then stir in the oil.
Lastly, mash the bananas and stir them into the batter along with the nuts.
Spread batter evenly in the baking pan and bake for 60-65 minutes.
Let cool in the pans for a few minutes, then carefully loosen sides by sliding a knife between the loaf and the pan.
Let cool until bread feels sturdy enough to lift from pan, then remove from pan and set on a rack to cool completely.
Notes
Adapted from The Culinary Institute of America's "Breakfast and Brunches".