This recipe for self-rising flour banana bread might come in handy when you're looking for ways to use self-rising flour. Perhaps you bought some for biscuit-making and have over-ripe bananas? That was my situation when I first tried the recipe. Now I buy self-rising flour just to make this banana bread. This is a really good basic and easy banana bread recipe. It gives you a nicely shaped loaf with a domed top and a lovely crack down the center.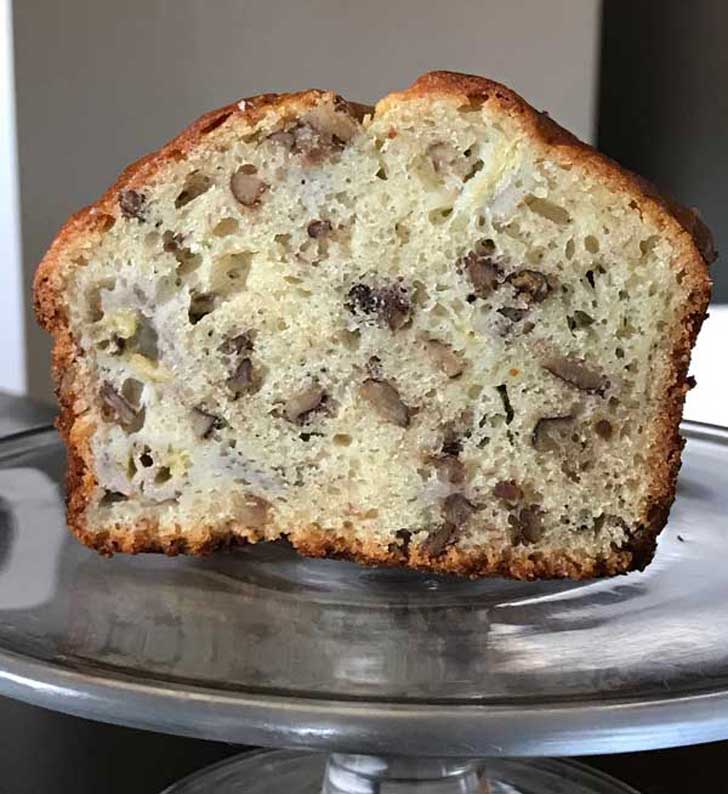 Self-Rising Flour Brands
The original banana bread recipe with self rising flour is from Martha White brand flour, but I actually used White Lily self-rising flour, which you can buy on-line. Any brand will do. This recipe gives you a nicely shaped loaf with a lovely crack down the center. Because self-rising flour is somewhat acidic from the baking powder, the non-crumbly banana bread bakes up paler than usual. It has a golden brown crust, and if you follow the technique carefully without over-mashing the bananas or using too much flour, you should get a domed or slightly rounded loaf. It should definitely not be flat. Also, you may notice there is no salt in the ingredient list. That's because self-rising flour includes salt.
Self-Rising vs. Self-Raising
The flour I grew up with and which grocery stores here in the Southern US are stocked with is self-rising flour, which is a mixture of flour, baking powder and salt. I only recently learned that self-raising flour contains only flour and baking powder and does not contain salt. So if you are in a country where they sell self-raising flour, you may want to add ¼ teaspoon of salt to the banana bread batter.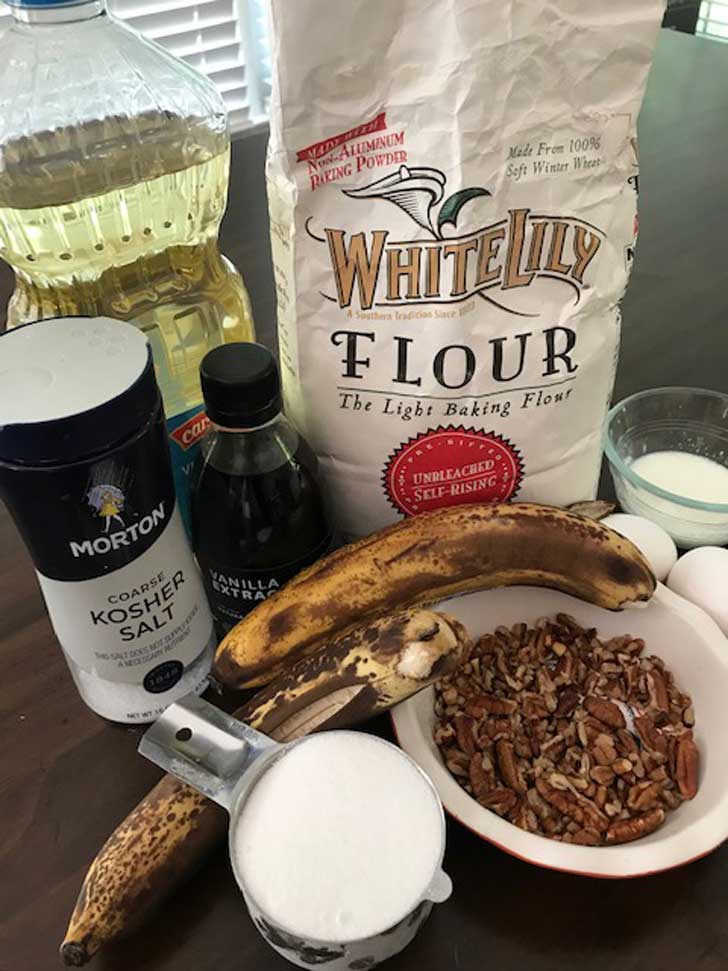 Buttermilk Substitute
This recipe calls for buttermilk. To make one cup of buttermilk, you generally mix 7 ½ oz of milk with 1 tablespoon (which is ½ oz) of lemon juice or vinegar and let it stand for 10 minutes. For this recipe you would use 3 tablespoons of that mixture and have some buttermilk substitute left over. If you only want 3 tablespoons of buttermilk, you can measure out 3 tablespoon of milk and add about ¾ teaspoon of lemon juice or vinegar. By the way, if you are always scrambling for a buttermilk substitute, do yourself a favor and buy a canister of powdered buttermilk. I use a brand called Saco, but I'm sure there are tons of other good ones. I keep the canister of powdered buttermilk in the refrigerator and it seems to last forever.
All-Purpose Flour Banana Bread
If you'd rather just make banana bread using all-purpose flour, I recommend the Starbucks Banana Bread Copycat recipe.  Another good one (again, made with all-purpose) is the Diamond Walnut Banana Bread recipe from the back of the Diamond Walnuts bag.  I only recently found this one but love it.
Self-Rising Double Chocolate Cookies
By the way, if you have self-rising flour in the house you might as well try these Self Rising Flour Double Chocolate Cookies.  This is kind of an overlooked recipe, but the cookies are very good.  They're super fudgy -- almost like fudge in cookie form, though they do have a nice cookie shell.
One Banana Half Batch Version
My daughter and I had one very brown banana to use up, so last night we made a quick batch of banana bread using half the ingredients below. The half batch filled one mini loaf pan (about 3x5) and a small souffle type ramekin dish. We baked the small loaves in a Breville toaster oven. The very small (but deep) loaves were done in about 45 minutes. Here's a picture of the one baked in a ramekin. It domed and looks like a giant muffin!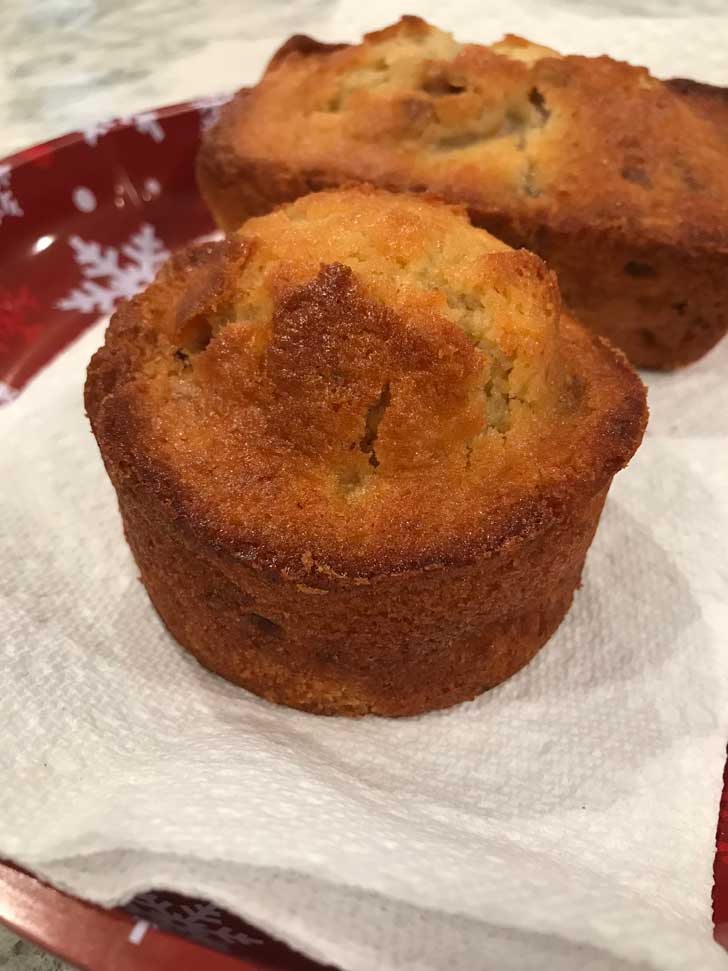 Recipe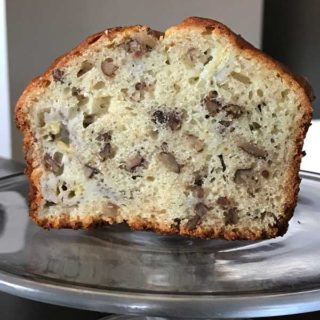 Self-Rising Flour Banana Bread
An easy banana bread made with self-rising flour
Ingredients 
1 ½

cups

self-rising flour

190 grams

⅔

cup

sugar

132 grams

2

large eggs

3

tablespoons

buttermilk

1

teaspoon

vanilla extract

½

cup

vegetable oil

2

large

bananas

8 oz/230 grams

¾

cup

chopped roasted pecans
Instructions 
Preheat the oven to 350F. Grease bottom only of an 8 ½ by 4 ½ inch loaf pan. If desired, line vertically with a strip of parchment paper to make a sling.

In a large mixing bowl, mix together the self rising flour and the sugar. Add the eggs, buttermilk and vanilla and stir until well blended, then stir in the oil.

Lastly, mash the bananas and stir them into the batter along with the nuts.

Spread batter evenly in the baking pan and bake for 60-65 minutes.

Let cool in the pan for a few minutes, then carefully loosen sides by sliding a knife between the loaf and the pan.

Let cool until bread feels sturdy enough to lift from pan, then remove from pan and set on a rack to cool completely.
Notes
Adapted from The Culinary Institute of America's "Breakfast and Brunches" and Martha White.
Even More Recipes!