With six pounds of Halloween candy in the house, I thought twice about taking on a baking project. But I couldn't resist! This recipe sounded so good! It's a from Everyday Baking, a new book from The Old Farmer's Almanac.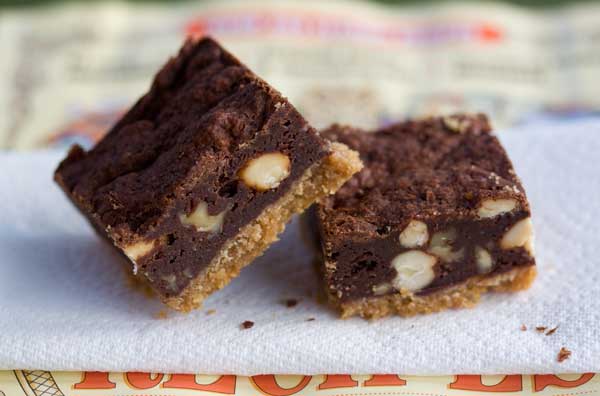 If these bars represent the other recipes in the book, I'll have to put it on my Christmas list.  They (and all the other recipes) were developed and tested by Ken Haedrich, a well-known cookbook author and magazine writer. I'm particularly fond of the recipes he develops for Family Fun, which are kid-friendly and sophisticated at the same time -- much like this one. t's got a few elements adults will find interesting such as the graham crust and the nuts, but it's just familiar enough that kids will approve. Or at least kids who like nuts. If you aren't a nut fan, I wouldn't recommend this because they really do offset the sweetness of the filling. But if you love nuts and have some really fresh walnuts (pecans would be good too -- I used walnuts and cashews), this is a nice way to showcase them. The recipe doesn't say you have to, but I toasted mine first.
Now back to that Halloween candy. I wanted to make this recipe as written, but if you are adventurous and want to try burying some Fun Size Snickers or some other nutty or cookie-like treat in the crust, I think it would work, though the bars would obviously be sweeter. Someone gave Fuzz a bag of Mini Chips Ahoy cookies, and I kind of wish I'd thrown them in with the nuts. They are Mud Bars, right?
Recipe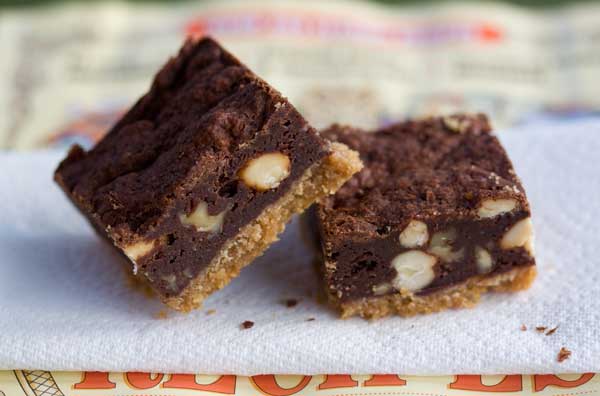 Chocolate Mud Bars from Everyday Baking
Chocolate Mud Bars
Ingredients 
CRUST:
1 ¼

cups

graham cracker crumbs

3

tablespoons

packed light-brown sugar

¼

teaspoon

cinnamon

Pinch

of salt

5

tablespoons

unsalted butter

melted
FILLING:
½

cup

1 stick unsalted butter

6

ounces

semisweet chocolate

coarsely chopped

¾

cup

sugar

2

large eggs

at room temperature

½

teaspoon

of vanilla extract

¼

cup

cake flour

1

cup

coarsely chopped walnuts
Instructions 
Butter an 8-inch square baking pan and set aside.

For crust: Combine the graham cracker crumbs, brown sugar, cinnamon and salt in a medium bowl. Mix well with your hands. Add the melted butter, stir well with a fork, then rub the ingredients together well with your fingers until thoroughly mixed. Press the mixture evenly in the prepared pan to form a level layer on the bottom with a lip extending about ¼ inch up the sides of the pan. (Do not prebake the crust).

For filling: Combine the butter and chocolate in the top of a double boiler over not-quite-simmering water. When melted, whisk to smooth, then remove the pan from the heat. Scrape the chocolate into a medium bowl and cool to lukewarm. Preheat the oven to 325oF. Whisk the sugar, eggs, and vanilla into the lukewarm chocolate. Stir in the cake flour, mixing until smooth. Stir in the walnuts. Scrape the batter over the crust and smooth with a spoon. Bake on the center oven rack for 35 minutes only - no longer. Cool on a rack. Refrigerate an hour or so before slicing. Serve at room temperature. Makes 16 bars.
Notes
I toasted the nuts before baking and used a mixture of walnuts and cashews.
I also chilled the bars overnight which probably improved the flavor and texture.