After all that talk about Top Chef: Just Desserts, I missed it! We recorded the show, but after settling in to watch the Top Chef finale, I drifted off to sleep before the new Top Chef was even announced (though I did wake up briefly to find out who it was). So I'm a day behind on Top Chef and will have to avoid reading updates and reports until tomorrow.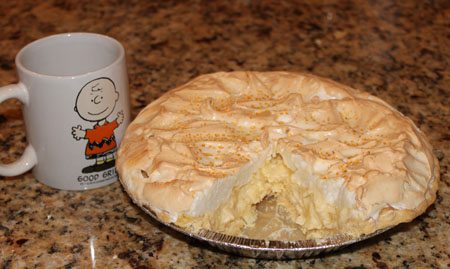 Luckily, I stayed awake long enough to try a piece of the celebratory Top Chef Just Desserts Pie I'd made earlier. Given the occasion, I wanted to make something a little different – not complicated, just something I'd never tried before, and this recipe seemed interesting.
Unlike traditional pineapple pie which has a cooked filling and typically only a tablespoon or so of milk, this one has a filling based on sour cream. The sour cream gives it a smooth, creamy, flavor not unlike that of Millionaire pie, but perhaps a little less sweet and of course, a bit tart. Another plus is that this pie is extremely inexpensive and easy to make. It does involve stirring the filling over the stove, but it's a very quick and painless process and I didn't have any issues with lumping.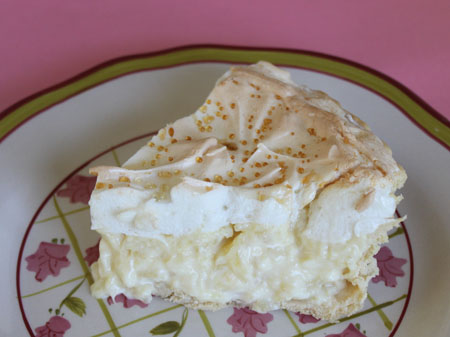 For the crust I used a traditional pastry crust, but I think graham cracker crust would have been terrific. As for the meringue, I wasn't sure I'd like a meringue topping on a pineapple filling, but it worked. The meringue was light and airy and kind of a relief from the filling. For those of you who don't like meringue, whipped cream would be great – richer, but still good. But if you like meringue, you might want to try the meringue version first.
I wish I'd come up with this recipe, but it's adapted from a 1997 Better Homes and Gardens. Still, there's lots of room for improvisation. The filling, minus the meringue, would probably make an excellent filling in a coconut or vanilla layer cake. I'm dying to try that, but we need to finish this pie first.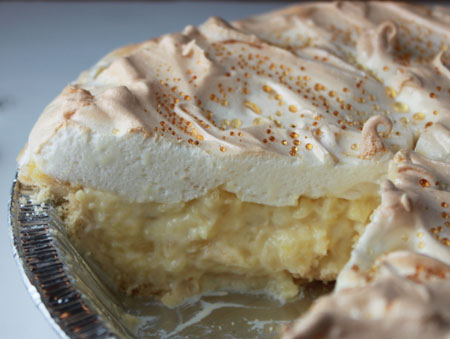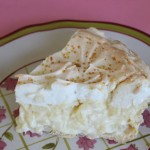 Print Recipe
Pineapple Sour Cream Pie
A meringue topped pineapple cream pie
Ingredients
1

9 inch deep dish pie crust, baked

3

large eggs

1/2

cup

granulated sugar

2

tablespoons

flour

1

cup

sour cream

20

oz

can of crushed pineapple in juice

undrained

1/4

teaspoon

vanilla extract plus ½ teaspoon for meringue

1/2

teaspoon

cream of tartar

1/2

teaspoon

vanilla extract

6

tablespoons

granulated sugar
Instructions
Separate the eggs. Put whites in bowl of stand mixer. Put yolks in a separate mixing bowl, then whisk them a bit and cover. Let stand for 30 minutes to come to room temperature.

In a heavy saucepan, combine the 1/2 cup sugar, flour, pineapple and sour cream. Turn on the heat and cook and stir over medium heat until bubbly and hot. Whisk about half of the sour cream mixture into the egg yolks, then whisk egg yolk mixture into the saucepan still set over medium. Cook and stir until you hit a gentle boil, then continue cooking and stirring for two minutes.

Transfer hot filling to a baked 9 inch pie crust and immediately cover with meringue.

To make meringue, beat the egg whites until soft peaks start to form and gradually add sugar, cream of tartar and vanilla.

Set the meringue covered pie on a cookie sheet and bake at 350 F. for 15 minutes or until meringue is lightly browned. Let cool at room temperature for an hour, then chill for 3 to 6 hours or until ready to cut.
Notes
All cook times and prep times are approximate.