If you are looking for the easiest lemon pie in the world, this might be it. Creamy Lemon Pie from Eagle Brand has been around forever, but for some reason I'd never tried this exact version.  I'm glad I did because I think the family liked it more than Key Lime!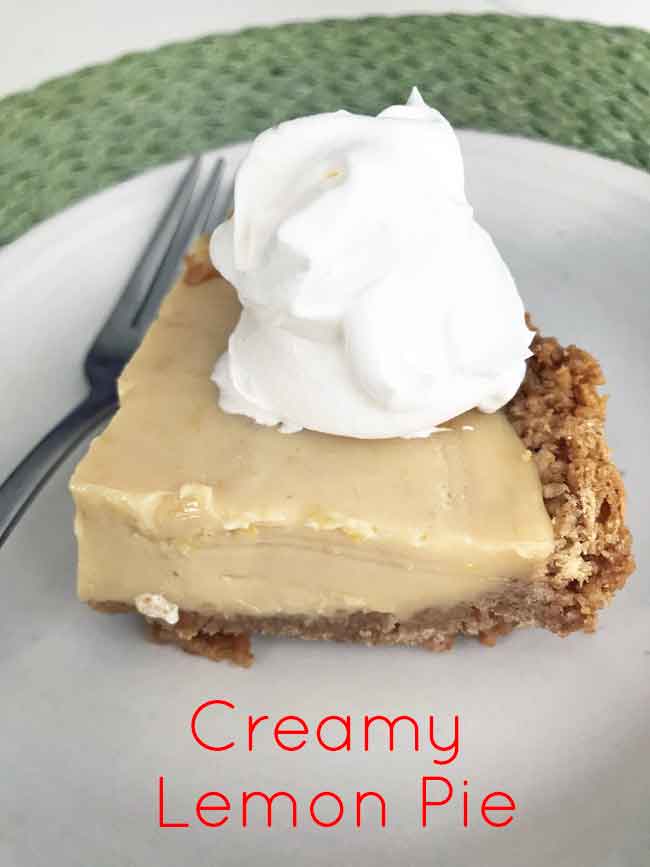 With ½ cup of lemon juice and one can of condensed milk, this pie is pretty lemony. I threw in some extra lemon zest, but it was totally unnecessary and I wouldn't add zest again.
This creamy lemon pie is very simple.  If you want one that is still simple but a little more innovative, there's a good lemon icebox pie from Cook's Country Magazine that has the interesting step of reserving 3 tablespoons of condensed milk and using it to sweeten the whipped cream topping.  For this pie I didn't bother making any whipped cream topping, I just put a big dollop of whipped cream over the individual pieces.
This pie is perfect for when you want to use a 6 oz Keebler Ready Crusts, but if you have more time you can make a basic graham cracker crust.  I've included the recipe in the notes for the pie and I'm typing the basic graham cracker crust here because I ALWAYS FORGET THE RATIOS for my favorite and need to be able to pull it up quickly.
Basic Graham Cracker Crust
1 ½ cups graham cracker crumbs
3 tablespoons sugar
5 tablespoons melted butter
Mix, pat into shallow pie dish and bake for about 7 minutes at 350 degrees F.
As you can seem, the piece of pie in this photo is a wee bit small.  That's because I scaled the recipe down and made it in a 7 inch pie dish.  If you happen to have a 7 inch pie dish and want to do that, it's entirely possibly.  I'm putting the full recipe because I'm guessing that's what most people will want.
Recipe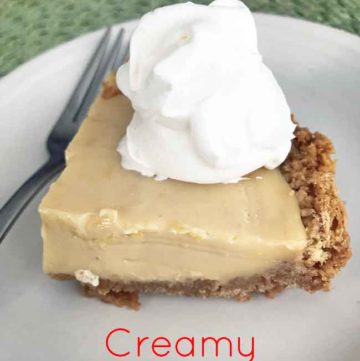 Creamy Lemon Pie
Creamy lemon pie made with condensed milk, egg yolks and lemon juice.
Ingredients 
1

6 oz

Keebler Ready Crust

Or make your own

14

oz

condensed milk

(one can of Eagle Brand)

3

egg yolks

½

cup

fresh lemon juice
Instructions 
Preheat oven to 325 degrees F.

Stir together the egg yolks, condensed milk and lemon juice. Pour mixture into the crust and smooth the top.

Bake pie for about 28 to 30 minutes.

Let the pie cool completely, then chill thoroughly before serving.

Serve with sweetened whipped cream or whipped topping.
Notes
Basic Graham Cracker Crust
1 ½ cups graham cracker crumbs, 3 tablespoons sugar, 5 tablespoons melted butter.  Mix, press into pan and bake at 350 for about 7 minutes.