Flax & Sunflower Seed Rolls are square shaped dinner rolls made with bread flour, rye flour, flax, honey & sunflower seeds. I've made them a million times this week for testing purposes, but also because they are so good! Plus the recipe makes a small batch, and it's been fun trying variations.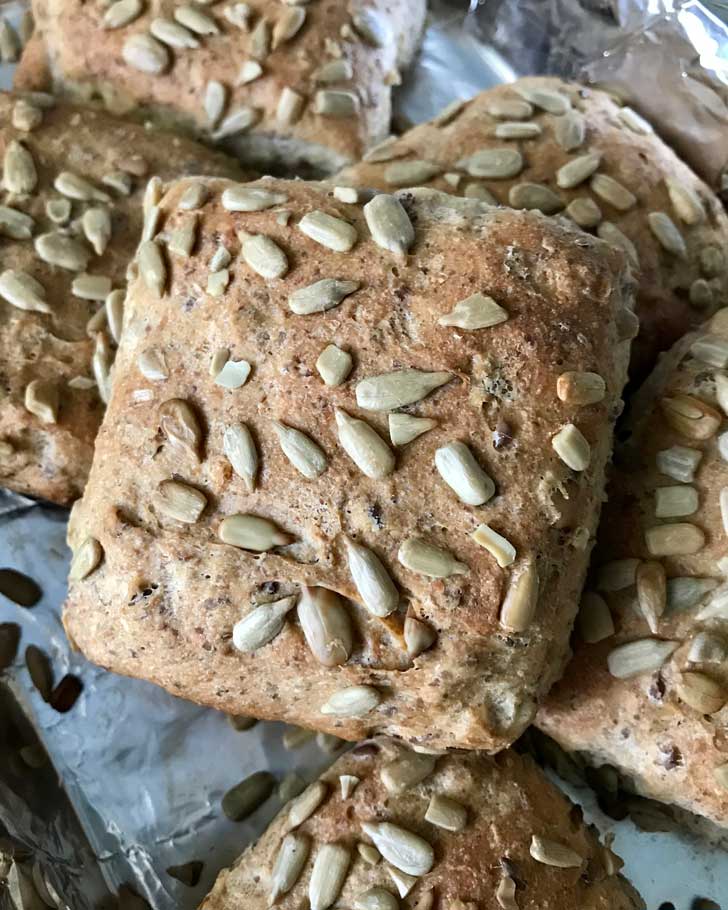 Ground and Whole Flax Seeds
Flax & Sunflower Seed Rolls call for both ground and whole flax. The ground flax adds flavor and improves the texture, while the whole flax is for texture and appearance.You can use golden flax or dark flax or a combination of both. I buy a lot of flax these days. For ground flax, I like the golden type.
Dark Rye Flour
Another key ingredient is organic dark rye flour, which gives the rolls their distinct color and flavor.  It also makes the dough a tad bit sticky, so you have to avoid the temptation of adding too much water.  Dark rye flour is becoming a easier to find in grocery stores, but if yours doesn't carry it you can order it. I use Bob's Red Mill or another brand called Pereg. You also substitute whole wheat flour, though it changes the flavor and color somewhat.
Sunflower Seeds
Roasted unsalted sunflower seeds are the other main ingredient. A couple of tablespoons are added to the dough where they are broken up during kneading. The rest of the sunflower seeds get pressed into the top. The dough is really easy to work with and you can cut into squares which once risen, perfectly in an 11x7 inch pan.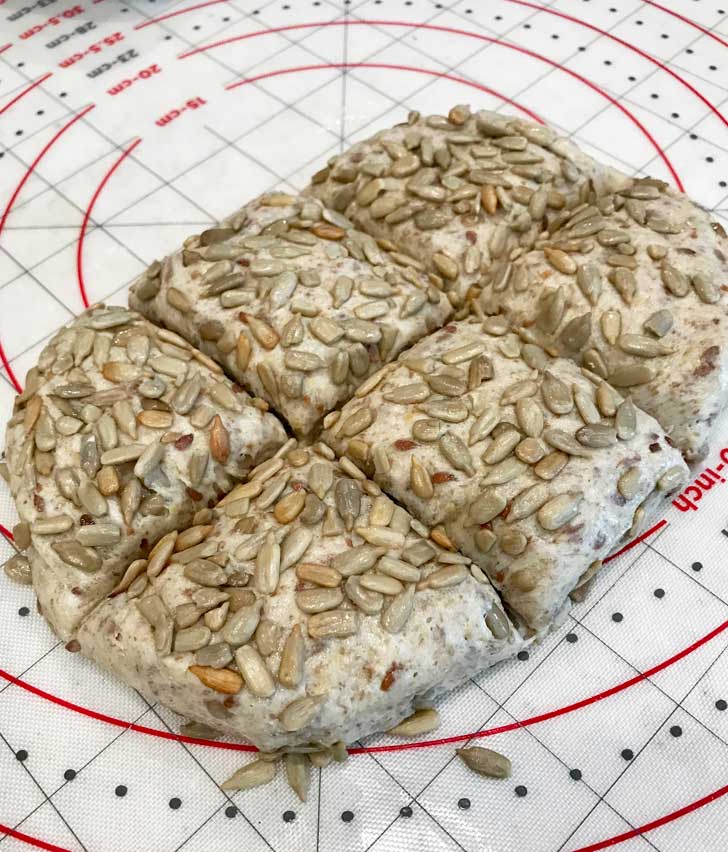 Flax & Sunflower Seed Rolls Variations
Vegan Flax & Sunflower Seed Rolls -- Use oil or plant butter in place of butter and maple syrup or 20 grams of dark brown sugar instead of honey.
Flax & Walnut Rolls -- Use walnut oil in place of butter and add a handful or so of untoasted walnut pieces before the second rise.
Flax & Oatmeal Rolls -- Omit some or all of the seeds and add 2 tablespoons oats to the dough. Sprinkle oats on top of rolls before baking.
Whole Wheat Flour Version -- Replace rye flour with whole wheat. If you replace the rye flour with whole wheat, you may need to add a tiny bit (like 2-3 teaspoons) more water.
Other Recipe Ideas
Recipe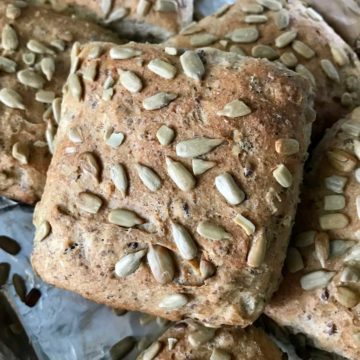 Flax & Sunflower Seed Rolls
Soft and fluffy rolls with sunflower and flax seeds.
Equipment
Stand mixer with dough hook
Ingredients 
½

cup

warm water

110-115 degrees F

1

teaspoon

instant yeast

4

teaspoons

honey

(24-27 grams)

¼

cup

flax meal

(25-30 grams)

¼

cup

dark rye flour

(30 grams)

1

cup

bread flour, plus a little more if needed

(140 grams)

¾

teaspoon

salt, keep it scant -- you can use ½ plus ⅛ if you want

¼

cup

roasted unsalted sunflower seeds, divided use

plus more

1

tablespoon

whole flaxseeds

1 ½

tablespoons

softened butter plus more for greasing bowl

(21 grams plus more)
Instructions 
In the bowl of a stand mixer, combine ¼ cup (56 grams) of the warm water and yeast. Stir to dissolve yeast, then wait for it to froth a bit so that you know it's active. Stir in the honey, then stir in the flax meal, rye flour, bread flour, and salt to make a soft dough. Add 2 tablespoons of sunflower seeds and 1 tablespoon of whole flax, then stir in the remaining ¼ cup (56 grams of water). Do not add the softened butter quite yet.

Put the mixing bowl on the stand mixer and let the machine knead for about 5 minutes. The dough should cling to the hook rather than the sides of the bowl. If it is sticking to the sides of the bowl for some reason, stop and scrape it off and continue kneading. After about 2 minutes of kneading, add the softened butter and let the machine knead it until is is uniformly blended into the dough.

Use more butter to generously coat a large bowl. Transfer the dough to the buttery bowl, cover with plastic wrap and let rise for an hour.

Punch down the dough and shape into a rectangle. Press about 2 tablespoons more sunflower seeds into the dough. Cut rectangle into 6 squares. Arrange the squares about an inch apart in a buttered baking dish. Cover with greased plastic wrap and let rise for another hour.

When ready to bake, preheat oven to 400 degrees F. Bake at 400 F for about 15 minutes, then drop heat to 350 and bake for another 10-15 minutes or until the rolls are lightly browned and seem done.