Given its richness in butter and eggs, I always considered brioche more of a brunch or breakfast food. But things changed a few months ago when we were served some very light, savory, herbed brioche at The Royal Palace on The Disney Dream. It felt indulgent eating brioche from a before-dinner bread basket, but the rolls were just light enough to enjoy without ruining our appetite for dinner.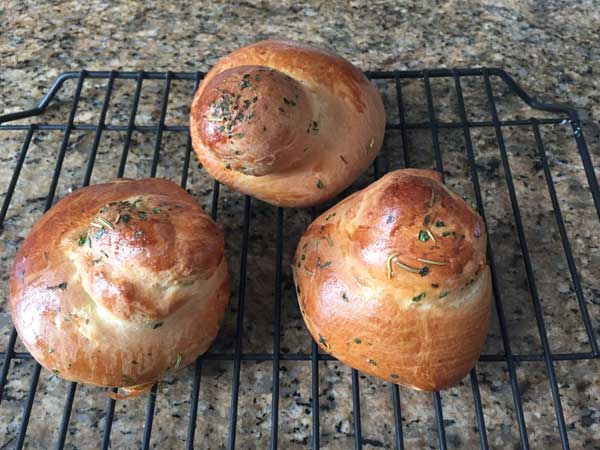 Since the cruise I've been hunting for a similar recipe – one that's very light textured, not too sweet and that would be amenable to the addition of herbs. I found that recipe on my friend Nika's blog, DeNikatessen. Nika introduced me to Brioche Col Tuppo, the Italian version of brioche which Sicilians fill with gelato. That's right! They hollow out bread and put in a scoop! I haven't put ice cream in my brioche, but I have added the chopped herbs and have served it as a before dinner bread. Is it the Disney bread? It sure comes close! Also, the recipe makes 6 rolls. Some nice people have emailed or commented to say they like the slightly smaller batch recipes.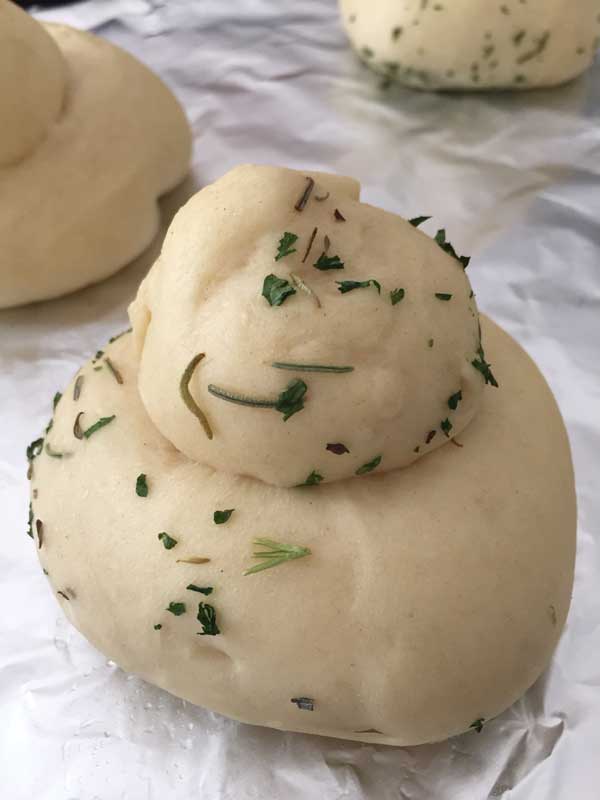 Here's the recipe as I made it. And here's a link to the translated version of Nika's blog. She speaks Spanish and English, so if you'd prefer you may read the Spanish version. I made some small adjustments such as the type of yeast and changing Celsius to Fahrenheit and whatnot, but Nika's version is actually pretty easy to follow for anyone with a scale.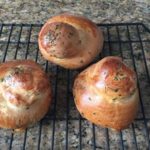 Print Recipe
Herbed Brioche Rolls
This herbed brioche is savory and a little lighter than other versions. It's based on the Italian version of brioche, Brioche Col Tuppo.
Ingredients
1

cup

all-purpose flour

130 grams

3/4

cup

+ 2 tablespoons bread flour

110 grams

1 1/4

teaspoons

instant yeast

I used Platinum

2

tablespoons

granulated sugar

25 grams

1/2

teaspoon

salt

3

tablespoons

butter

softened (42 grams), I used unsalted

1/4

cup

plus 2 tablespoons warm milk

125 degrees F

Herbs: Your choice of crushed dried herbs

I used parsley, rosemary, thyme and basil

1

egg

I used large
Instructions
Combine the flour, instant yeast, sugar, and salt in a stand mixer bowl. Add the softened butter and mix it around so that it coats the flour.

Pour the warm milk into the flour mixture and stir until blended, then add egg and stir to make a soft dough.

Attach the dough hook to the mixer and let the mixer knead the dough until it is smooth and elastic. (Note: This is the point where you add the herbs, if using).

Transfer the dough to a greased bowl, then cover and let it rise until doubled in bulk (about 60 minutes).

Line a large baking sheet with parchment paper.

Punch down the dough and divide into 6 equal portions of about 75 grams each. Pinch off a small piece (about 10 to 12 grams) "the tuppo" (the little top part).

Form each of the large portions into a ball and make a little hole in it. Shape the little "tuppo" section you snipped off into another little ball and press it onto the top. Arrange the rolls evenly on the baking sheet and let rise for another 45 minutes or so.

Preheat oven to 400 degrees F.

Brush the brioche rolls with some egg and water and put them in the 400 degree oven.

Immediately reduce heat to 375. Bake for 18-20 minutes until golden brown. Keep an eye on them because they start browning pretty quickly. If they are brown after 15 minutes, lay a sheet of foil loosely over the rolls.

Remove from oven and let cool on a wire rack.