I found this recipe for Maple Iced Pumpkin Cookies years ago in an issue of American Lifestyle magazine, a real estate publication that my aunt and a few other realtors I've known have used to promote their business. Even though I'm not in the market for a new house, I always keep the magazine around for the recipes. Whoever edits the small food section does a good job picking recipes.
Here's a picture of the (now old) magazine with the Maple Iced Pumpkin Cookies. I'm glad I saved it here because I'm pretty sure I lost this issue.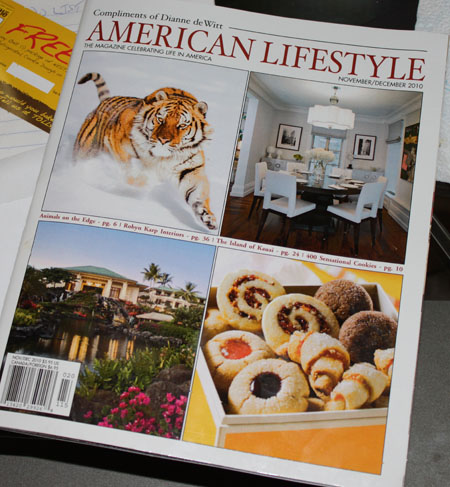 Maple Icing
The best part of this recipe is the maple icing. You drizzle it on so the cookies look pretty and get a good deal of flavor from the fake maple which I like to smugly call fenugreek since the smell reminds me of the fenugreek tea I drank long ago. Maple extract taste more like pancake syrup than actual maple, but It's good in its own fake maple way, though. Definitely good on the pumpkin cookies. Here's the recipe.
Recipe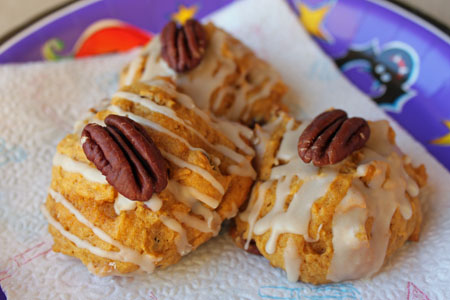 Maple Iced Pumpkin Cookies
Pumpkin Cookies with Maple Icing
Ingredients 
2-½

cups

all-purpose flour

2

tsp

baking powder

1

tsp

ground cinnamon

½

tsp

grated nutmeg

¼

tsp

ground ginger

¼

tsp

baking soda

¼

tsp

salt

½

cup

unsalted butter

softened

¾

cup

packed dark brown sugar

½

cup

granulated sugar

2

large

eggs

1

tsp

vanilla extract

15

oz

can pumpkin, not pie filling

1

cup

chopped pecans
Icing
1

cup

confectioners' sugar

2

tablespoons

cream or milk

½

tsp

maple flavoring
Instructions 
Preheat oven to 350°F and line cookie sheets with parchment paper or nonstick foil. You can also use regular foil lined with a thin layer of cooking spray.

Mix together flour, baking powder, cinnamon, nutmeg, ginger, baking soda and salt in a bowl until well combined. Set aside.

In a large bowl, using an electric mixer on medium speed, cream butter, brown sugar and granulated sugar until light and fluffy, about 3 minutes. Add eggs one at a time, beating well after each addition. Stir in vanilla. Add pumpkin and stir until well combined. Scrape down sides of bowl. On low speed or using a wooden spoon, gradually add flour mixture from step 2, beating just until blended. Fold in pecans.

Drop tablespoons of dough about 2 inches apart on to cookie sheets. Bake one sheet at a time for 12 to 15 minutes or until edges start to turn lightly golden. Remove from cookie sheet and let cool.

Make Icing:: In a small bowl, combine confectioner's sugar, cream and maple flavoring. Using a small whisk or a fork, blend until icing is smooth and thin enough to drizzle from a fork. Add more cream as needed to achieve the right consistency. Spoon icing over cooled cookies.

Makes about 4 dozen