Today's Mini Pumpkin Loaves recipe was inspired by Austin Java Company in the Austin Bergstrom International Airport – the first place I stop after I go through security.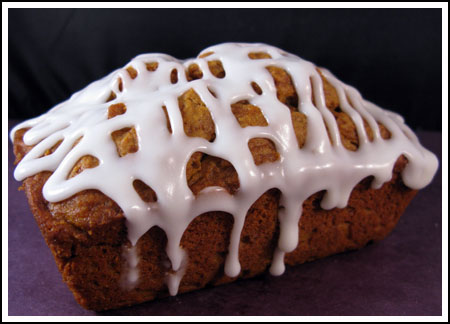 Austin Java's coffee is pretty good, but the real reason I go there is because they have this cake I like to look at. It appears to be a pumpkin loaf with a big, drizzled matrix of white icing or possibly white chocolate. I've never actually bought a piece because I'm afraid it might look better than it tastes. Instead, I always tell myself I'll make it at home. But then I forget about it, because I go away on a trip and come back thinking about other things besides pumpkin cake.
So yesterday, after finding a tempting pumpkin loaf recipe calling for molasses, butter and lots of spices, I decided it was finally time to make a loaf that looked like Austin Java's. But because the recipe was for "mini loaves", well, I did minis.
Mini Pumpkin Loaves Pan Sizes
If you have some mini loaf pans, this recipe is worth a try. The Mini Pumpkin Loaves are very moist, so even though there's less surface area, the loaves won't be dry.
The original recipe called for 9 mini loaves (2 ½ by 3 ½ inches), but my mini loaf pans are somewhat bigger (3 by 5 and 3 by 6) so I used those and adjusted the temperature a bit.
Recipe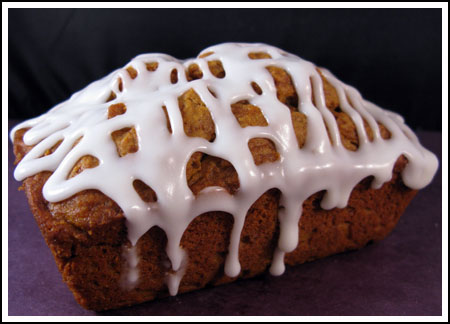 Iced Mini Pumpkin Loaves with Molasses
Mini pumpkin loaves with molasses in the batter
Ingredients 
⅔

cup

unsalted butter

softened (150 grams)

⅔

cup

packed brown sugar

140 grams

2

eggs

⅓

cup

molasses

75 grams

2 ¾

cups

all-purpose flour

300 grams

2

teaspoons

ground ginger

1

teaspoon

baking soda

5 ml

1

teaspoon

baking powder

5 ml

1

teaspoon

ground cinnamon

5 ml

½

teaspoon

freshly ground nutmeg

2 ml

1

pinch

allspice

¾

teaspoon

salt

3 ml – if using salted butter, use ¼ tsp

⅛

teaspoon

black pepper

14

ounces

canned pumpkin puree

solid pack, not pie filling

⅓

cup

buttermilk
Lemon or Orange Icing
2

tablespoons

unsalted butter

24 grams

1

cup

powdered sugar

plus more if needed

4-6

tablespoons

fresh lemon juice or orange juice
Instructions 
Preheat oven to 350 degrees. Spray mini loaf pans with flour-added cooking spray or grease and flour. I used 4 loaf pans that were about 3 ½ by 5. You can make these smaller (see cook times at bottom)

Cream the butter and brown sugar until light. Beat in eggs, 1 at a time; beat in molasses. Stir together flour, ginger, baking soda and baking powder, cinnamon, nutmeg, allspice, salt and pepper; stir one-third into butter mixture. Stir in pumpkin. Stir in another third of the flour mixture; stir in buttermilk, then remaining flour mixture.

Scrape batter into prepared pans and bake on center rack. If using 2 ½ x 3 ½ loaves, check at 30 minutes. For slightly larger loaves, check at 37 minutes. For one giant 9x6 inch loaf, test at 40 minutes

A toothpick or chopstick (I use a chopstick) inserted should come out clean. Let cool. Turn from pans and let cool completely. Ice when cool.

To make the icing, melt the butter in a microwave-safe bowl. Add the sugar and stir to coat it with butter – it will be thick and pasty. Slowly add the lemon juice one tablespoon at a time, mixing well and adding more juice until you get the consistency you like. I mix it so that it flows off a spoon, then I let it stand for a bit so that it's thickens up slightly. When the pumpkin loaves are completely cool, drizzle the icing on top or put it in a heavy duty zipper bag, snip off the corner, and drizzle it over in a lattice shape.