Happy Halloween Morn! To celebrate, I made some pumpkin scones using a popular recipe that's said to be similar to the scones served at Starbucks.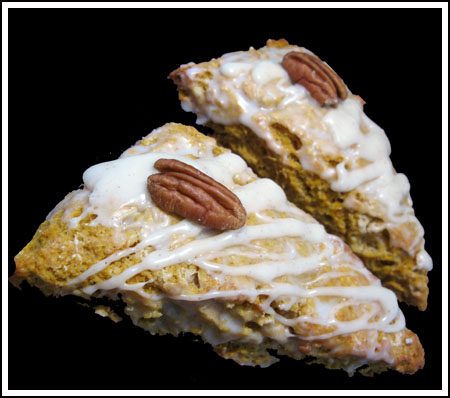 In the past, I've made pumpkin scones with add-ins such as butterscotch chips and pecans and omitted both glazes. This time, I made the scones as directed with both glazes. Well, almost. The first glaze is a simple sugar/milk mixture that dries clear and firm, and the second is a spiced icing that you drizzle over the glazed scone. The original recipe didn't have butter in the icing, but the butter version is so good. I suppose the melted butter makes it more of an icing as opposed to a glaze, because it sets opaque and is a little less sweet.
I'm going to wrap them individually and freeze them as usual.
Iced Pumpkin Scones
2 cups all-purpose flour (9 oz) — spoon and sweep carefully
7 tablespoons granulated sugar sugar
1 tablespoon baking powder
1/2 teaspoon salt
1/2 teaspoon ground cinnamon
1/2 teaspoon ground nutmeg
1/4 teaspoon ground cloves
1/4 teaspoon ground ginger
6 tablespoons cold butter
1/2 cup canned pumpkin
3 tablespoons half-and-half
1 large egg
Glaze
1 cup powdered sugar plus another 1 tablespoon powdered sugar
2 tablespoons milk
Spiced Icing
2 tablespoons melted butter
1 cup powdered sugar
2 tablespoons milk
1/4 teaspoon ground cinnamon
1/8 teaspoon ground nutmeg
1 pinch ginger
1 pinch ground cloves
Preheat oven to 425 degrees F.
Combine flour, sugar, baking powder, salt, and spices in a large bowl or in bowl of food processor. Cut butter into the dry ingredients until mixture is crumbly.
Whisk pumpkin, half and half, and egg together in a mixing bowl. Pour the dry ingredients into the pumpkin mixture and shape into a ball.
Pat out dough onto a lightly floured surface and form it into a 1-inch thick 9×3 inch rectangle. Use a large knife or a pizza cutter to slice the dough twice through the width, making three equal portions. Cut those three slices diagonally so that you have 6 triangular slices of dough. Place on prepared baking sheet.
Bake for 14–16 minutes. Scones should begin to turn light brown. Place on wire rack to cool.
Make Glaze: Mix the powdered sugar and 2 tbsp milk together until smooth. When scones are cool, use a brush to paint plain glaze over the top of each scone. This should give you more than enough glaze!
When the glaze has set, make the icing. Melt the butter in bowl. Gradually add the sugar and stir until moistened with butter. Add the milk and stir to get a drizzling consistency. Stir in the spices. Drizzle this decoratively over the glazed scones.
Makes 6 big scones