A few days ago we went to the Texas Book Festival to see Matt Lewis, Renato Poliafito talk about Baked Explorations. For their recipe demonstration, they made Black and White Cookies: a New York institution that's almost impossible to find here in Austin, TX. The recipe from Epicurious is my current favorite, but Baked's is different and I'm looking forward trying it — but not until I get my hands on some Fiori Di Sicilia. It makes total sense that the essence of Sicilian flowers would be the secret ingredient to a New York Black and White, right? So I'm going to add it to the Black and White recipe from Baked Explorations when it arrives in the mail via King Arthur.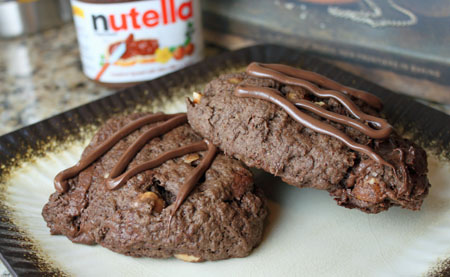 In the meantime, I've made the Nutella Scones. Because unlike Black and Whites and Fiori di Sicilia, Nutella is something you can buy just about anywhere, annd thank goodness for that.
Okay, let's cut to the rich and crumbly chase. I made these for dessert because if I ate one for breakfast, I would feel full all morning. Now I'll just feel full the rest of the day, which is fine. They're very rich (in the way scones should be) and satisfying enough to qualify as dessert even though they're not terribly sweet. I heartily recommend adding a few bittersweet chocolate chips to the dough as you're kneading it, because why not?
By the way, since this weekend I've been feeling self-conscious about my choice of cocoa powder. Matt and Renato are brand loyal to Valrhona, and if you've ever made a batch of brownies with it you know why. I'm contemplating finding a good Internet source for Valrhona, but I made these with my trusty brand of every day cocoa powder and the scones were still terrific. Plus, I worry if I baked with Valrhona every single day I'd get tired of it. At least that's what I'm telling myself. But if I'm going to put in an order for essence of Sicilian flowers, than why not add some good cocoa as well.
Here's the recipe from the book. Below is my paraphrased version of the "mini" batch recipe.
Nutella Scones
1 cup unbleached all-purpose flour (4.5 oz)
2 tablespoons granulated sugar
2 tablespoons dark unsweetened cocoa powder (like Vahlrona) Anna's note: I wish!!!
1 1/2 teaspoons baking powder
1/4 teaspoon salt
3 tablespoons cold unsalted butter, cut into chunks
2 tablespoons lightly beaten egg
1/4 cup heavy cream
1/4 cup toasted hazelnuts, coarsely chopped
Handful of bittersweet chocolate chips (optional)
1/4 cup Nutella
Preheat the oven to 375 degrees F and place the rack in the center. Line a baking sheet with parchment paper.
In a large bowl, whisk the flour, sugar, cocoa powder, and salt until combined. Add the butter. Use your fingertips to rub it into the flour until the butter the mixture is coarse.
In a separate bowl, whisk together the egg and cream. Slowly pour the wet ingredients into the dry ingredients and stir until the dough just comes together. Gently and briefly knead the dough with your hands – be careful not to overwork the dough. Gently knead in the hazelnuts. Flatten the dough into a square approximately 6 by 6 inches and spread about 2 tablespoons of the Nutella on top in a crisscross pattern (I didn't know what they meant by this, honestly). Roll the dough up to make a cylinder, turn it on its end, and gently flatten it into a disk about 1 3/4 inches high. Again, be careful not to overwork. Cut the dough into 3 gigantic or 4 slightly less gigantic triangles. Place on cookie sheet and bake for 18 to 20 minutes rotating the baking sheet halfway through, or until a toothpick inserted into the center of a scone comes out clean. Do not overbake. Transfer the scones to a wire rack to cool completely.
When ready to serve, soften the remaining Nutella in the microwave for about 5-10 seconds and drizzle it on top OR pipe it out of a freezer bag with the corner snipped off.