This recipe for Nutella Scones is adapted from Baked Explorations, a cookbook I've used on and off throughout the years.  In these chocolate scones, the Nutella is swirled through and drizzled over the top, so you get the full flavor of both the cocoa powder and Nutella.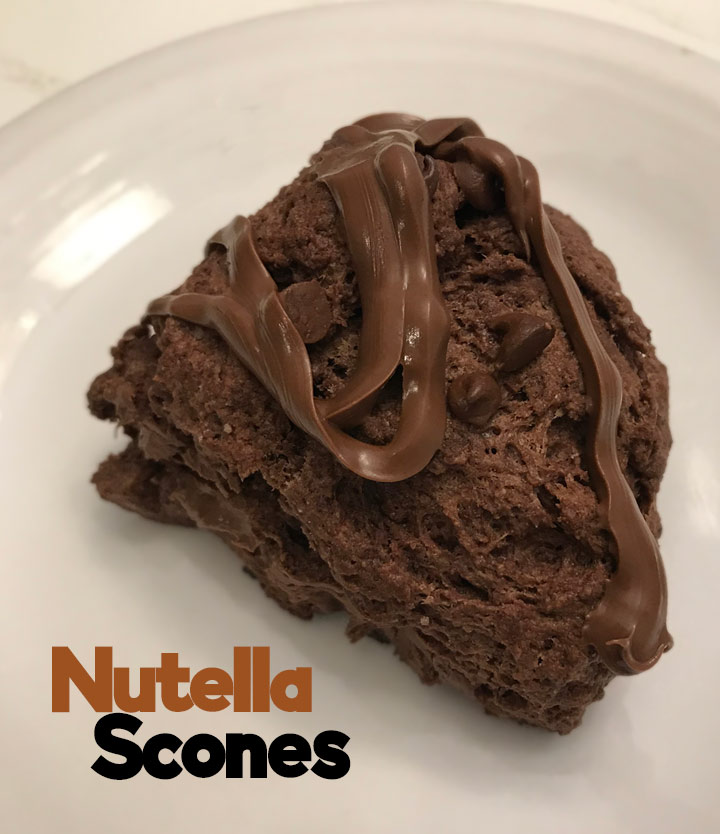 I've altered the recipe a bit since posting. The dough is pretty dry, so you'll need to either add a tiny bit extra cream and/or really mash it down onto the work surface and fold it over on itself to work in the extra flour. Shaping the dough is a little different as well. You shape it into a long rectangle, spread it with Nutella, fold it up into a cylinder, then turn it on its end and mash into a circle.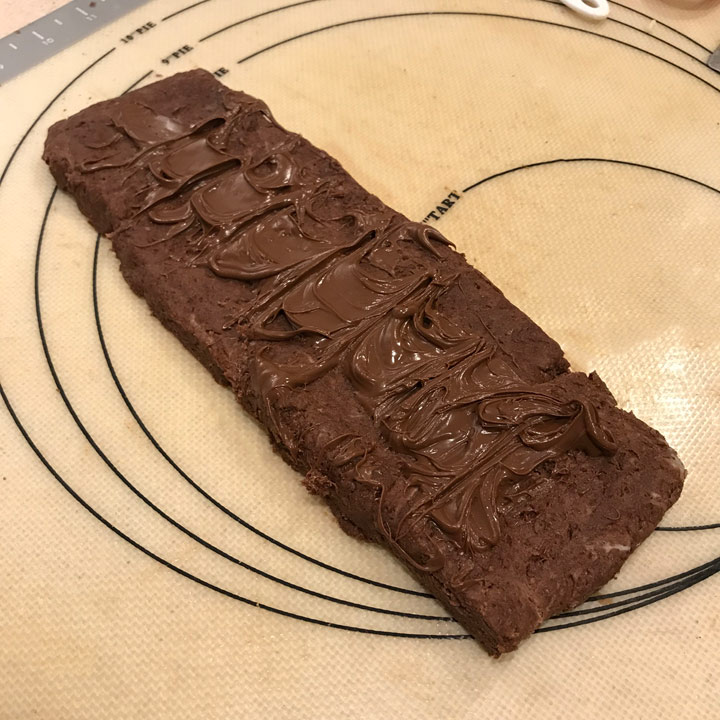 You can add hazelnuts to the dough, but I usually don't have them so most of the time I just leave them out or use almonds/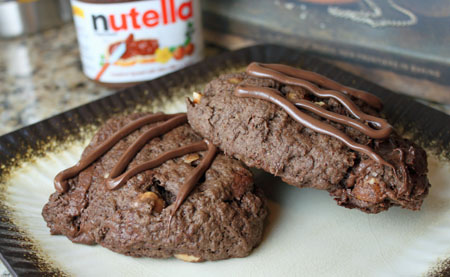 The original full batch recipe from the book is on line. These days a full batch of scones is too much, so I always make a half batch as written below.  Also, if you like the idea chocolate scones but don't have any Nutella, here's a recipe for Chocolate Brownie Scones.
Recipe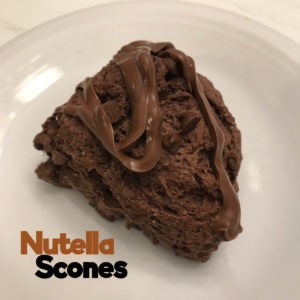 Nutella Scones Half Batch
Chocolate scones with Nutella swirled through.
Ingredients 
1

cup

unbleached all-purpose flour

4.5 oz/125 grams

2

tablespoons

granulated sugar

2

tablespoons

dark unsweetened cocoa powder

1 1/2

teaspoons

baking powder

1/4

teaspoon

salt

3

tablespoons

cold unsalted butter

2

tablespoons

lightly beaten egg

1/4

cup

heavy cream

1/4

cup

toasted hazelnuts

coarsely chopped (can substitute almonds)

Handful of bittersweet chocolate chips

optional

1/4

cup

Nutella
Instructions 
Preheat the oven to 375 degrees F. Line a baking sheet with parchment paper.

In a large bowl, whisk the flour, sugar, cocoa powder, baking powder and salt until combined. Add the butter. You can do this by shredding it in with a grater or cutting it into small chunks and working with a pastry cutter or your fingers.

In a separate bowl, whisk together the egg and cream. Slowly pour the wet ingredients into the dry ingredients and stir until the dough just comes together. Gently and briefly knead the dough with your hands – be careful not to overwork the dough. Gently knead in the hazelnuts.  The dough will be very dry.  If you need to add a little more cream, go ahead.

Empty the dough onto your work surface and mash it down.  If flour is not completely absorbed, use a spatula or a bench scraper to scrape up dough and flatten it again until flour is worked in.  Shape dough into a rectangle  approximately 4 by 10 inches and spread about 2 tablespoons of the Nutella over it. Roll the dough up to make a cylinder, turn it on its end, and gently flatten it into a disk (circle) about 1 3/4 inches high. Slice the circle int 4 triangles.

Place your Nutella Scones dough triangles on parchment lined cookie sheet and bake for 18 to 20 minutes rotating the baking sheet halfway through, or until a toothpick inserted into the center of a scone comes out clean. Do not overbake. Transfer the scones to a wire rack to cool completely.

When ready to serve, soften the remaining Nutella in the microwave for about 5-10 seconds and drizzle it on top OR pipe it out of a freezer bag with the corner snipped off.