Review of Biscotti: Recipes From The Kitchen of the American Academy in Rome, The Rome Sustainable Food Project and recipe for Sesame Seed Cookies
When Biscotti: Recipes from the Kitchen of The American Academy in Rome, The Rome Sustainable Food Project appeared in my mailbox, I was excited to have a new source of biscotti recipes. And of course the biscotti that came to mind were the long, flat, twice baked cookies we dip in coffee. What I'd briefly forgotten was that in Italy, the word "biscotti" covers a range of cookies and that the twice baked dunking cookies (Cantuccini) were only one type of cookie in the book. Among the five categories: Milk and Wine; Nuts; Honey, Citrus and Spice; Meringue; and Chocolate, you will also find recipes for American cookies such as as Snickerdoodles, Peanut Butter Cookies, and Blondies. And perhaps that is to be expected, as the Rome Sustainable Food Project was started in the kitchen of America's oldest overseas center for study and research in Arts and Humanities.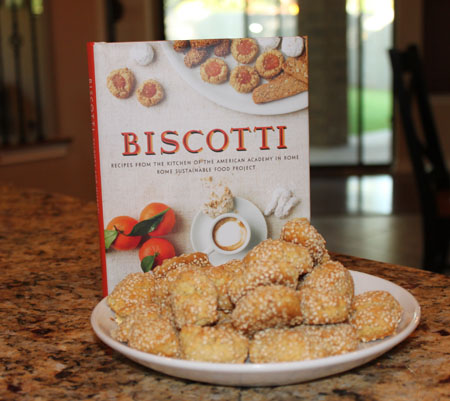 If you have a sweet tooth and love all things Italian, this book will satisfy you on both counts. Along with dozens of cookie recipes, the book includes vivid photos of everyday life at The American Academy in Rome and tells the story of how Mona Talbott, chosen by Alice Waters to lead the program, took the kitchen of the "ARR" from being rundown and dingy to an exemplary kitchen feeding the masses with sustainable, local and organic ingredients. I also love the story about Mirella Misenti, an Italian dishwasher who blossomed into the school's pastry cook. And as I made the Biscotti Regina (sesame cookies), I imagined how Mirella might have learned to make them as a child growing up in Sicily.
There's a feel-good aspect to this book that goes beyond the recipe, and I can tell you that for a small-sized book, this one has plenty. And since the book's focus is local and sustainable, the ingredients have fairly universal appeal, are adaptable to wherever you are, and use both Imperial and Metric units of measure. For those of you with scales, this means you'll never have to worry about whether your cup of flour is the same as a cup of flour in Italy.
Because I was so anxious to cook from this book, I spent the latter part of yesterday afternoon making Biscotti Regina aka Sesame Seed Cookies. I used to buy them all the time for myself and my Sicilian step-grandma when we lived together in her New York apartment. We'd buy them from a bakery down the street and half the time they'd be fresh, half the time they'd be leaning towards stale. But even stale, Biscotti Regina were still good. With this recipe, I never have to worry about that again. These were the best I've ever had and making them was a lot of fun. I used the metric measurements and weighed ingredient and my dough was quite dry. However, the cookies turned out exactly as I remember them but better. Also, I used unsalted butter and added a very small pinch of salt.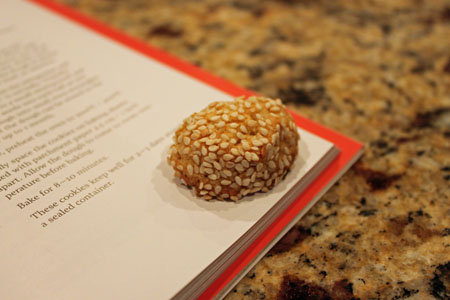 Biscotti Regina – Sesame Seed Cookies

165 grams/1 cup plus 2 tablespoons all purpose flour
58 grams/1/4 cup plus 2 teaspoons granulated sugar
3.5 grams/1/2 teaspoon baking soda
50 grams/3 tablespoons plus 2 teaspoons butter
20 ml/1 tablespoons plus 1 teaspoon milk (I ended up using more)
1 large egg yolk
1/2 teaspoon grated lemon zest
50 grams/1/3 cup raw sesame seeds

Combine the flour, sugar and baking soda until the dry ingredients are well mixed (I did this in the bowl of a stand mixer). Add the soft butter, milk, egg yolk and lemon zest all at once to the dry mixture and mix slowly until a soft dough forms. Wrap the dough in plastic film and refrigerate for at least 30 minutes. My dough was fairly dry, but I was still able to proceed with the recipe and shape the cookies.

Remove the dough from the refrigerator and form it into 40 (7 gram/1/4 oz) balls. Transfer the sesame seeds to a small mixing bowl and gently press the seeds into each ball as you reshape the dough into small even rectangles. At this point, the dough can be stored in the freezer for up to 1 month.

Evenly space the cookies on baking sheets lined with parchment paper 2.5 cm/1 inch apart. Allow the dough to come to room temperature before baking. Bake at 400 degrees F. for 8-10 minutes or until lightly browned.

These cookies keep well for 2-3 days stored in a sealed container. Makes about 40.