If you've ever wanted to make the kind of sesame seed cookies you see at Italian delis, here's a great recipe. It's from Biscotti: Recipes from the Kitchen of The American Academy in Rome, The Rome Sustainable Food Project.  What I learned from the book is that sesame seed cookies are also known as Biscotti Regina.  They are not the sliced and twice-baked cookies we associate with biscotti (cantuccini), because in Italy biscotti just means cookie.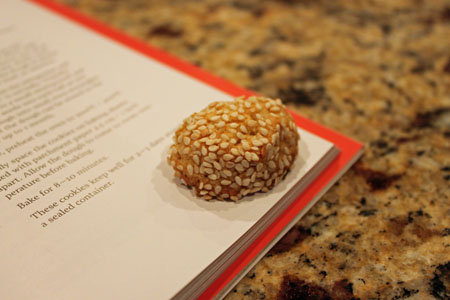 Biscotti Regina are crumbly, stubby, not-too-sweet sesame seed cookies that are perfect for pairing with a hot beverage (and maybe a second type of cookie!).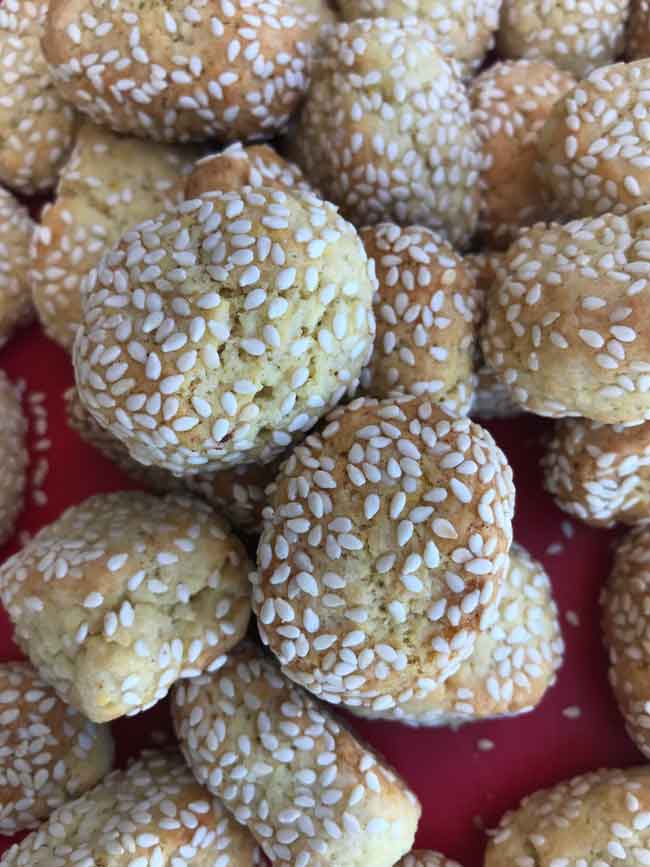 As for the book, along with dozens of cookie recipes, it includes vivid photos of everyday life at The American Academy in Rome and tells the story of how Mona Talbott, chosen by Alice Waters to lead the program, took the kitchen of the "ARR" from being rundown and dingy to an exemplary kitchen feeding the masses with sustainable, local and organic ingredients. Recipes fall into five categories: Milk and Wine, Nuts, Honey, Citrus and Spice, Meringue, and Chocolate.  Plus it also features recipes for American cookies such as as Snickerdoodles, Peanut Butter Cookies, and Blondies.
But back to the sesame seed cookies.  For best results, weigh the flour.  If the dough is dry, add a little bit more milk. The original recipe doesn't call for salt, but I think the cookies benefit from a bit of it, so I've added ¼ teaspoon of it to the dough. Feel free to leave it out if you prefer -- especially if you're using salted butter.
Making the cookies 7 grams each (for 40 cookies) seems tedious and you may be tempted to make them larger. You can, but the smaller cookies give you more sesame flavor in each bite.
Biscotti Regina – Sesame Seed Cookies
165 grams/1 cup plus 2 tablespoons all purpose flour
58 grams/1/4 cup plus 2 teaspoons granulated sugar
3.5 grams/1/2 teaspoon baking soda
50 grams/3 tablespoons plus 2 teaspoons butter (I use unsalted)
¼ teaspoon salt (my addition)
20 ml/1 tablespoon plus 1 teaspoon milk (I ended up using more)
1 large egg yolk
½ teaspoon grated lemon zest
50 grams/1/3 cup raw sesame seeds
Combine the flour, sugar and baking soda (and salt, if using) until the dry ingredients are well mixed (I did this in the bowl of a stand mixer). Add the soft butter, milk, egg yolk and lemon zest all at once to the dry mixture and mix slowly until a soft dough forms. You may have to knead it with your hands. Wrap the dough in plastic film and refrigerate for at least 30 minutes. My dough was fairly dry, but I was still able to proceed with the recipe and shape the cookies.
Remove the dough from the refrigerator and form it into 40 (7 gram/1/4 oz) balls. Transfer the sesame seeds to a small mixing bowl and gently press the seeds into each ball as you reshape the dough into small even rectangles. At this point, the dough can be stored in the freezer for up to 1 month.
Evenly space the cookies on baking sheets lined with parchment paper 2.5 cm/1 inch apart. Allow the dough to come to room temperature before baking. Bake at 400 degrees F. for 8-10 minutes or until lightly browned.
These cookies keep well for 2-3 days stored in a sealed container. Makes about 40.