I love Black and White Cookies and have tried several recipes over the years including ones from Epicurious, Martha Stewart, Baked Bakery and another one from Salon.  They were all good, but at the end of the day I'd have to say my favorite was this hybrid.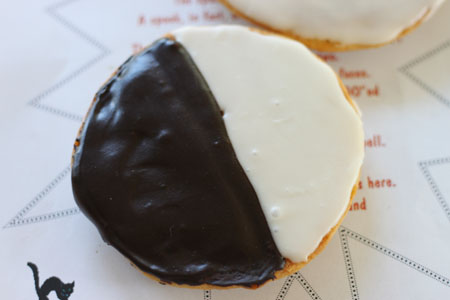 The others were all very good in their own way — some denser, some crumblier, but my favorite is slightly cakier with a lot of flavor from vanilla and a hint of lemon.  As for the icing, I really like the one I've posted, but if you have a better one let me know.
| | |
| --- | --- |
| Gourmet Black and White Cookies (Epicurious) | My favorite right now! Cakier than the others and less crumbly, but moist and delicious. Less lemony and more kid friendly. Maybe. Only tested on one kid. |
| Baked   Explorations                        | Very good cookie. Moist, but not too cakey. Had the lightness about it that one would expect in a Black & White, and lots of lemony flavor. |
| Salon.com Black and White Cookie Recipe        | This cookie tasted almost exactly like a New York deli Black & White, but after trying some other recipes with more butter, I'd choose them over this cookie. These did have a very crumbly, light texture, though. My mother loved them. |
| Martha Stewart Baking Handbook Recipe         | This cookie was higher in fat than the others. It was richer, denser and very filling. Because the cookies are so rich, I think they'd be ideal as "minis", but when made regular size, they're almost too heavy. |
Favorites!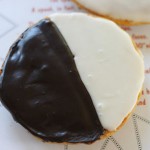 Print Recipe
Favorite Black and White Cookies
My favorite recipe for Black and White Cookies
Ingredients
1 1/4

cups

5. 7 oz all-purpose flour

1/2

teaspoon

baking soda

1/2

teaspoon

salt

5 1/2

tablespoons

unsalted butter

softened

1/2

cup

granulated sugar

1

teaspoon

fresh lemon zest or a tiny dash of lemon oil

1

teaspoon

vanilla

1

large egg at room temperature

1/3

cup

buttermilk or equivalent buttermilk powder

SACO plus water**
Frosting
1/2

pound

1 3/4 cup plus 2 tablespoons powdered sugar

2 to 3

tablespoons

whole milk plus more as needed

1 1/2

tablespoons

heavy cream

1

teaspoon

of corn syrup

1

teaspoon

pure vanilla extract

1/4

cup

plus 1 tablespoon Hershey's Dark unsweetened cocoa powder
Instructions
Preheat oven to 350°F.

Stir together flour, baking soda, and salt in a bowl and set aside.

Beat butter and sugar in a large bowl with a hand held electric mixer until pale and fluffy. Beat in the lemon zest and vanilla, then add egg, beating until combined.

Add the flour mixture and buttermilk mixture alternately by hand until you have a smooth batter.

Spoon 1/4 cups of batter about 2 inches apart onto a large baking sheet lined with parchment. Bake in middle of oven until tops are puffed and pale golden, and cookies spring back when touched, 15 to 17 minutes.

Transfer with a metal spatula to a rack and chill (to cool quickly), about 5 minutes (or let them cool at room temperature).

Make the Black & White Icing. Whisk the powdered sugar, milk, cream, corn syrup and vanilla together in a large bowl. Measure out about 1/3 cup and put it in a separate bowl

Add the cocoa powder and 1/2 teaspoon of water to the 1/3 cup that you measured out and stir until smooth. If the chocolate frosting seems too thick, thin it with a little water or milk.

Transfer the frosting to disposable decorating bags that do not have the tip snipped off. You won't need a decorating tip. When ready to use, snip off the tip of the decorating bags and pipe half moons of each flavor over the cookies.

Makes about 8 to 10 cookies (I usually get 8)