Black walnuts are definitely an acquired taste. Growing up in pecan country, I didn't try black walnuts until I was an adult, and I remember thinking something was wrong with them -- like maybe they were old or rancid. Then someone told me that's just how they are. To me, they taste like something that's been stored in the attic for a while. Others describe their scent as similar to paint thinner or gasoline or wool socks. And then there's the flavor, that tastes like the smell but with a sweet note like fermented grapes. They are quite different from English walnuts, and I can totally see how people who grew up eating black walnuts would have strong taste and smell memories.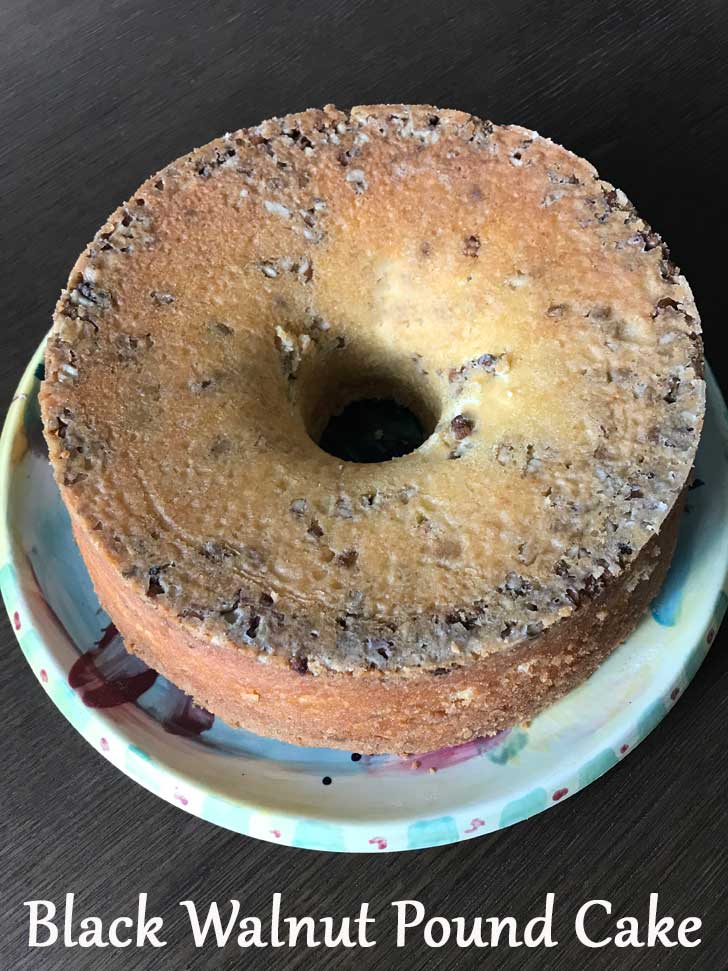 Old Fashioned Black Walnut Pound Cake
So why did I make Black Walnut Cake? It was due to an encounter I had with a lady at the North Carolina Farmers Market who was trying to sell me on some Happy Home black walnut flavoring. I was interested in the butter flavoring (which is good as far as butter flavorings go), but she said I really should try the black walnut and that it was the key to her aunt's signature pound cake. I didn't buy it that day, but I started thinking about it this week and put in an Amazon order for black walnut flavoring as well as a bag of fresh black walnuts.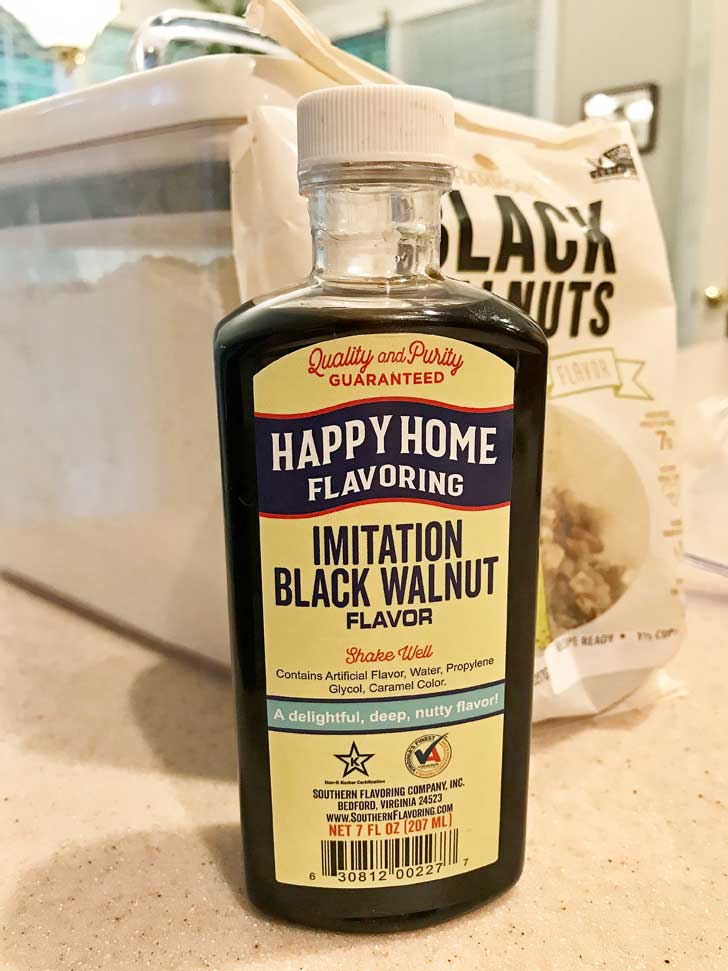 The flavoring was delivered, but instead of nuts they accidentally sent this American flag swimsuit. The nuts showed up a few days later and I was able to make the cake with both the flavoring and the nuts.
Black Walnut Pound Cake
I'm pretty sure there is a good Southern Living Black Walnut Cake, but this recipe is a combination of two basic black walnut pound cakes found on Allrecipes.com and Taste of Home. I baked it in my removable bottom tube pan (using the paper bag to prevent leakage trick) for an hour and a half. As I suspected, the black walnut flavoring was much more pleasant that its fragrance suggested. It truly smelled like medicine. As for the black walnuts, they were interesting. Todd loved them. I had to keep eating them to try to form an opinion. Are they really this bad? Yes? No, maybe not. Eat another one. Maybe kind of good? No, yes. I'm still not sure how I feel about them, but I'll finish the bag and am going to experiment more with the flavoring.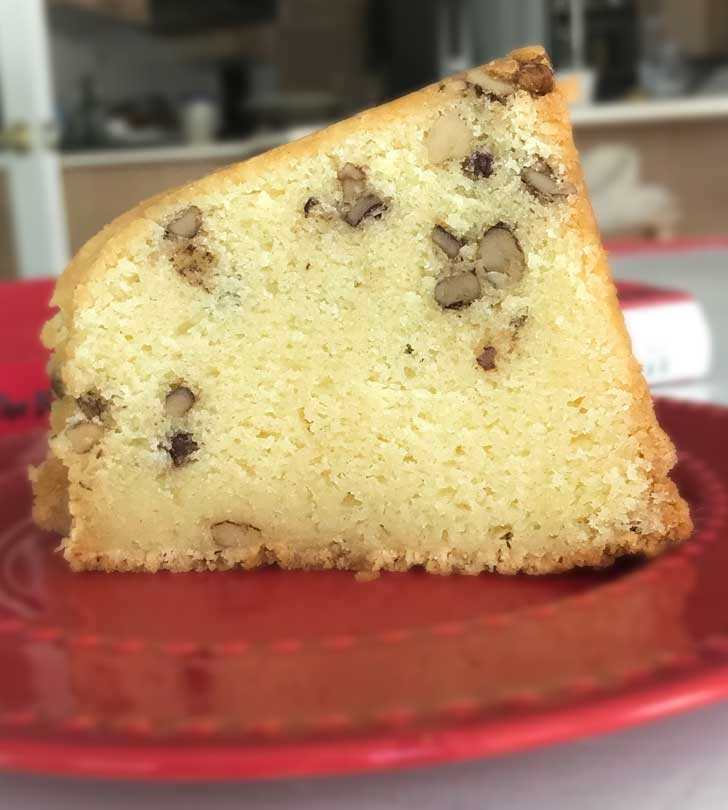 English Walnut Pound Cake
I've finally formed my opinion on black walnuts. Basically, I love the smell of them because it takes me back to a very specific time in life. However, I'd rather eat good old English walnuts. This cake works well with either type, so if you aren't a fan of black walnuts you can use English walnuts. Adding mini chocolate chips isn't a bad idea either!
Paper Grocery Bag Tube Pan Trick
So here's the tip I used (Thanks, Donna!) to prevent batter leaking out of a removable bottom tube pan. Take a brown paper grocery bag and set a tube pan on it. Draw a circle around the pan leaving a ¼ inch perimeter. Cut out the circle. Remove the tube attachment from the pan and set the paper circle in the base of the pan. If there's a pen or pencil mark from where you drew the circle, put that side facing down. Set the tube section on top of paper pressing down so that the ¼ inch perimeter comes up and fills the gap between the base and the removable tube. Grease and flour the pan or use baking spray. I sometimes use spray, but it's expensive and I don't enjoy the fumes so I usually just use shortening and flour.
Recipe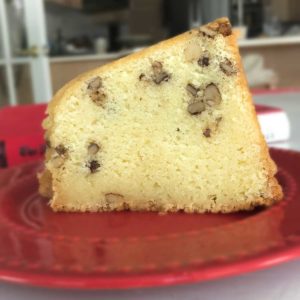 Black Walnut Pound Cake
A walnut pound cake flavored with black walnut flavoring.
Ingredients 
3

cups

bleached or unbleached all-purpose flour

½

teaspoon

baking powder

⅛

teaspoon

salt (increase to a teaspoon if using unsalted butter)

2

sticks

salted butter, softened

(230 grams)

½

cup

shortening

(96 grams)

3

cups

granulated sugar

(580 grams)

1 ½

teaspoons

black walnut flavoring

5

large

eggs, room temperature

room temperature

1

cup

whole milk

room temperature

1

cup

coarsely chopped black walnuts
Instructions 
Preheat oven to 325 degrees F.

Grease and flour a 10-inch tube or Bundt pan; set aside.

Mix together all the dry ingredients (flour, baking powder and salt) and set aside.

In a mixing bowl or stand mixer, beat butter, shortening, and sugar until light, creamy, and fluffy. Add the flavoring and continue beating.

Add eggs, one at a time and beating well after each addition.

Add the flour mixture alternately with the milk, stirring until blended and smooth. Stir in the black walnuts.

Spoon batter into prepared pan and place pan on a rimmed baking sheet (especially if using a removable bottom tube pan). Bake at 325 for 1 hour 25 minutes (check a little earlier -- mine took the full 85 minutes) or until cake tester inserted in middle comes out clean.

Cool cake in pan for 20 minutes. Invert cake onto a wire rack to cool completely, about 2 hours. Dust with confectioners' sugar before serving if desired.