I was never a big waffle fan. My mom made them on occasion, but served them for dinner with Steen's Cane Syrup. Have you ever tried Steen's Cane Syrup on waffles? Let's just say it's an acquired taste, and my dad acquired it from the same place he learned to love Beanie Weenie's, Vienna Sausages, catsup sandwiches and cornbread crushed up in a big glass of buttermilk. His childhood wasn't easy, but he carried a lot of food preferences into adulthood and to this day, he loves Steen's. I might even buy him some for Christmas because he'll be happy and the smell will be nostalgic, but I can tell you that I didn't start liking waffles until I went to a friend's house and the mom took out some Log Cabin.
Not long ago, Todd and Fuzz mentioned that they preferred waffles over pancakes. That, plus seeing a few interesting recipes (Warren Harding's Waffles from The Stag Cookbook and Malted Waffle recipe from Baked Explorations) motivated me to buy a small Cuisinart Waffle Maker. Since it arrived last week, I've been having so much fun with it.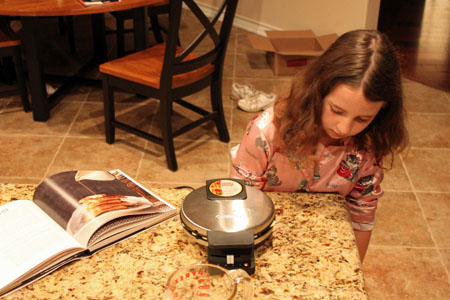 The first recipe we tested was from the booklet that came with the waffle maker.  Of all the waffles I've made, it was Fuzz's favorite.
The second recipe, Malted Waffles, was adapted from Baked Explorations.  I had really high hopes for it, but things didn't turn out quite as planned. Fuzz tried to stir the batter but had to let me take over because the malty smell turned her off.   By the time the waffle was ready, she was so put off by the malt smell she decided malted waffles weren't for her.  Luckily, Todd liked them.
Here's the recipe as I made it. We're a small family, so I made a half batch and got about 4 good sized waffles.
A few tips:  You know how they say "oil the waffle maker"?.  Don't skip that step.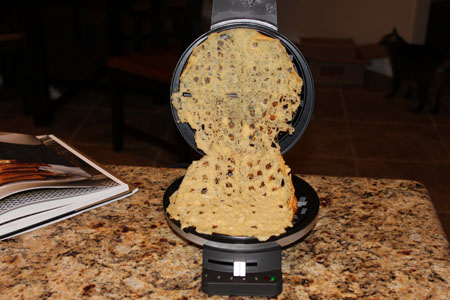 Okay, so that's the only tip. Here's the recipe for the malted waffles.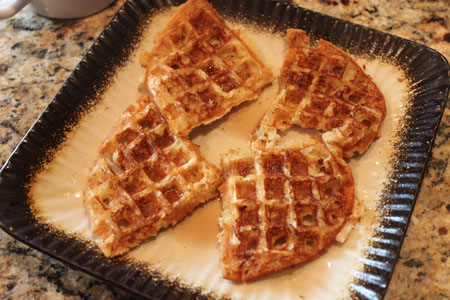 Malted Waffles
1 cup all-purpose flour
1/2 cup malted milk powder
1/2 teaspoon baking soda
3/4 teaspoon baking powder
1/4 teaspoon salt
1 tablespoon brown sugar
1 large egg
3 tablespoons unsalted butter, melted and cooled
1 1/4 cups buttermilk
Mix the dry ingredients in a bowl. Make a well in the center. Whisk the egg in a second bowl. Whisk in the butter and buttermilk. Add the liquid mixture to the flour mixture and stir just until mixed – there will be some lumps. Heat waffle maker as per manufacturer directions and. Brush lightly with oil. Drop batter onto waffle maker and use technique from manufacturer to make the waffles.
Related posts: