A few weeks ago a friend took me to Alice's Tea Cup for perfectly brewed cups of tea and fabulous pumpkin scones. I can't wait to go back this summer, but until then I'll just keep baking from the Alice's Tea Cup Cookbook. Last night I made the pumpkin scones.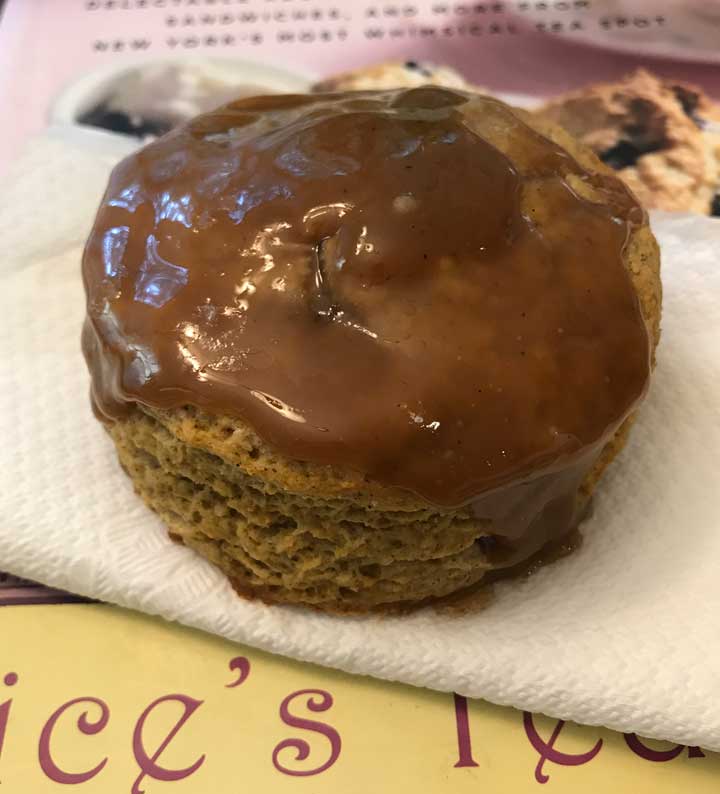 The recipe uses the same basic proportions as the cookbook's other scone recipes but with the addition of pumpkin. Like another recipe from the book which called for fruit, the pumpkin dough was pretty sticky and seemed much softer than it should be.  (Update: Since then I have reduced the milk so dough is not so soft)
Freezing and Thawing
Since there are only 3 of us here, I made a half batch and froze them in a large freezer bag. I tried a couple of different methods of re-heating, but the best was just to use a low setting on the microwave and then heat in the oven to complete the thaw and to warm. If you plan on freezing, do not ice the scones but rather thaw, warm and make the icing fresh. Freezing the shaped scone dough is also an option, though they may not rise as high.
Pumpkin Scones Update
Some time has passed since I first posted this recipe, and based on what I've read there is a typo in the book. The actual amount (based on what was used on a TV appearance) is actually 2 tablespoon each of ground ginger and ground cinnamon. Since my version is a half-batch version, I am now using 1 tablespoon each of ground ginger and ground cinnamon. That is still a lot of spice, but the scones are still very good and don't taste overly spiced. The strange thing is when I first made the scones with the typo amount (1/4 cup of each) they were still great! Also, make sure to add the milk gradually. If you add it all at once the dough will most likely be too soft to knead and you'll have to drop it.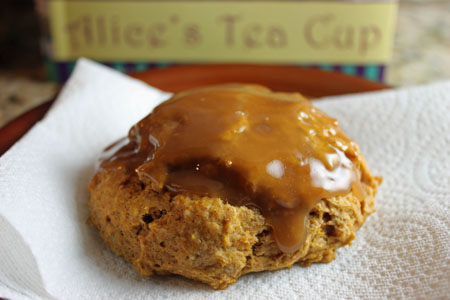 Recipe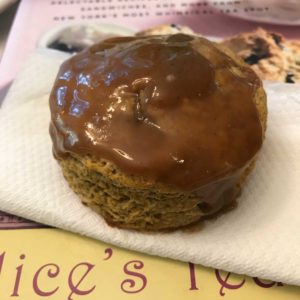 Alice's Tea Cup Pumpkin Scones
Half Batch Alice's Tea Cup Pumpkin Scones
Ingredients 
1 1/2

cups

all-purpose flour

210 grams, so heavy cups

3

tablespoons

granulated sugar

36 grams

1/4

teaspoon

baking soda

1 1/4

teaspoons

baking powder

3/8

teaspoon

kosher salt

I used Morton

1

tablespoon

ground ginger

1

tablespoon

ground cinnamon

6

tablespoons

unsalted butter

cut into 1/2-inch pieces (mine was cold)

5

oz

buttermilk (divided use)

132 grams

1/2

cup

canned pumpkin puree

all pumpkin, not pumpkin pie filling

1

tablespoons

pure vanilla extract
Caramel Glaze:
1

stick

unsalted butter

114 grams

1/2

cup

firmly packed light or dark brown sugar

100 grams

1/4

teaspoon

freshly squeezed lemon juice

1/8

teaspoon

kosher salt

1/4

cup

heavy cream
Instructions 
Preheat the oven to 425°F. In a large mixing bowl, combine the flour, sugar, baking soda, baking powder, salt, ginger, and cinnamon. With clean hands, work the butter into the dry mixture until it is thoroughly incorporated and has the consistency of fine breadcrumbs.

Make a well in the center of the dry ingredients, and pour HALF the buttermilk, pumpkin, and vanilla extract into the well. Still using your hands (I did this with a spatula scraper), combine the ingredients until all the dry mixture is wet. Gradually add just enough remaining buttermilk until the dough is soft enough to work with.

Turn the mixture onto a floured surface and gather the dough together. Gently pat the dough to make a disk about 1 1/2 inches thick. Using a 3-or 3 1/2- inch biscuit cutter, cut out as many scones as you can and lay them on a nonstick baking sheet. Gather the remaining dough together lightly to cut out more scones.

Bake the scones for about 12 minutes, or until lightly browned. Let the scones cool slightly on the baking sheet (about 20 minutes) before glazing them.

While the scones are cooling, prepare the caramel glaze: Place the butter, brown sugar, lemon juice, and salt in a saucepan over medium heat and whisk gently until the mixture is smooth. Just as the mixture comes to a light boil, add the heavy cream and reduce the heat to low. Whisk well for 2 minutes, or until the glaze is thickened and smooth; then remove the pan from the heat.

To glaze a scone, hold it by the bottom, dip the top in the warm caramel glaze, and place it back on the baking sheet. Makes 5 o 6
Notes
This is a half version of the original recipe. I bought the book right when it came out and the original full version called for 1/4 cup cinnamon and 1/4 cup ginger which was probably an error.  The original recipe also made a very soft dough, so I originally just dropped the scones from a 1/3 cup measure.  Now I use half the buttermilk and the dough is workable and can be punched.  I've also reduced the spices to 1 tablespoon of each which is still plenty!