After a rather hectic week, we spent the weekend wrapping presents, doing last minute shopping and tending to chores around the house (like "furminating" and bathing the corgi), I felt like making something good yet familiar, and this cake hit the spot. It's an easy scratch chocolate cake layered with some raspberry pie filling and frosted with a mixture of whipped cream, sour cream, sugar and coconut flakes. While it would have been perfectly good without it, the pie filling added extra character to the cake and helped it stay moist in the refrigerator. Because of the topping, you do need to keep it chilled.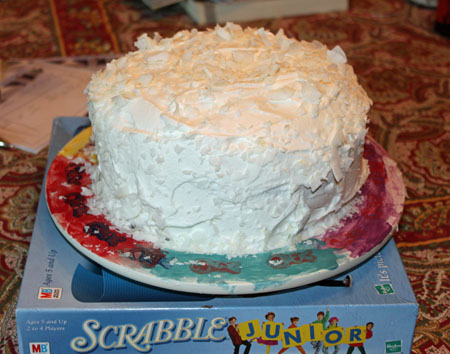 If you're in the mood for cake, this is a good one. The cake part is almost identical to Hershey's Black Magic recipe, but the whipped cream and sour cream topping was unique and I'd definitely use it again on other cakes. You just whip a cup and half of cream with some light sour cream, throw in some sugar, and you've got a fabulous billowy white frosting. The added touch of coconut flakes (or chips, as the ones I bought were called) made it even more special.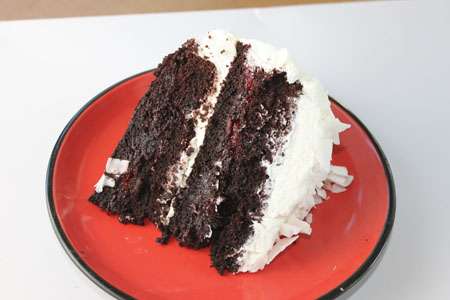 This one is adapted from Woman's Day. In fact, it's on the current cover! They don't use pie filling, though.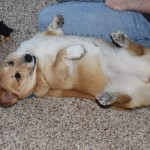 Print Recipe
Chocolate Cake with Raspberry Filling and Coconut Cream Frosting
An excellent and very simple chocolate cake with a raspberry filling and super easy sour cream frosting.
Ingredients
1 3

⁄4 cups all-purpose flour

3

⁄4 cup unsweetened cocoa

used Valrhona Dutch

1 1

⁄2 cups granulated sugar

1

⁄2 cup packed brown sugar

1 1

⁄2 tsp baking soda

1

⁄2 tsp baking powder

1

⁄2 tsp kosher salt

1

cup

whole milk

1

⁄2 cup canola oil

2

large eggs

2

tsp

pure vanilla extract

3

⁄4 cup boiling water
Filling:
1

cup

more or less as desired raspberry pie filling
Frosting:
1 1

⁄2 cups heavy cream

1

⁄2 cup reduced-fat sour cream

1

⁄4 cup confectioners' sugar

2

cups

unsweetened coconut

flakes, chips or shredded
Instructions
Heat oven to 350°F. Coat two 8 x 2-in. round cake pans with flour-added cooking spray. Line bottoms with wax paper or parchment; spray the paper. Dust with flour ( didn't dust with flour).

In a large bowl, mix together flour, cocoa, granulated and brown sugars, baking soda, baking powder and salt.

In a large measuring cup or bowl, whisk together milk, oil, eggs and vanilla. Add the milk mixture to the flour mixture and mix until fully incorporated.

Add the boiling water to the batter and mix well to combine (the batter will be thin). Divide the batter between the prepared pans and bake until a wooden pick inserted in the center comes out clean, 35 to 40 minutes. Let cool for 10 minutes in the pan before transferring to a wire rack to cool completely.

If using pie filing, split the layers horizontally and fill split layers with pie filling.

Beat the heavy cream, sour cream and confectioners' sugar in a large bowl until stiff peaks form. Place one of the filled cakes on a platter and spread 1 cup frosting over the top. Top with the remaining cake and frost with the remaining icing. Gently pat the coconut all over the cake. Serve immediately or refrigerate, up to 1 day.
Notes
Try with cherry pie filling.