It's been years since I posted Tofu Chili and it's still a family favorite. But things change, and these days I don't always use tofu so I'm now calling it Vegetarian Chili. Tofu is still an option of course, but with all the new beef substitutes on the market it's fun to experiment.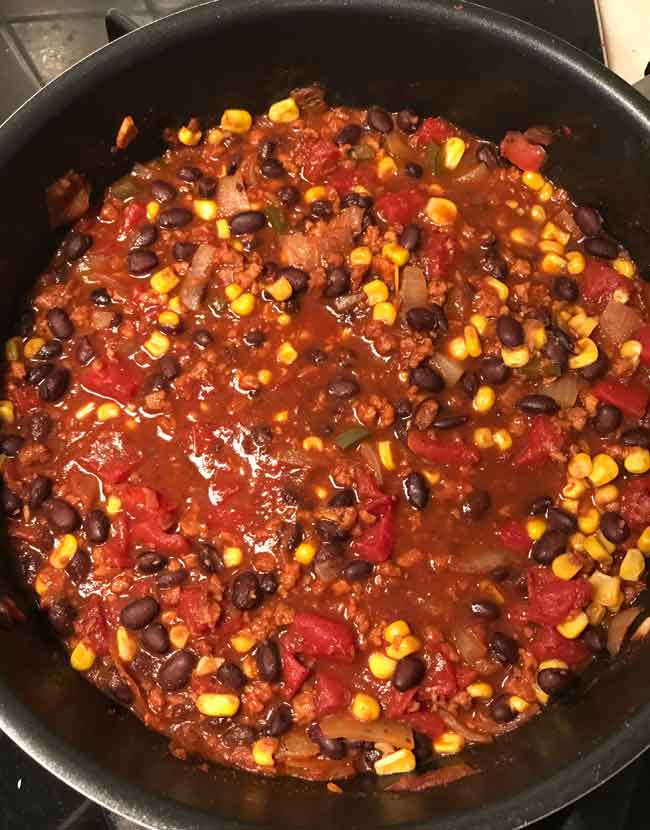 I've added some more ingredient notes below, but since chili is a personal thing I hope you use this as a template and make it your own.
Tofu Chili or Vegetarian Chili Ingredient Notes
Vegetable oil, onion and garlic are pretty straightforward. You might throw in some fresh jalapeno if you are not using the "Mexican Style" diced tomatoes or if you just want more heat.
Instead of tofu, you can substitute vegetarian beef crumbles like 1 ½ cups frozen Gardein crumbles straight out of the bag.
Cumin is one of my favorite spices so I use a lot. Feel free to cut down on it if you think a tablespoon is too heavy.
For the tomatoes, any 14 oz can of diced will do. The Mexican Style diced type has some built in pepper flavor, but you can always throw in mild or spicy fresh peppers with the onions and garlic.  Fire roasted tomatoes are also great.
This is a slightly sweet chili, so if you want less sweetness use a little tomato paste instead of the ketchup and/or eliminate the brown sugar.
To save money I almost always use 1 ½ teaspoons of Better Than Bouillon mixed with 1 ½ cups water, but if you have  1 ½ cups canned or homemade broth on hand you can use that. You may or may not need to add salt to the chili depending on your choice of broth. For instance, the reconstituted Better than Bouillon is pretty salty so I never need much (if any) extra salt if using that.
Any kind of beans work, but we particularly like black beans. You can also throw in a little fresh corn, garbanzo beans, whatever.
Smoked paprika is also a good add-in.Unless you've never made chili before, you know that chili starts off thin and thickens as it simmers and sits. This chili is no exception.  If for some reason you feel it's not thick enough, a few spoonfuls of Masa Harina (such as Maseca) will thicken it up a bit.  But I generally don't have problems with this chili being too thin.

Recipe

Fuzz's Tofu Chili

Fuzz's Tofu Chili can be made with or without the tofu. These days I usually use vegetarian beef crumbles.

Ingredients 

1

tablespoon

vegetable oil

1

large onion

chopped

3

cloves

garlic

minced

10

oz

extra firm tofu or 1 ½ cups veg. beef crumbles

frozen, thawed, drained, pressed dry

1

tablespoon

chili powder

like Gebhardt**

1

tablespoon

ground cumin

2

tablespoons

ketchup

1

14.5-ounce can diced "Mexican Style" tomatoes, undrained or any kind diced

Note about peppers

½

cup

tomato sauce

1

teaspoon

unsweetened cocoa powder

1 ½

teaspoons

brown sugar

1

teaspoon

of oregano

1 ½

cups

vegetable broth

Swanson or reconstituted

1

15 oz can black beans, drained and rinsed

Instructions 

Heat the vegetable oil over medium in a Dutch oven or 3 ½ quart pot. Add onion and sauté 3 minutes. Add the garlic and tofu and sauté another 2 minutes. Add chili powder, cumin, ketchup, tomatoes, tomato sauce, brown sugar, cocoa powder and vegetable broth.

Simmer uncovered for about half an hour. Chili should thicken as it simmers.

If you want to cook it longer than half an hour, cover it up and simmer for another half hour to an hour. Add the black beans and cook for another 5 minutes or until they are heated through.

Notes

Be careful choosing chili powder because some brands are very spicy.  Also, dried ground chili peppers are also called chili powder.