A few weeks ago I learned that freezing extra-firm tofu, thawing it and pressing the water out makes it crumbly and more like ground beef. It still taste like tofu and you have to really use your imagination if you want to think of it as meat, but it's good in its own right, nutritious and inexpensive. I'm happy to have a child who loves tofu, so I made this tofu chili just for her. Todd had left over Beef Bourguignon made with actual beef.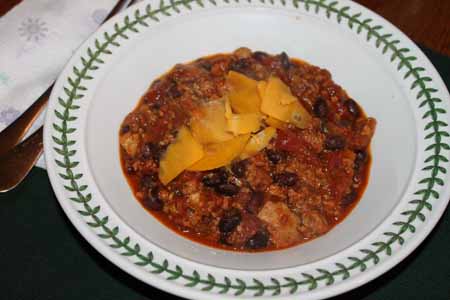 Chili is a personal thing, but this is a good start if you like chili that's sweet and spicy but not too fiery. I used a little brown sugar to heighten the sweetness, but you can leave it out or use less if you want since the ketchup adds a little sweetness of it's own.
In all probability, it's very likely you will do what many people do when they make chili and just change the whole recipe as you go! I guess the point of this is tofu is really good in chili and if you haven't tried it yet, buy a brick of tofu, freeze it, thaw it, press out the water, and use it instead of beef. Let me know what you think.

Fuzz's Tofu Chili
Fuzz's Tofu Chili
Ingredients
1 tablespoon vegetable oil
1 large onion, chopped
3 cloves garlic, minced
10 oz extra firm tofu, frozen, thawed, drained, pressed dry
1 tablespoon chili powder (like Gebhardt)
1 tablespoon ground cumin
2 tablespoons ketchup
1 (14.5-ounce) can diced "Mexican Style" tomatoes, undrained
1/2 cup tomato sauce
1 teaspoon unsweetened cocoa powder
1 1/2 teaspoons brown sugar
1 teaspoon of oregano
1 1/2 cups vegetable broth (Swanson)
1 (15 oz) can black beans, drained and rinsed
Instructions
Heat the vegetable oil over medium in a Dutch oven or 3 ½ quart pot. Add onion and sauté 3 minutes. Add the garlic and tofu and sauté another 2 minutes. Add chili powder, cumin, ketchup, tomatoes, tomato sauce, brown sugar, cocoa powder and vegetable broth.
Simmer uncovered for about half an hour. Chili should thicken as it simmers.
If you want to cook it longer than half an hour, cover it up and simmer for another half hour to an hour. Add the black beans and cook for another 5 minutes or until they are heated through.