I was hoping to post a pound cake recipe today, but I'm having sad streak issues and am sharing this recipe for Carrot Cardamom Soup instead. Who knows? Maybe you'll like it better than pound cake. After all, this is the week after New Year's and it's possible you already have lots of desserts in the freezer. So here's a soup to tide you over. We think it's a really good one! My daughter and I made it often during the holidays, and even though I'm supposed to watch fodmaps I kept eating it anyway because it's that kind of soup. It's also lighter than some, or at least relatively speaking. It does calls for a little oil, but no cream or milk.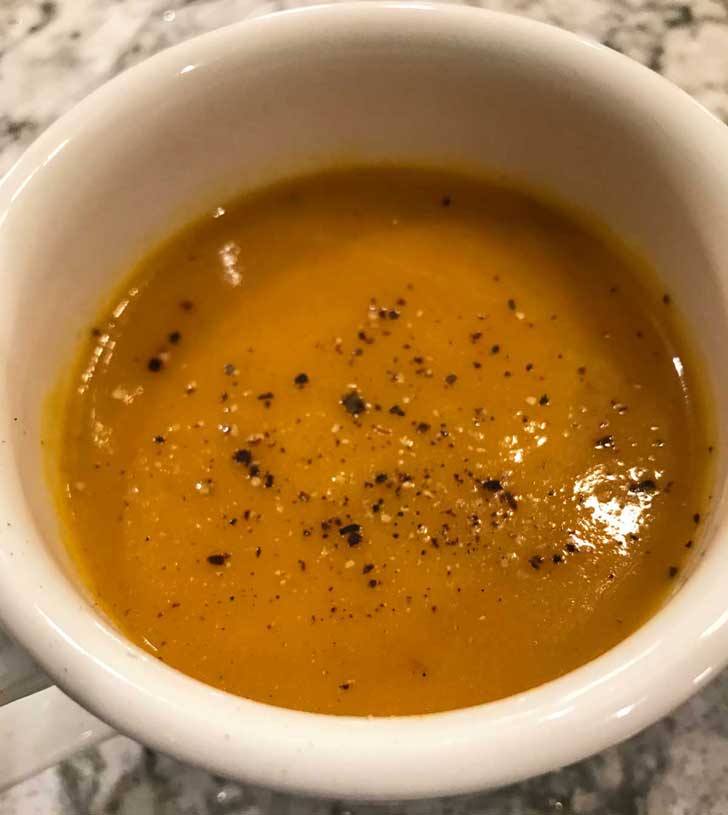 In fact, if you make it with vegetable broth it is vegan. But that's not really why we like it. We mostly love the flavor, which is slightly unusual thanks to a mix of green cardamom seeds and spices.
Carrot Cardamom Soup Ingredients
Carrots and onions are the only vegetables in the soup, and any type of carrots work. I use baby carrots because they are usually sweet (and don't have to be peeled). For the onion, I use a Vidalia sweet onions. There's plenty of garlic in the soup as well. Mo' fodmaps, mo' flavor Oh well. I haven't found a good substitute for onions.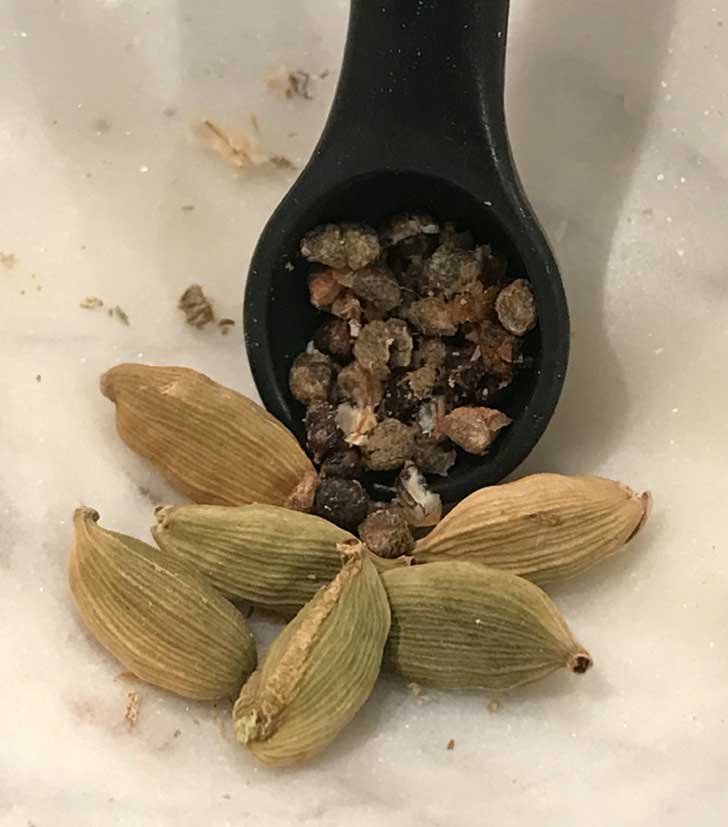 The key spice is seeds from green cardamom pods. To get the seeds, you have to bust open the hulls and separate them from the pods. In addition to the seeds are tiny amounts of cloves and cinnamon. The spices plus the lemon and the bit of maple sweetness give this soup a flavor I'd describe as lively. If yours doesn't come out "lively" you'll have ot adjust the seasonings. One thing I've learned about soup is it's very personal and even if you follow a 5 star NYT recipe you'll probably end up adjusting the spices due to saltiness and flavor of whatever broth you used etc.
Blender vs. Immersion Blender
If you got a new immersion blender for Christmas, you can try using it for this creamy soup. We tested with both an immersion and regular blender and think it's creamier and smoother when pureed in a blender. Also, the little bits of cardamom are pulverized better. That being said, if you don't mind a few lumps or bites of cardamom and don't want to wash the blender, the immersion works fine. Here's the one I got for Christmas. It's cordless and seems pretty good so far. It's definitely a space and dish saver.
Amount of Broth and Serving Sizes
The recipe calls for 2 1/2 to 3 cups of broth, which you'll add gradually. Also, the amount of salt will vary based on what kind of broth you use. I usually use Swanson brand. As far as serving sizes, that depends. The recipe below should give you four appetizer or side servings, which is how I serve this soup since it doesn't have a lot of protein. We eat it with or without salad before the meal. It's also a good side for sandwiches.
Recipe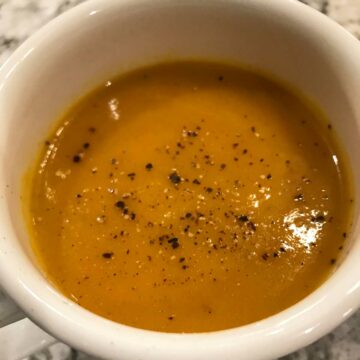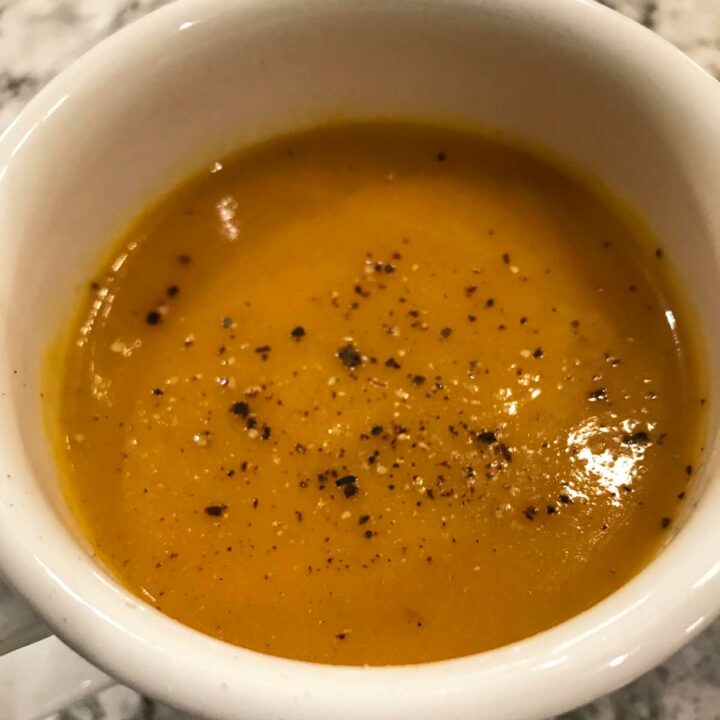 Carrot Cardamom Soup
Made with baby carrots and spices. If you want to add a little coconut flavor, use unrefined coconut oil in place of olive oil and stir in little coconut milk at the end. The soup is fine without, but it's very good with it too.
Equipment
Blender or Immersion Blender
Ingredients 
2

tablespoons

olive oil or coconut oil

2/3

cup

chopped onion (half of a very large onion)

(85 grams)

3/4

pound

baby carrots or peeled carrots (12 oz)

(12 oz/336 grams)

1 1/2

teaspoons

minced garlic

2 1/2 to 3

cups

vegetable broth

(see note about range)

3/8

teaspoon

salt — to start.

1

pinch

cinnamon (very tiny pinch or 1/16 teaspoon

1

pinch

cloves (very Tiny pinch or 1/16 teaspoon)

4-6

pods

cardamom seeds (use seeds, not the pods)

See note

1/2

tablespoon

lemon juice plus more if desired

1

teaspoon

maple syrup, plus more to taste

black pepper to taste
Instructions 
In a large pot, cook the onions in the oil until they are very soft, then add the carrots and garlic. Continue cooking for another minute, then add 2 cups of the broth plus the cardamom, cloves, cinnamon and half of the salt. Cover and simmer until carrots are soft (about 20-25 minutes).

Let cool slightly, then transfer to a blender and puree until smooth. Pour the mixture back in the pot and add the remaining 1/2 cup of the broth. If you feel the soup is too thick, then add a little more. Alternatively, you can puree with an immersion blender.

Add remaining salt, the lemon juice and maple and heat the soup again. Add more salt and pepper to taste if needed.
Notes
I use the seeds from 4 to 6 cardamom pods.   To get seeds out of cardamom, crush the pods with a pestle (or a rolling pin or anything heavy), then pull them apart and scrape out the seeds.  If you can't find cardamom pods you can use a pinch of ground cardamom.