Fuzz's class is having their Valentine's Day party this week and I offered to bring some treats. The problem is that I can't decide what. Fourth graders are opinionated and like interesting things, so I have to choose carefully. Thinking Red Velvet Cupcake Cones might be fun, I made a test batch this afternoon using a very popular scratch red velvet cupcake recipe from McCormick.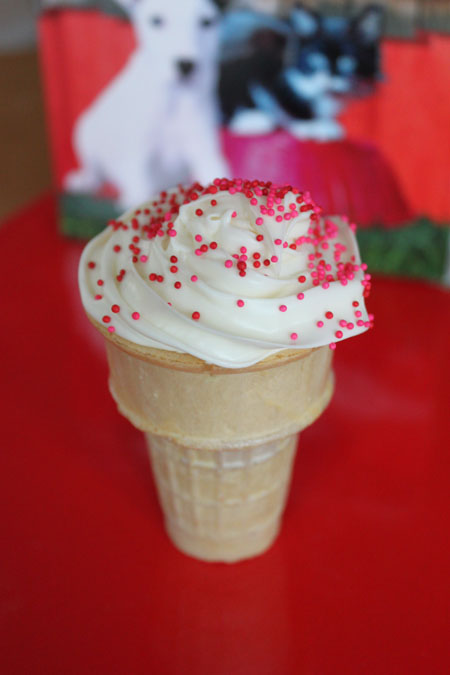 After pondering over what type of butter to use since the recipe just calls for "butter" and doesn't specify salted or unsalted, I opted for unsalted and left the salt amount at 1/2 teaspoon. That might have been a mistake because the cupcakes have the perfect texture and a good flavor (though not as twangy as my favorite red velvet recipes and definitely more chocolaty), but could have used more salt. Aside from the salt issue, the recipe is definitely worth making if you want a good, moist, scratch red velvet cupcake.
I used favorite cream cheese frosting rather than the one with the recipe so I've re-typed it below. I also baked the cakes in cones and tested a new trick I learned recently. To avoid soggy cupcake cones, poke a hole in the bottom of the baked cone cake to let steam escape. The cone should stay crisp.
Recipe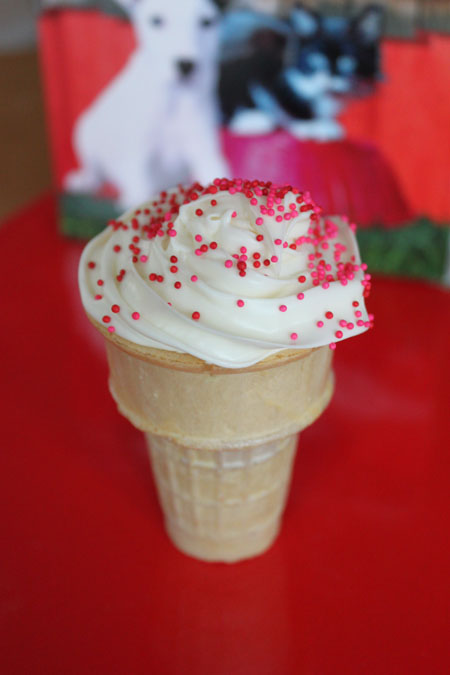 Red Velvet Cupcake Cones
Red Velvet Cupcake Cones
Ingredients 
2 1/2

cups

all-purpose flour

weigh or stir well before measuring (315 grams)

1/2

cup

unsweetened natural cocoa powder

remove lumps

1

teaspoon

baking soda

1/2

teaspoon

salt

1

cup

230 grams salted butter, softened

2

cups

granulated sugar

390 grams

4

large eggs

room temperature

1

cup

sour cream

1/2

cup

whole milk

1

1 ounce bottle McCormick® Red Food Color

2

teaspoons

McCormick® Pure Vanilla Extract
Vanilla Cream Cheese Frosting:
1

8 ounce package cream cheese

1/2

cup

salted butter

softened

1 1/4

teaspoons

vanilla extract

3 1/4

cups

confectioners' sugar
Instructions 
Preheat oven to 350 degrees F.

Mix flour, cocoa powder, baking soda and salt in medium bowl. Set aside.

Beat butter and sugar in large bowl with electric mixer on medium speed until light and fluffy. Beat in eggs, one at a time. Mix in sour cream, milk, food color and vanilla. Gradually add the flour mixture on low speed (or by hand) just blended. Do not overbeat. Spoon batter into 30 paper-lined muffin cups, filling each cup 2/3 full or spoon batter into 24 plain flat bottom ice cream cones – fill right to the point vanilla ice cream cones becomes wider.

Bake 20 to 25 minutes or until toothpick inserted into cupcake comes out clean. If using cones, use a skewer or knife and poke a hole in the bottom (or on the side near the bottom) of the baked cupcake cone to allow steam to escape (helps prevent a soggy cone).

Cool in pans on wire rack 5 minutes. Remove from pans; cool completely.

Frost with Cream Cheese Frosting.

Cream Cheese Frosting: Beat cream cheese, softened butter and vanilla extract in large bowl until light and fluffy. Gradually beat in confectioners' sugar until smooth.

Makes 24 to 30 cupcakes depending on method used.

Note: To make ahead, bake and cool as directed, put cones in a freezer bag (remove any extra air from bag), freeze overnight, frost while frozen, serve a few hours later.