Cherries are scarce here in February, but since it's National Cherry Month, making something with frozen cherries seemed like a good idea. Pie was my first thought, but February is also National Pie Month, and rather than be too much of a conformist, I decided to go with a cherry crostata.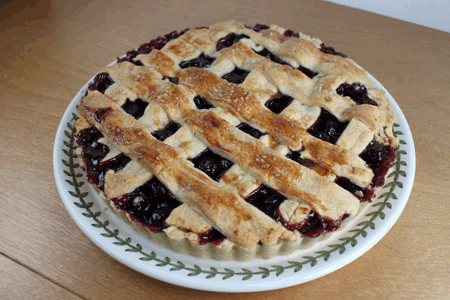 I'm not an expert on the subject, but the crostatas I've tried were made in tart pans, had a thick, sweet, crust Italians call "pasta frolla" and had a lattice across the top. I've also seen crostata made as free-form pies, but the ones we tried in Italy were definitely round, neat, and latticed. Mine ended up being round and latticed, but "neat" will take some practice. Still, it was fun to make and definitely very tasty. It was easier to serve than pie and I think Todd might have liked the crust a little more than usual.
This recipe (adapted from Gourmet) was originally made with sour cherries — even more difficult to find in Austin in February, so I added the juice of one lemon.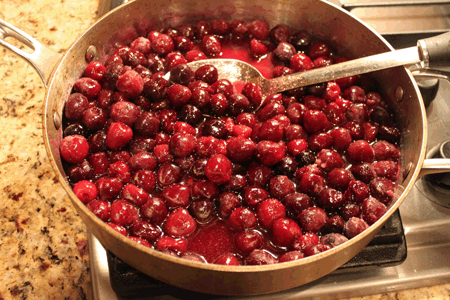 The dough is challenging to work with and keeping it cold is a must. It's kind of a deceptive dough, because at first it seems sturdy, but when you start working with it, it just snaps. Or at least mine did. It was worth it in the end, though!
This cherry crostata is supposed to be eaten the same day, but it can also be frozen. After we'd eaten our portions, I divided it into thirds, wrapped them in foil, and put them in the freezer.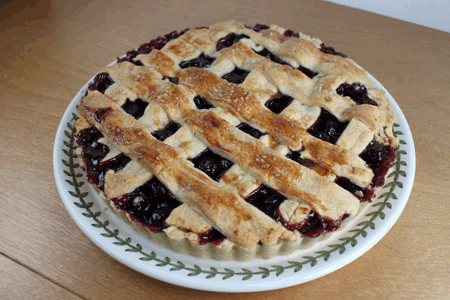 Cherry Crostata
A thin, Italian style fruit tart with a slightly sweet crust and cherry filling
Ingredients 
Dough
1 1/2

sticks

unsalted butter, softened

1/3

cup

sugar

1

large egg

lightly beaten

1

teaspoon

vanilla

2 1/4

cups

all-purpose flour

10.1 oz

1/2

teaspoon

salt

2

teaspoons

finely grated fresh lemon zest

save juice
Filling
3

tablespoons

unsalted butter

cut into pieces

5 1/4

cups

fresh or 28 oz frozen unthawed cherries

unthawed cherries

3/4

cup

plus 1 tablespoon sugar

Juice of one lemon

if not using sour cherries

2

tablespoons

cold water

3

tablespoons

cornstarch
Instructions 
Dough: Beat together butter and 1/3 cup sugar with an electric mixer at medium speed until pale and fluffy, about 3 minutes. Reserve 1 tablespoon beaten egg, chilled, for egg wash and beat remaining egg into butter mixture, then add vanilla, beating well. Reduce speed to low and mix in flour, salt, and zest until mixture just forms a dough. At this point, the dough should be easy to deal with and quite thick. It gets a little more delicate when you start working with it, so do keep it cold.

Halve dough and form each half into a 5- to 6-inch disk. Wrap disks in plastic wrap and chill until firm, at least 30 minutes.

Filling: Heat butter in a 12-inch nonstick skillet over moderate heat until foam subsides, then add fresh or frozen cherries with any juices and sugar and simmer, stirring, until sugar is dissolved. If you are using the lemon juice, add the lemon juice. Continue to simmer until cherries are tender but not falling apart, about 8 minutes. Stir together water and cornstarch to form a thick paste, then stir into simmering filling and boil, stirring frequently, 2 minutes. Cool filling quickly by spreading it in a shallow baking pan and chilling until lukewarm, about 15 minutes.

Roll out 1 piece of dough (keep remaining piece chilled) between 2 sheets of wax paper or parchment into a 12-inch round. Remove top sheet of paper and invert dough into a greased 9 inch tart pan. Trim overhang to 1/2 inch and fold inward, then press against side of pan to reinforce edge. Chill tart shell. Roll out remaining dough in same manner and remove top sheet of paper, then cut dough into 10 (1-inch-wide) strips and slide dough, still on wax paper, onto a baking sheet. Chill strips until firm, about 5 minutes.

Put a foil-lined large baking sheet in middle of oven and preheat oven to 375°F (don't skip the foil lined pan as the crostata will boil over a bit).

Spread filling in chilled tart shell and arrange 5 strips 1 inch apart across filling, pressing ends onto edge of tart shell. Arrange remaining 5 strips 1 inch apart diagonally across first strips to form a lattice with diamond-shaped spaces. Trim edges of all strips flush with edge of pan. Brush lattice top with reserved beaten egg and sprinkle crostata with remaining tablespoon sugar.

Bake crostata in pan on baking sheet in oven until pastry is golden and filling is bubbling, about 1 hour. (If lattice and edges look too brown after 30 minutes, loosely cover with foil.) Cool crostata completely in pan on a rack, 1 1/2 to 2 hours, to allow juices to thicken.