We live in Raleigh now, and one thing I've noticed is chicken salad is way more popular here than it was in Chicago or Austin. It also seems like more people make variations on Bridesmaid Chicken Salad, which is chicken salad made with Major Grey's brand chutney. Anyhow, this is my favorite version of that kind of salad. Feel free to substitute light mayonnaise or cut down a bit if you need to. You can also slip in some yogurt.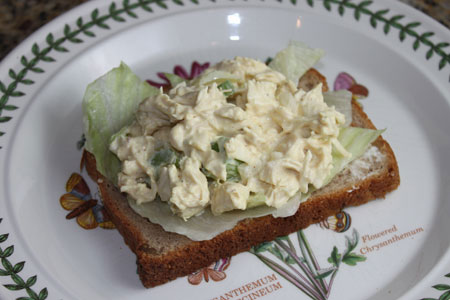 Bridesmaid Chicken Salad
I don't know the origin of this recipe but it appears in a couple of my Junior League books with the title "Bridesmaid Chicken Salad". It usually calls for pineapple plus slightly more lime juice and lime zest, but you really can taste the lime, so I like to tone that down a little.
For the chicken, cool and chop. I use the giant bone-in chicken breasts, sprinkle them with some Cavender's Greek seasoning, put a pat of butter under the skin, then roast at 350 for about 50 minutes. Roast chicken on the bone has so much more flavor than boiled, but you can use whatever chicken is convenient.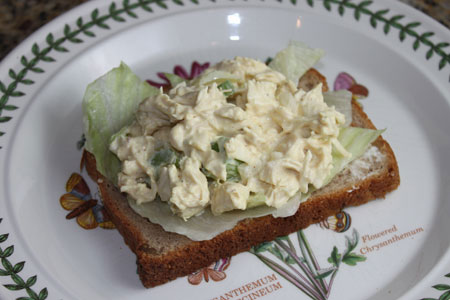 Bridesmaid Chicken Salad
Perfect chicken salad for parties, receptions or other events
Ingredients 
1 1/2

cups

good quality mayonnaise (Duke's)

3/4

cup

Major Grey's Chutney

1

teaspoon

curry powder

you can use more or less to taste

2-3

tablespoon

fresh lime juice

1 1/2

teaspoon

fresh lime or lemon zest

4 1/2

cups

cooked chicken breast – from about 3 large chicken breasts

2

cups

thinly sliced celery

1/2

cup

finely chopped onions

more if you like

1/2

cup

toasted

thinly sliced almonds
Instructions 
Mix together all ingredients in a bowl. Serve on a bed of lettuce topped with more almonds or serve as the filling of a sandwich made with good bread.