Normally this space would feature a sweet treat, but I haven't made anything particularly interesting lately and rather than post my hundredth rendition of chocolate chip cookies, I am sharing this refreshing green bean salad made with green beans, feta, mint and walnuts.
It's our new favorite accompaniment to our (very often repeated) pizza dinners.  It's also perfect for Easter, and since I haven't shared any Easter dishes lately, I thought you all might like this one. You can make it ahead of time (of course) and put the cheese and nuts on later, or serve it immediately all at once.
Recipe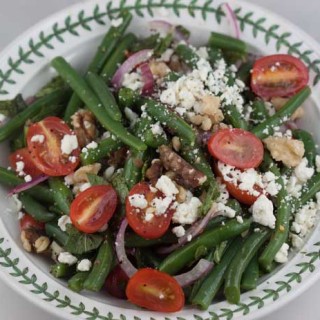 Green Bean, Feta and Walnut Salad
Green Bean, Feta and Walnut Salad combines fresh blanched green beans with a refreshing mix of herbs, cheese and nuts. This is great for Easter or a light spring lunch.
Ingredients 
1 1/2

pounds

of trimmed fresh green beans

weighed after trimming

1/4

cup

roughly chopped fresh mint

1/2

cup

roughly chopped Italian parsley

1/2

cup

thinly sliced red onion

soak in water to remove some of the bite

1 1/2

cups

sliced cherry tomatoes

2/3

cup

extra virgin olive oil

1/4

cup

white wine or rice vinegar

1/4

teaspoon

salt plus more to taste

1

clove

garlic

minced

Freshly ground pepper to taste

1

cup

crumbled feta cheese

1

cup

toasted and chopped walnuts
Instructions 
Bring a very large pot of salted water to a boil. Add the beans and cook for about 5 minutes, then drain and quickly plunge into a bowl of ice water. Drain and pat dry. Transfer to a large mixing bowl and toss the beans with the mint, parsley, onion, and tomatoes.

Mix together the oil, vinegar, salt and garlic. Pour as much as desired (I pour about half and save the rest for people who want more dressing) over the beans, then toss to coat. Keep in a covered dish until ready to serve. Before serving, toss with cheese and top with walnuts.