Inspired by the big fat peanut butter chunk cookies sold at Goofy's Candy Company in Downtown Disney (the same place that sells German Chocolate Chip Cookies), I decided to beat the post-Spring Break blues by baking a batch of my own giant peanut butter cookies.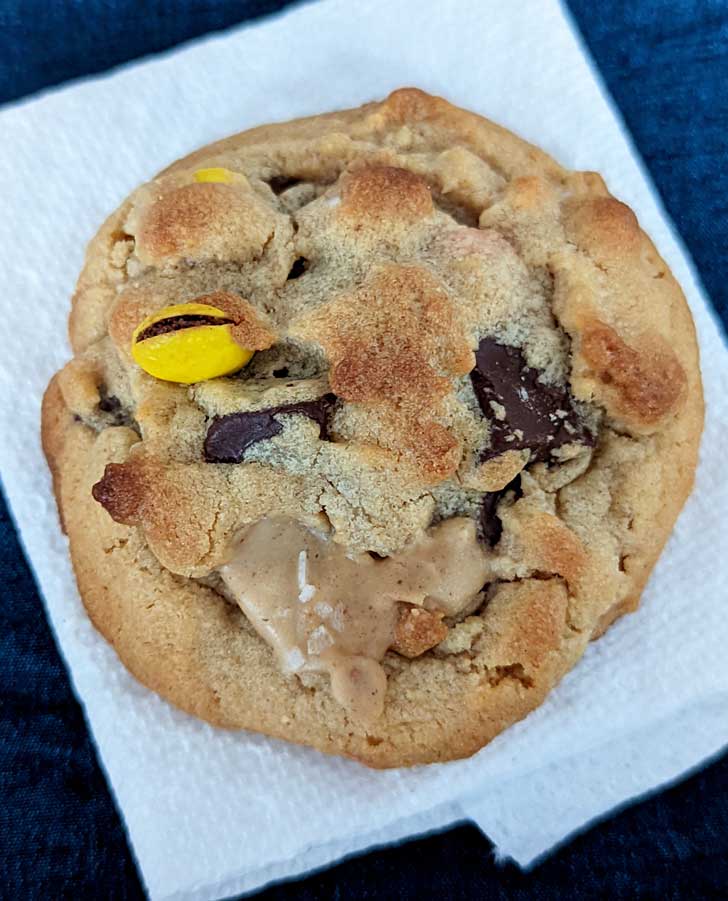 The challenge was the peanut butter chunks. Instead of chips, the cookies had big cubes of soft, creamy, peanut butter in candy form. Thinking back to some experiments I'd done in the past, I came up with a clone.
Homemade Peanut Butter Chunks
To make peanut butter chunks, I used the same method I used a few years ago for making peanut butter ribbons. You mix peanut butter chips, peanut butter and butter, then you melt them and pour them into a little foil mold like this.
When they've set, you cut them into pieces.
Rather than dump the whole lot into the cookie dough, I poked each one into the already-scooped dough.
Candy Mold
Since posting this, I've acquired a candy mold and now use the plastic mold rather than the little foil rectangle. I believe I found the candy mold at Hobby Lobby. It's not a very good one, unfortunately, as it broke. Looks like Amazon has some better molds.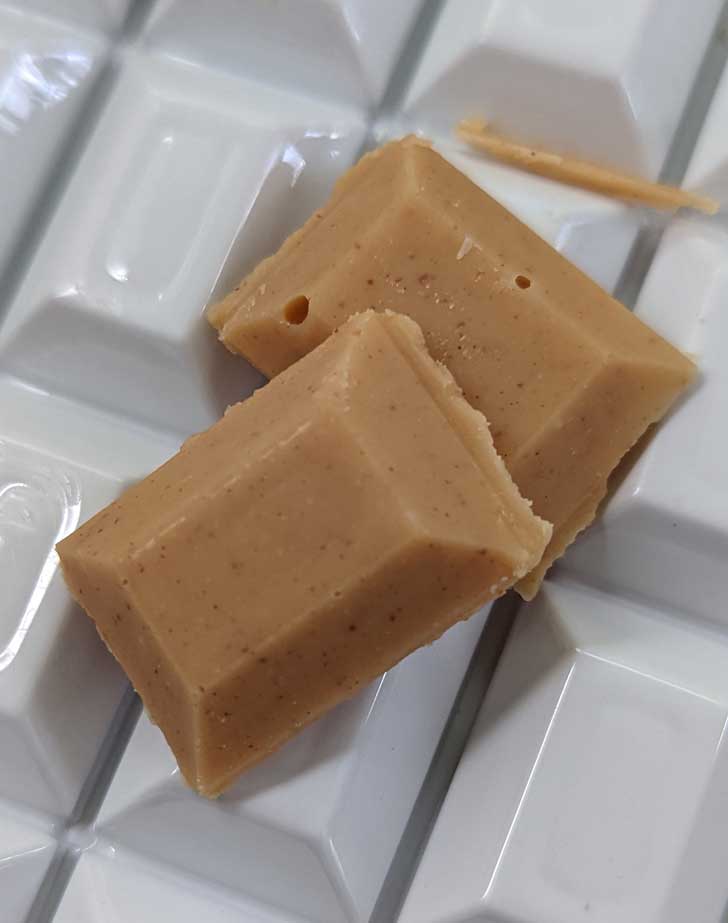 But Back to the Cookies
You can make these giant peanut butter cookies with or without the peanut butter chunks. The recipe halves and even quarters well if you just want to try a small batch.
Super Small Batch Giant Peanut Butter Cookies
56 grams softened butter
56 grams brown sugar
50 grams granulated sugar
82 grams of peanut butter
24 grams of beaten egg
Splash of vanilla
⅛ teaspoon each of baking soda and baking powder
83 grams of all-purpose flour
handful of chunks or chips
Put all ingredients except for flour and chips in a bowl. With an electric mixer, beat just until blended. Stir in the flour and the chips. Shape into 6 mounds and chill the mounds for at least an hour. To bake, you have options. I like baking at 400 for 5 minutes then reducing the heat to 350 and doing another 5 to 7. You can also bake at 375 for 12 minutes (or so). Or bake with a convection oven.
More Recipes Involving Chunks of Things
Recipe