National Doughnut Day is June 2, and this June, 2 year 2023, I've updated my Raised Potato Doughnut recipe. Now I'm no doughnut making expert, but my family loves them, so every year I do my best. I also use the same recipes over and over, and this is my favorite of the potato dough recipes.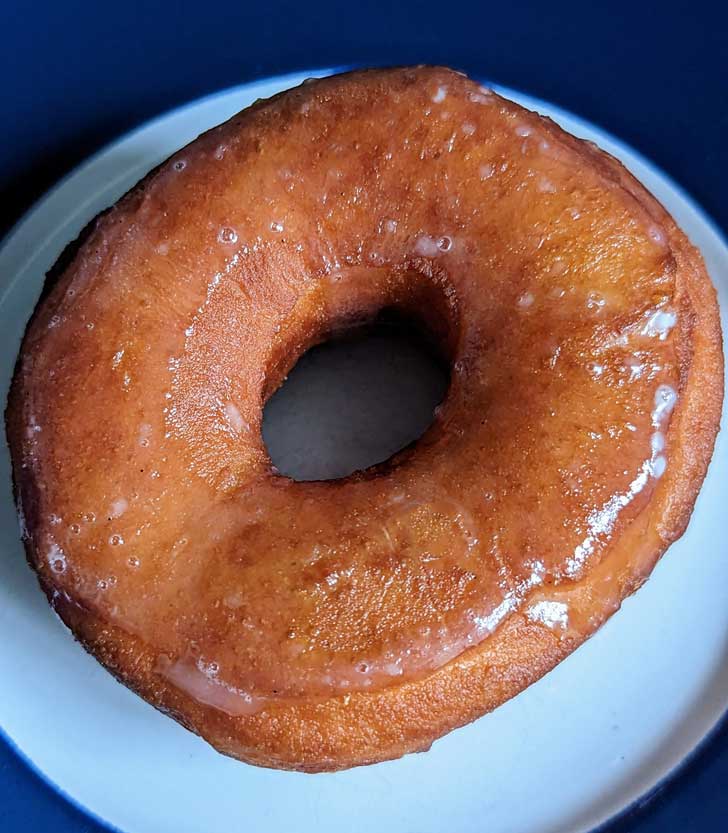 Potato Doughnut Texture
With mashed potato in the dough, these are soft textured, not-too-sweet, and among the best. I only use this one recipe, but have taken liberties with it through the years such as using bread flour rather than all-purpose and reconstituted instant mashed potato flakes rather than mashed boiled potatoes. At the end of the day, use what works best for you. If you are completely new to doughnut making, you should most definitely watch a YouTube or something. I do my best to post the recipes as I make them, but I'm not a deep frying expert.
Make Ahead Doughnuts
This recipe is adapted from Baking in America: Traditional and Contemporary Favorites from the Past 200 Years
, but I halved it, scalded the milk in the microwave and used my stand mixer. While boiling and mashing a medium potato adds another step to the process, the doughnuts are pretty easy to make and need an extra head-start since they require an overnight chill time. After making the dough, you let the dough rise as usual at room temperature, punch it down and chill it overnight, form the doughnuts with the cold dough, then let them rise at room temperature before frying. In short, perfect for a project that starts Saturday and ends on a leisurely Sunday morning.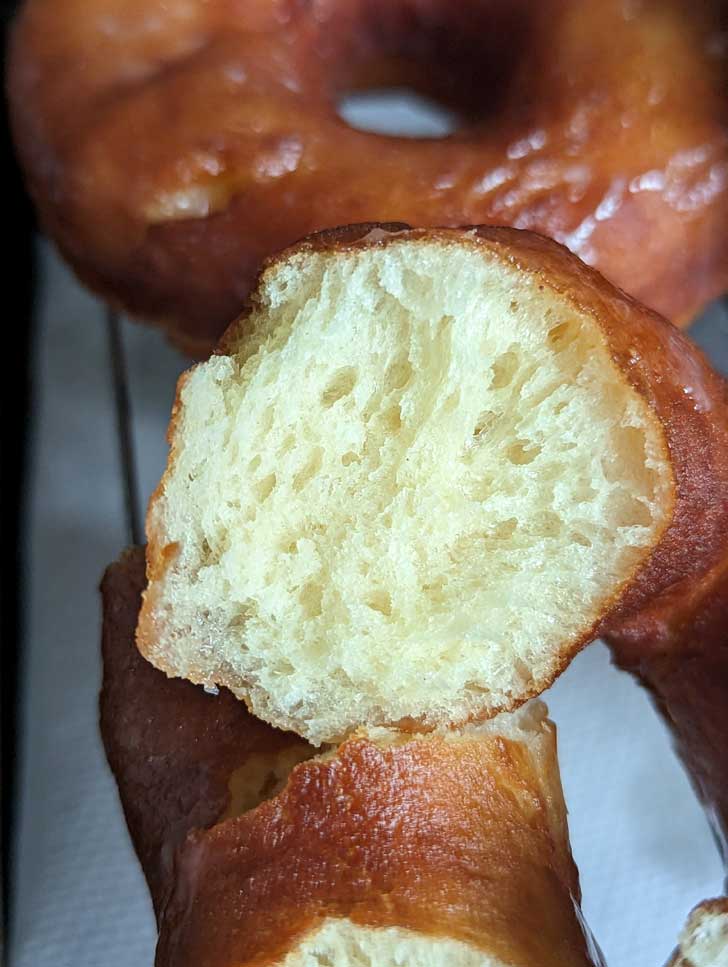 Doughnut Frying Oil
After posting my potato doughnut recipe a while back, some people advised me to fry in shortening rather than oil. Since then I have done so and it makes the best doughnuts. However, I most often use peanut oil because I can buy it on sale in huge jugs and it has a high smoking point, which means the house doesn't smell like fumes. But shortening is the way to go if you have a good supply of it. I've yet to order a giant block of special doughnut frying oil, which is actually a product that exists.
Clear Glaze
I have a few other glaze and icing recipes scattered about Cookie Madness, but this one is easy and works well. Before you begin the doughnut making process, you should sift your confectioners' sugar let you get little clumps of it in your glaze. I forget to sift it half the time and we don't mind the lumps, but the doughnuts are prettier when you sift.
A Few Other Recipes I Use
Recipe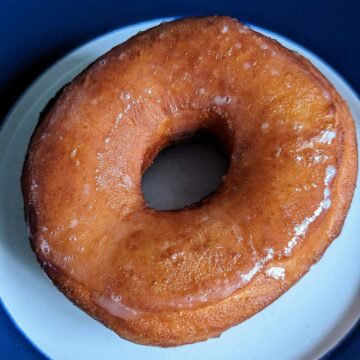 Mashed Potato Doughnuts aka Raised Potato Doughnuts
Doughnuts made with mashed potatoes
Ingredients 
½

cup

cooked mashed potatoes, made with flakes or a potato

(100 grams)

¼

cup

plus 2 tablespoons milk (I use whole)

(84 grams)

¼

cup

granulated sugar

(50 grams)

1 ⅛

teaspoon

active dry yeast or instant yeast (I use SAF instant)

half a packet

1

large

egg plus 2 tablespoons of beaten egg

(75 grams)

4

tablespoons

softened butter or 3 tablespoons shortening

(56 grams butter or 36 grams shortening)

½

teaspoon

salt

⅛

teaspoon

freshly grated nutmeg (totally optional)

½

teaspoon

vanilla (also optional)

2 ½

cups

all-purpose flour or bread flour

(350 grams, but start with 280)
Glaze
¼

cup

milk

1 ½

cups

powdered sugar

½

teaspoon

vanilla
Instructions 
Day 1 -- Start late in the day
Have the mashed potatoes ready to go. I usually use ⅓ cup of potato flakes rehydrated with a generous ⅓ cup of boiling water which makes about 100 grams of dry-ish mashed potatoes. Otherwise, mash potatoes using your favorite method and weigh out 100 grams.

Meanwhile, in a microwave-safe glass measuring cup, scald the milk. Stir in 1 tablespoon of the sugar. Let milk cool to 110 to 115 degrees F. Sprinkle yeast over warm milk and set aside to proof.

In bowl of stand mixer, combine 1 cup of the flour with the remaining 3 tablespoons sugar, salt, egg, butter or shortening and mashed potatoes, nutmeg and vanilla. Stir in the bubbly yeast mixture and a second cup of the flour. Beat by hand or with the paddle attachment to make a very sticky batter. put the bowl on the stand if you haven't already.

Attach dough hook to the mixer and begin kneading the dough on medium speed. Gradually, about 2 tablespoons at a time, add the reserved ½ cup of flour. Continue adding it gradually and kneading until the dough clings to the hook and is slightly elastic. You may use the full ½ cup, you may stop at ⅓. Go by the feel of the dough and stop to scrape often. Continue kneading with the hook until you have a smooth dough that no longer clings to the side of the bowl, but is not dry. My favorite descriptor is "soft as a baby's butt".

Put dough in a well-greased bowl, roll it to slick the sides, then cover with plastic wrap and let double at room temperature for 1 ½ hours (or 45 minutes if using instant yeast). Punch down the dough. Return dough to bowl, cover with plastic wrap and chill overnight or for 8 to 12 hours.
Day 2 -- Start in the morning
Happy Doughnut Making Day!

Line a large baking sheet with parchment paper. On a floured surface, press cold dough down to make a circle that's about ⅓ of an inch thick. Sprinkle a little more flour over top if needed. Using a 3 inch biscuit cutter, cut as many doughnuts as you can. For the hole, you can use a small round cutter or something like an apple corer or a cannoli mold. Set them on the parchment lined pan cover with a kitchen cloth and let rise for about an hour. They'll puff up, but they won't become gargantuous.

Heat oil to 365 degrees F. I like to use peanut oil that's about 1 ½ inches deep in my Le Creuset Dutch oven. Use your favorite deep fry equipment. Fry doughnuts for about 2 minutes on each side or until lightly browned. Drain on paper towels. Drizzle with glaze.
Glaze
To make the glaze, mix the sifted sugar, milk and vanilla until smooth. You can make it all at once, or make half at a time. I glaze by setting the doughnuts in a wide bowl and pouring the glaze over so that the bowl catches the glaze.

Makes about 10 or 12 doughnuts depending on size of cutters.