Instant Yeast Doughnuts is my quickest and easiest doughnut recipe. It's based on a recipe that calls for active dry, but I am in the habit of buying fast rising yeast and re-tooled the recipe a bit to be used with Red Star Platinum. Update: I now use SAF almost exclusively, but Platinum is still an option if you don't have SAF yeast.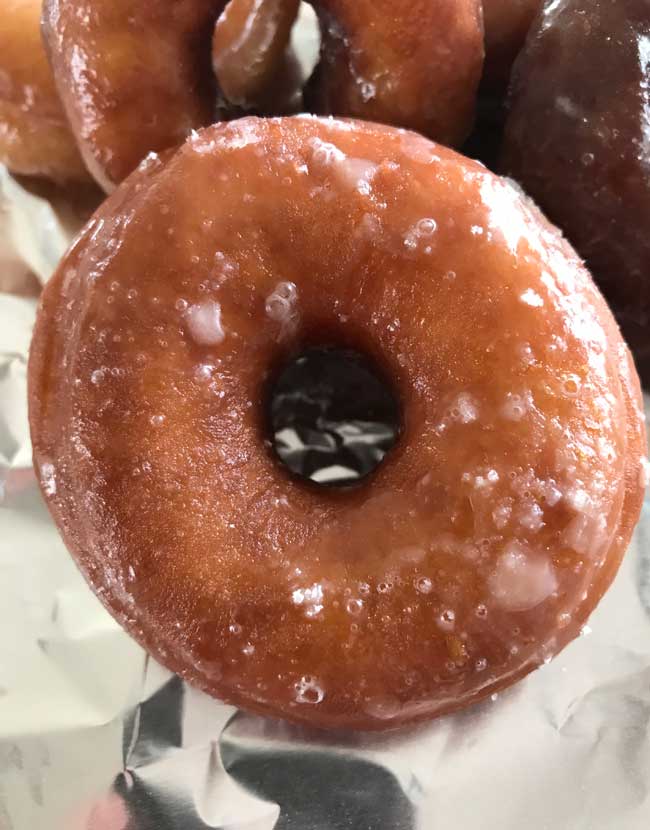 Fairly Small Batch Instant Yeast Doughnuts
Like my other favorite doughnut recipe, this one makes a relatively small batch. Using a 3 inch doughnut cutter should give you about 12 doughnuts and some holes.
This dough calls for butter rather than shortening and use less yeast than my usual recipe (Make Ahead Doughnuts).  The glaze is less rich since it's just milk, sugar and water, but it does the job!  I like both recipes, but Instant Yeast Doughnut are faster.
Recipe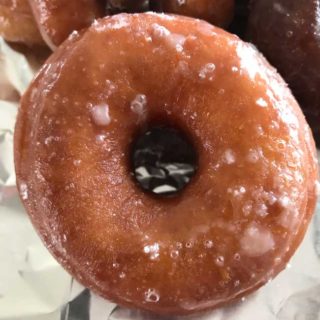 Instant Yeast Doughnuts
Glazed doughnuts made with Red Star Platinum fast rising yeast.
Ingredients 
2

cups

plus 2 tablespoons all-purpose flour

plus more for rolling out the dough

1 ⅛

teaspoon

instant yeast

½ pack of Platinum

2

tablespoons

sugar

½

teaspoon

salt

4

tablespoons

unsalted butter, melted and cooled

1

large

egg

room temperature

½

cup

plus 2 tablespoons whole milk

scalded and cooled to about 125F

Peanut oil for frying
Glaze
¼

cup

milk

1

teaspoon

vanilla

2

cups

powdered sugar
Instructions 
In the bowl of a stand mixer, combine 2 cups of the flour, the yeast, sugar and salt and stir well.

Add the melted butter and stir until crumbly, then stir in the egg. Add the warm milk and stir to make a very soft dough, then add remaining flour about 2 tablespoons at a time until dough just barely sticks to the sides of the bowl when stirred.

Using the dough hook, knead the dough until smooth and elastic. Dough should leave the sides of the bowl as it is kneaded. If it doesn't, add a little more flour.

Cover the bowl and allow dough to rise for about 45 minutes or until doubled in bulk.

Turn the risen dough out onto a well-floured surface, and roll it to ½-inch thickness. Cut out the doughnuts with a 3 inch round cutter doughnut cutter and use a smaller cutter to cut out the hole the doughnut holes.

Put the doughnuts on a floured baking sheet and let rise for about 25 minutes or until they are slightly puffed up and delicate. Keep them very loosely covered with a piece of greased plastic wrap.
Glaze Prep
While the dough is rising, I recommend getting set up for the glaze. Put a wide saucepan on the stove and add ¼ cup of milk. Have ready 1 teaspoon of vanilla and 2 cups of powdered sugar.
Frying Oil
About 15 minutes before the doughnuts are finished rising, put the oil in a heavy-bottomed pot or Dutch oven over medium heat, and heat it to 375. If using cast iron, you may want to heat only to 350. Meanwhile, line cooling racks, baking sheets or plates with paper towels.

Carefully add the doughnuts to the oil, a few at a time. Adjusting heat if necessary. After about 45 seconds, check that the doughnuts have browned and then flip to the other side. Fry until other side is brown, then drain on paper towels.

Cook the doughnut holes the same way, keeping a close eye on them and allowing them to brown all over..

While doughnuts are frying and cooling, heat milk in a large saucepan just until it simmers, then stir in vanilla and powdered sugar until smooth.

Dip the fried doughnuts in the glaze, covering them on both sides, then set on a wire rack set over some parchment or foil.