All the other baked donuts can move over now, because this one is the new favorite. "Baked Cake Doughnuts" were made with the recipe that came with the baked doughnut pan. I liked the other varieties, but I should have just made these first!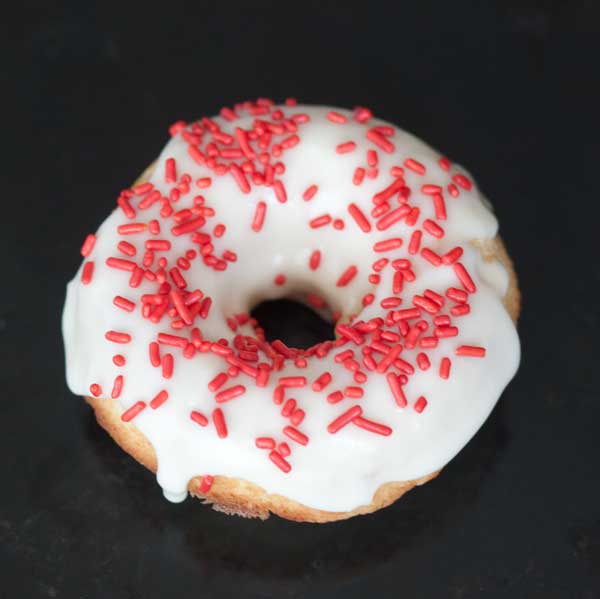 Buttermilk Substitution
The recipe that came with the pan calls for buttermilk. Unfortunately, I didn't have any and neither did the store near my house, so I went with the old lemon juice and milk substitute. It worked nicely, but I think the flavor of buttermilk would make these even better. For the topping, I made a few doughnuts with cinnamon sugar, and some with vanilla glaze and chocolate glaze.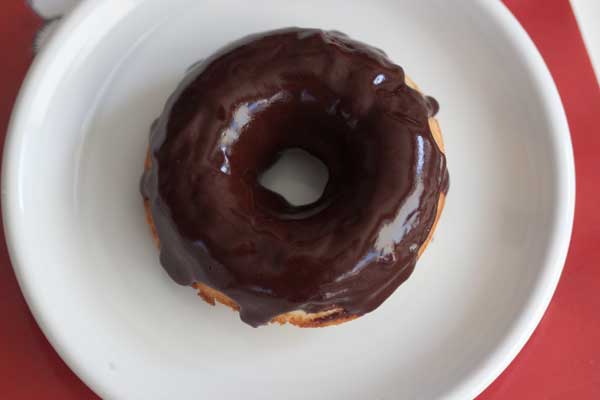 Baked Cake Doughnuts Chocolate Glaze Recipe
This chocolate glaze is quite different than the one that goes with the Chocolate Pumpkin Doughnuts. That one uses cocoa powder and confectioners' sugar and sets up very quickly, while this one uses melted chocolate chips and corn syrup for a looser, softer, shinier glaze. This one's a tad prettier. I like both glazes for different reasons.
As of today, the baked cake doughnuts are my favorite. If you are interested in trying them but still don't have a pan, here's a link to one.
Recipe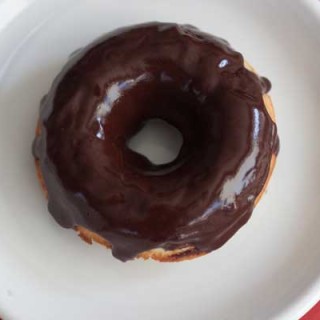 Baked Cake Doughnuts
Baked Cake Donuts have a hint of nutmeg and a dense, cakey, texture. The recipe halves quite easily if you want to make 6. To make 12 you can bake one batch at a time or use 2 pans.
Ingredients 
2

cups

cake flour

8 oz/230 grams

¾

cup

granulated sugar

2

teaspoons

baking powder

¼

teaspoon

freshly ground nutmeg

1

teaspoon

salt

¾

cup

buttermilk

2

large eggs

lightly beaten with a fork

2

tablespoons

unsalted butter

melted and slightly cooled
Chocolate Glaze
¼

cup

semi-sweet chocolate chips or 1 ½ oz chopped chocolate

1

tablespoon

butter

cut into small chunks

1

tablespoon

corn syrup

1

teaspoon

of hot water or as needed
Instructions 
Preheat oven to 425°F. Spray a doughnut pan with nonstick cooking spray.

Sift the cake flour, sugar, baking powder, nutmeg and salt into a mixing bowl.

Make a well in the center of the dry ingredients and add the milk, eggs and butter. Beat with a scraper or spoon until combined.

Spoon batter into doughnut pan cavities. You'll have enough for 12 cavities and will need to do this in two batches.

Bake about 9 minutes or until the tops of the doughnuts spring back when touched. Let cool in pan 4-5 minutes before removing.

Repeat using remaining batter. While doughnuts are cooling, make the chocolate glaze.

Glaze: In a 2 cup microwave-safe glass measuring cup (e.g. a Pyrex cup), mix the chocolate chips, butter and corn syrup. Microwave at 50% power stirring every 30 seconds until mixture is melted and smooth. Add hot water to thin. Spoon over doughnuts.
Notes
Notes: For vanilla glaze, start with 2 teaspoons of butter, ⅔ cup confectioners' sugar, a dash of vanilla and milk as needed. Melt the butter in a 2 cup microwave safe measuring cup. Stir in the sugar until thick, then add vanilla and enough milk (start with a teaspoon) to make a smooth, pourable or spoonable icing.