I've been under the weather and craving the foods I like when I'm sick: fruit, yogurt and biscotti. The fruit and yogurt are easy to come by, but the biscotti has to be baked. And I don't know about you, but baking biscotti is not the first thing I think of doing when I have a fever. Or is it? I really wanted some biscotti yesterday, so I took an Advil and made a batch of this using some stuff I had in the pantry -- white whole wheat flour, butterscotch chips and walnuts. These biscotti (technically, cantuccini) were so good that I found myself wondering why I even bother with other recipes. This recipe is just so easy and you can vary the flavors as you wish by changing out the nuts, chips, type of flour and extract. The dough slices very neatly and the biscotti bake up crunchy, but not tooth-breakingly hard. I think the only problem with this recipe is I could eat the whole batch in one sitting.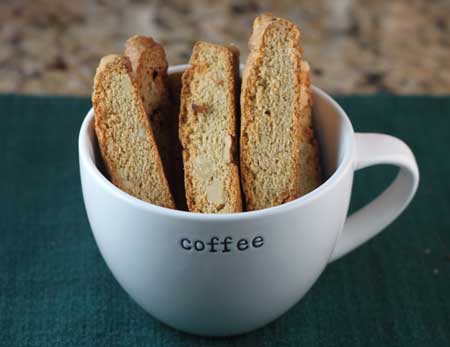 Small Batch Butterscotch Whole Wheat Biscotti
1 cup plus 1 tablespoon white whole wheat flour (140 grams)
1 teaspoon baking powder
¼ teaspoon salt
1 large egg
2 ½ tablespoons vegetable oil
⅓ cup granulated sugar
¼ teaspoon vanilla extract
⅛ teaspoon almond extract
½ cup walnuts, toasted coarsely chopped
¼ cup butterscotch chips
Preheat the oven to 375 degrees F (190 degrees C). Line a cookie sheet with non-stick foil.
Combine the flour, baking powder and salt and stir well.
In a mixing bowl using a spoon, beat together the egg, oil, sugar and extracts. Stir the flour mixture into the egg mixture until incorporated, then stir in the nuts and butterscotch chips. On the foil lined cookie sheet, form dough into a log about 8 ½ inches long by ½ inch thick.
Bake for 25 minutes. Let log cool for about 20 to 30 minutes. Set on a cutting board and ,crosswise into ½ inch slices. Stand the slices on the baking sheet so that both sides are exposed and bake for 10-12 minutes.
Makes about 16