I've always been a little uptight about Seven Layer Bars, the cookies where you melt the butter directly in the pan, sprinkle graham cracker crumbs over the butter, pour milk directly over the crumbs, etc. etc. I love the concept but always worry I'll burn the butter (because one time I did) and that the crumbs and condensed milk won't soak into the butter evenly.  So usually when I make Seven Layer Bars, I call them Hello Dolly Bars and mix the butter and crumbs together in a bowl, pat that mixture into the pan, then carefully pour the milk over the bars. I also mix the chips and nuts together before pouring them over the condensed milk.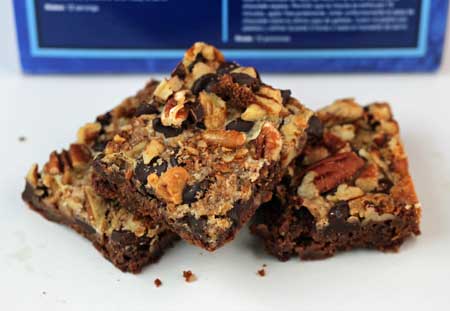 This week, I decided to live life on the edge and try doing it the layered way. But I had to start small, and rather than seven layers, I went with five and used a recipe with an interesting twist.
This recipe for Five Layer Bars was originally developed by Hershey's, and it's special because the graham cracker layer has cocoa mixed in. I wasn't sure if I'd like cocoa muddying up the graham flavor, but it's actually really good. I made some changes of my own as well.
The old recipe calls for a layer of raisins along with the chocolate chips. I went with peanut butter chips instead.
Another thing I do when I make Seven Layer or Hello Dolly type bars is reserve some of the chips and sprinkle them on at the very end for more dimension.
And one final and very important note: Make sure you toast the pecans. I skipped that step when I made this batch and could really tell the difference.  I thought maybe the pecans would just kind of toast on their own since they were one of the top layers, but no. They lacked the crispy texture and depth of flavor pecans get when you toast them prior to using.
Five Layer Bars
1 cup whole pecans
12 tablespoons butter, salted or unsalted okay
1 ¾ cups graham cracker crumbs
¼ cup unsweetened natural cocoa powder
2 tablespoons sugar
14 oz can of condensed milk
2 cups semi-sweet chocolate chips (divided use)
1 cup peanut butter chips
Preheat oven to 350 degrees F. Spread pecans on a cookie sheet and toast for about 7 minutes or until aromatic. Let cool, then chop.
Line a 9 x13 inch metal pan with non-stick foil. Put the butter in the pan and put it in the oven just until butter melts – keep an eye on it or it will burn.
Mix together crumbs, cocoa powder and sugar. Sprinkle evenly over melted butter.
Pour condensed milk over crumbs as evenly as possible. Mix together chopped nuts, 1 ½ cups of the chocolate chips and about ½ cup of the peanut butter chips. Sprinkle this mixture over the condensed milk. Bake for 25 minutes. Pull from oven and immediately sprinkle reserved chocolate chips and peanut butter chips over top.
Let cool to room temperature. Lift from pan by grasping foil, put on a cutting board, cut into 32 squares.