It's been dreary here in Dallas, and we needed a cheery sort of recipe.  These sprinkle infused Cake Batter Cookies were just the thing.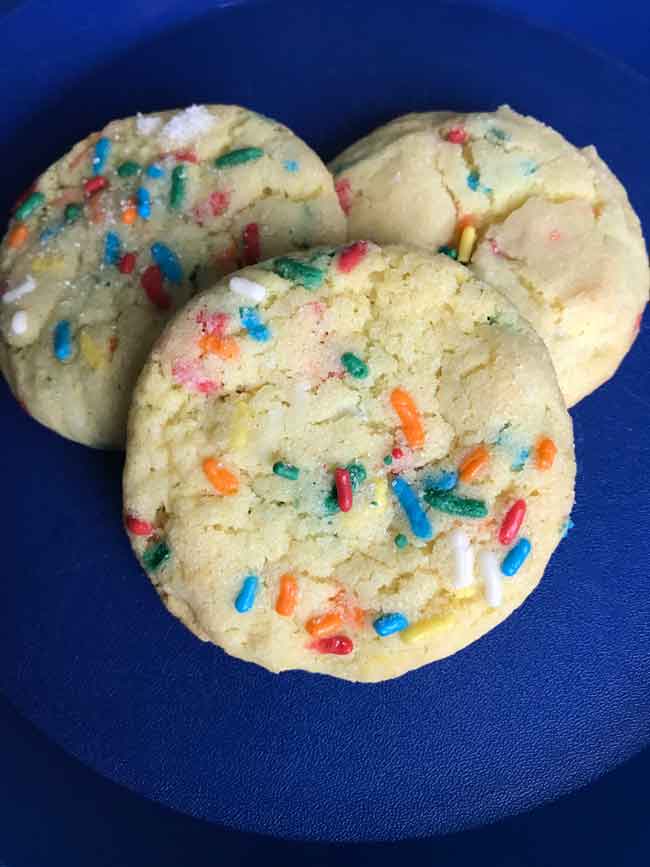 Cake Batter cookies are easy, colorful and way tastier than I expected thanks to the secret ingredient, McCormick's Cake Batter flavoring (formerly known as Vanilla Butter & Nut).  It's a deep yellow colored flavoring that really does taste like yellow cake batter. You can sometimes find it in the baking aisle (at least in North Carolina and Florida), and of course on Amazon.  I use it in all sorts of things including cupcakes and pound cake.
But back to the Cake Batter Cookies. They are chewy, rich with flavor and have crackly tops.  Or at least they are supposed to. The first time I made them in a sleep deprived state and forgot the baking soda. I also added all the sugar at once rather than save some for rolling, and did not get crackly tops.
Still sleep deprived, I made the dough again, chilled it, and the cookies baked up with cracks.  The crackly tops come from the moist inside pushing through the already-sort-of-baked outside.  This means the dough should be very cold so that the outside of the dough ball bakes first and the moist inside pushes through it as it bakes causing cracks.   So don't skip the refrigeration or the sugar roll if you want cracks.
And good news!  If you don't have the cake batter flavoring you can make the variation, Birthday Cake Cookies.  Just use ¾ teaspoon vanilla and ½ teaspoon almond extract.
Recipe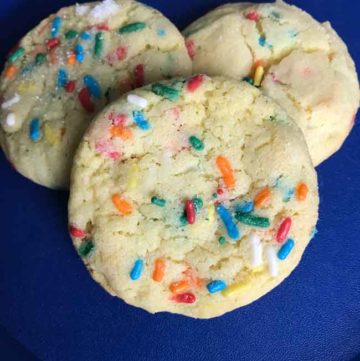 Cake Batter Cookies
Cookies made with cake batter extract and colored sprinkles.
Ingredients 
½

cup

butter

unsalted, room temperature (114 grams)

⅔

cup

sugar

130 grams

1

large egg

2

teaspoons

cake batter extract

1 ½

cups

all-purpose flour

190 grams

1

teaspoon

baking powder

1 /2

teaspoon

baking soda

1

teaspoon

cream of tartar

½

teaspoon

salt

plus a pinch (delete pinch if using salted butter)

1

tablespoon

heavy whipping cream

½

cup

rainbow sprinkles

Another ⅓ cup sugar for rolling
Instructions 
In the bowl of a stand mixer, combine butter and sugar. Beat with the paddle until creamy. Add the egg and beat until blended, then beat in the cake batter extract.

Mix together the flour, baking powder, baking soda, cream of tartar and salt. Add to the bowl and stir until almost fully blended, then stir in the whipping cream.

Stir in the sprinkles. Using a small (1 inch) size cookie scoop, scoop out balls of dough and put them on a dinner plate or two lined with plastic. Cover and chill for 3 hours or until ready to bake.

Preheat oven to 350 degrees F. Have ready an ungreased or parchment lined baking sheet.

Roll dough balls in sugar and arrange on baking sheet. Put a few extra sprinkles on top if desired.

Bake at 350 for about 12 minutes. Let cool on baking sheet for 5 minutes, then transfer to a wire rack and let cool completely.