This recipe for Kahlua Fudge Brownies is from Steven, who got it from a trusted source (his godmother) but couldn't make it work. The brownies tasted good, but were goopy and seemed underdone even though they appeared fully baked. Steven asked me to troubleshoot the recipe, so I gave it a go.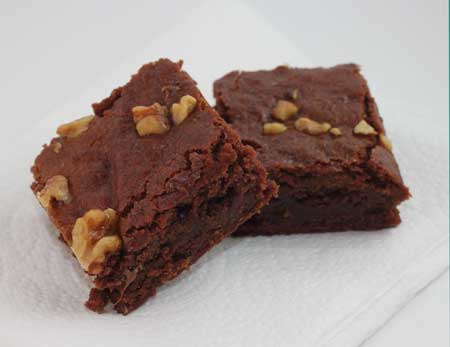 Kahlua Fudge Brownies Sifted Flour Weight
Not wanting to waste precious chocolate and Kahlua on goopy brownies, the first thing I did was search the Internet to see if the recipe existed elsewhere. Naturally, it did. I found it on Cooks.com and Recipesource and the versions were almost identical except for pan size and flour discrepancies. Those sources called for 1 ¼ cups, while this recipe called for 1 ½ sifted cups. The varying amounts of flour and the fact that one of the recipes called for sifted were signals Steven's problems probably came from not using enough flour. If we all baked with scales, this wouldn't be an issue, but 1 ½ cups sifted flour can be anywhere 6 oz to 7 or even 8 depending on how heavy a hand is used to scoop and how well the flour is sifted and (possibly) humidity.
So long story short, I made the brownies using a guestimated 6.5 oz of flour and they were great. They're dense, thick, and on the sweet side, but the generous amount of toasted walnuts helps temper the sweetness so if you use this recipe, don't leave them out.
Recipe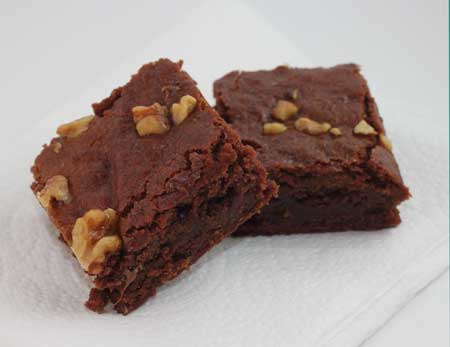 Kahlua Fudge Brownies
Fudge brownies with a hint of Kahlua
Ingredients 
1 ½

cups

sifted all-purpose flour (6.5 oz weight)

(185 grams)

½

tsp.

baking powder

½

tsp.

salt

11

tablespoons

butter

(154 grams)

3

oz

unsweetened chocolate

(84 grams)

3

large

eggs

2

cups

granulated sugar

(390 grams)

5

T

Kahlua plus a little extra for top

¾

cup

toasted and chopped walnuts, toasted
Instructions 
Preheat oven to 350 degrees F.

Grease a 9 inch square metal pan or line with foil and grease.

Mix the flour with baking powder and salt.

Melt butter with chocolate (can use microwave or a saucepan).

With an electric mixer, beat eggs with sugar until light. Add chocolate mixture and kahlua, then sir in flour mixture and nuts. Blend well.

Pour into prepared pan and bake 30 to 35 minutes or until the top springs back in the center and edges begin to pull away from the pan.

Remove from oven and cool thoroughly in pan. Brush top with 1 T Kahlua.

When cool, lift from pan and cut into 16 thick brownies.