National Coffee Cake Day is April 7, and to celebrate this momentous occasion I have baked my favorite sour cream coffee cake in mini Bundt pans and jumbo muffin cups.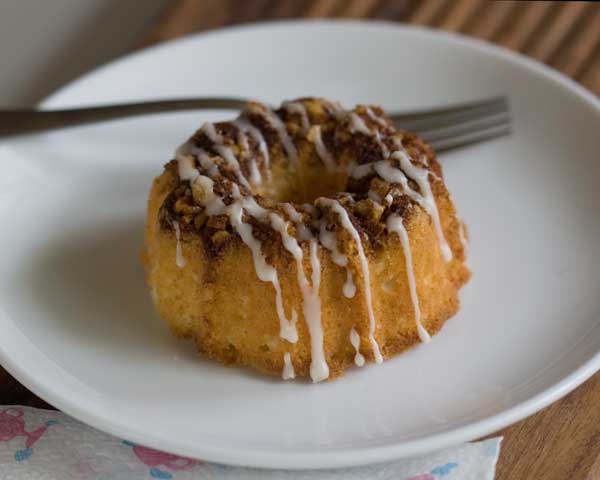 They're inverted, as you see.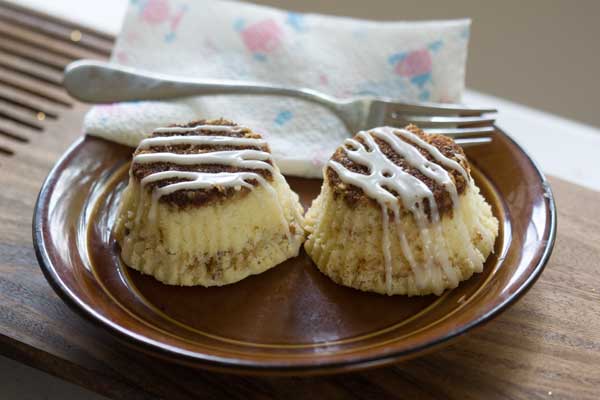 Mini Bundt Pans or Jumbo Muffins Cups Work
The Bundt pans measure about 4x2 and the Reynolds jumbo muffin papers are 3 ½ inches.  You might have to adjust the size and bake time depending on what is available to you. For instance, the type of Bundt pans I've listed are Bundtlettes, but there is also such thing as smaller Bundts called Mini Bundts.
Lots of Sour Cream Flavor!
Just make sure you like sour cream before baking these cakes because you can definitely taste it.  They're also extremely tender and light -- almost delicate.  Let me know what you think!
National Coffee Cake Day Recipe
If you don't want to make mini cakes, you can't go wrong with the original Junior League of Palo Alto Sour Cream Coffee Cake baked in a tube pan. Just double the recipe and start checking the cake at about 50 minutes.
Recipe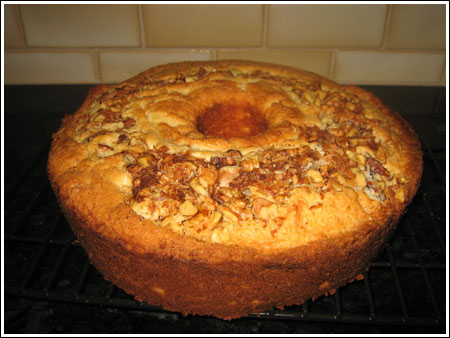 Junior League of Palo Alto Sour Cream Coffee Cake
Junior League of Palo Alto Sour Cream Coffee Cake made with sour cream, cinnamon and nuts.
Ingredients 
½

cup

chopped walnuts or pecans

toast and cool before using

2

tablespoons

dark brown sugar

1 ½

teaspoons

cinnamon

¾

cup

plus 2 tablespoons

6.3 oz sifted cake flour (sift before measuring)

½

teaspoon

baking powder

¾

teaspoon

salt

4

ounces

unsalted butter

softened

1

cup

sugar

granulated

1

large egg

room temp

1

teaspoon

vanilla

½

cup

sour cream

Icing -- see last step
Instructions 
Preheat oven to 325 degrees F. Spray the six cavities of a mini Bundt pan (4x2 inch) with Baker's Joy. Alternatively, line about 8 or 9 jumbo muffin cups with Reynold's 3 ½ inch foil liners.

Prepare nut mixture first. Stir together nuts, brown sugar and cinnamon. Set aside.

Mix together the sifted cake flour, baking powder and salt and set aside.

In a mixing bowl, cream the butter and sugar using high speed of an electric mixer for about 2 minutes. Add the egg and beat until incorporated. Beat in the vanilla, then fold in the sour cream. Add the flour mixture and stir with a mixing spoon or rubber scraper until it is blended in.

Spoon about a tablespoon of the nut mixture into the cavity of each Bundt pan. Spoon three generously heaping tablespoons (it's thick!) of batter over the nuts. It should come about halfway full. If you are using jumbo muffin cups, sprinkle a tablespoon of the nut mixture on the bottom of each cup, then layer with a heaping tablespoon (or 2 level) tablespoons of batter, another spoonful of nuts and a final heaping tablespoon of batter (it's thick).

Bake for 28 to 30 minutes at 325 F. or until cakes appear set. Let cool for about 5 minutes, then invert from pan and let cool completely. Drizzle with icing if desired.

To make icing, melt 1 tablespoon of butter in a small bowl or 2 cup liquid measuring cup (such as a Pyrex). Stir in 1 cup of confectioners' sugar, then add ¼ teaspoon of vanilla and 1 teaspoon of water. Stir well and keep adding water 1 teaspoon at a time and stirring with a fork until icing is thin enough to drizzle but not so thin it flows all over the place.
Notes
-- If you'd prefer to bake in a tube pan, double the recipe and bake for about 50 minutes.
-- If you have a scale and can just weigh out 6.3 ounces of cake flour, you can skip the sifting process. But if you are measuring by volume only, it's important to sift first since sifted cake flour weighs a little less than unsifted and this recipe was developed with sifted.