Mango Pie aka Mango Cream Pie was inspired by a dessert I tried at a Cuban restaurant. It's similar to Key Lime Pie, but flavored with mango, so it's definitely different. Here's an old photo, half lit due to the fact my dog broke one of my lights. I really need to make the pie again and take another photo. It's a good one (the pie, not the photo).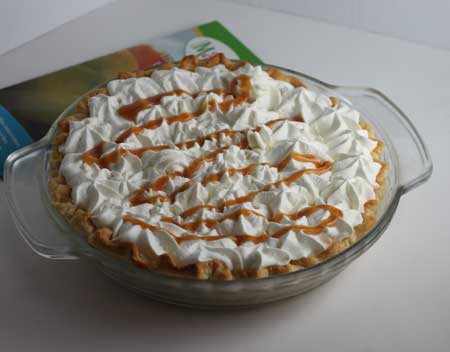 Here's a newer, fancier, photo. It's also a slightly scaled down version of the original filling.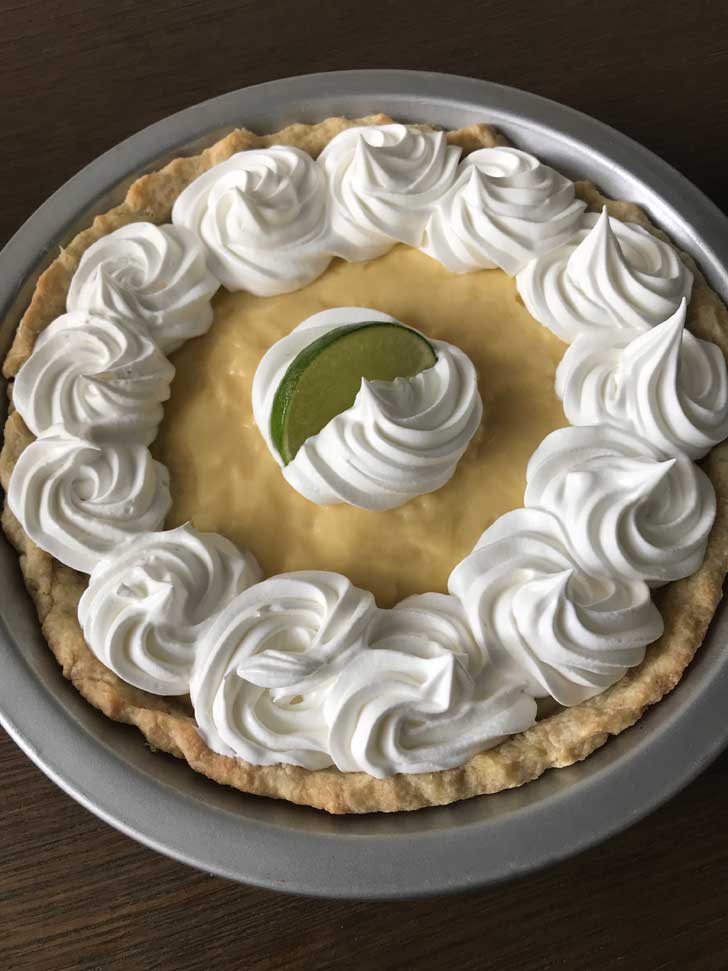 Mango Nectar
I think the pie at the Cuban restaurant was made with condensed milk. This recipe calls for cream, eggs, butter, and instead of mango, mango nectar. At first I wasn't sure whether mango nectar would pull its weight in terms of mango flavor, but it works perfectly. It has just enough flavor so that you know it's mango. It's not overpoweringly mango, if that makes sense. Maybe it only makes sense to me because I never really liked mango growing up, but now I do.
Photo of Mango Cream
Here's a photo of the mango cream cooling. I was in a hurry so I put it in a large bowl with ice water around it.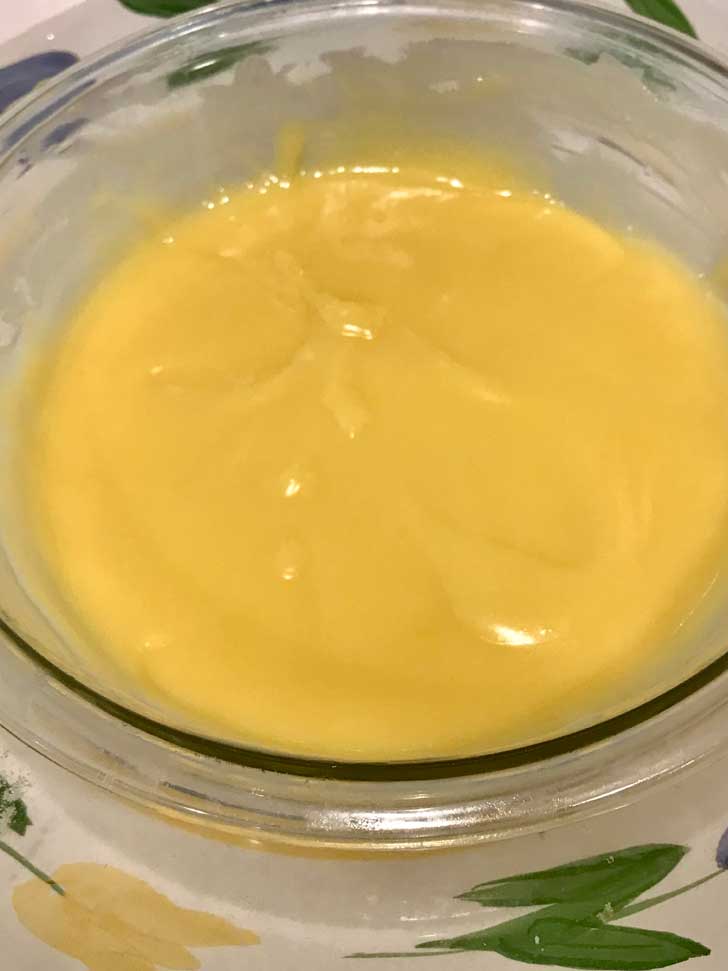 Embellishments
The original recipe doesn't call for whipped cream or caramel sauce, but the whipped cream and caramel sauce make the pie, imho. The filling is very good, but all three tastes and textures together make it perfect, so if you use the recipe, definitely buy some caramel sauce to go with it as well as some extra cream.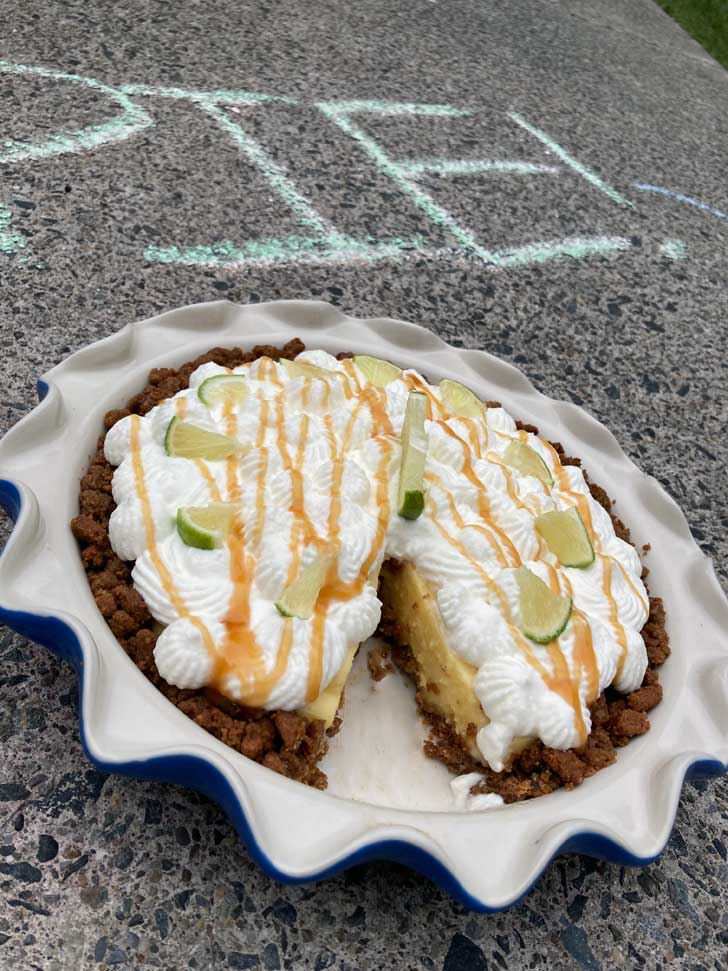 Smaller Mango Pie
I recently made a slightly smaller version using a shallow 9 inch pan. It worked perfectly. For the larger pie, use the recipe in the link. Below is exactly how I made the slightly smaller pie. This seemed to be just enough filling.
Recipe
Mango Cream Pie
This is a light, creamy and refreshing flavored pie that's super easy to make.
Ingredients 
1

9 inch

baked pie crust, shallow pastry or graham crust

**

½

cup

sugar

100 grams

¼

cup

cornstarch, use a scant ¼ cup

⅛

teaspoon

salt

2

large

egg yolks

⅔

cup

heavy cream

13.5

oz

mango nectar, such as Goya

(380 grams or 1 ½ cups plus 3 T.)

1 ½

tablespoons

butter

(21 grams)

½

teaspoon

vanilla extract

2-3

cups

sweetened whipped cream for garnishing

caramel syrup (optional)
Instructions 
Have ready a fully baked and cooled shallow pie crust. I've always used pastry crust, but plan on making this again with a Ritz or Saltine crust. Graham would be good too.
Mango Filling
In a 3 quart saucepan, combine all the dry ingredients, then stir in the egg yolks and cream until fully blended. Pour in the nectar and stir until blended. Do all of this off heat.

Put the pan over medium heat and whisk constantly until mixture begins to boil and thicken and big bubbles break the surface. Continue cooking and whisking for a minute or so after the bubbles break.

Remove from heat and stir in 1 ½ teaspoons butter. Let cool slightly and then stir in the vanilla.

Cover the filling with plastic wrap and let cool to room temperature. Transfer to the baked pie shell.

Chill the pie for 8 hours. When ready to serve, pipe sweetened whipped cream around the border. You can garnish with limes as well or decorate however you like. Serve with caramel sauce or some dulce de leche.
Notes
A shallow pie dish (like the metal ones) is best for this scaled down version.  You can still use a deep dish, you'll just have a shorter pie.  I also really, seriously, want to try this with a graham or even gingersnap crust.