This weekend I had dinner at a Cuban restaurant in Atlanta. The dessert offerings were key lime pie and mango pie, but it was one of those dinners where everyone eats so much that by the dessert hour, no one really cares about it no matter how enticing it sounds on the menu. But given my company, dessert was ordered anyway and two pieces of pie appeared on the table for sampling. The key lime was too sweet, not very tart and chalky tasting from the condensed milk, but the mango (a flavor I don't care for, in general) was surprisingly tasty. It as was just as chalky as the key lime, but it had a mild mango flavor with a bit of tartness to it and would have made for a lovely dessert had I not been so full.
So I decided to make a mango pie when I got home. Here's a photo I took last night, and I apologize for the lighting, but my dog broke one of my lights so everything's half-lit.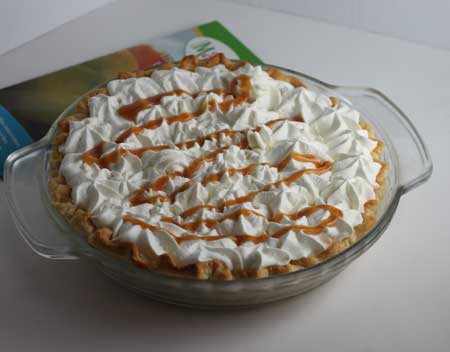 The mango pie recipe I ended up using was different than the type I tried in Atlanta. Rather than having a condensed milk base, it was made with cream, eggs, butter, and instead of mango, mango nectar – -the kind they sell on either the Mexican food aisle or juice aisle for 38 cents a can. I wasn't sure whether it would pull its weight in terms of mango flavor, but the nectar was perfect and had just enough flavor so that you knew it was mango, but lacked whatever it is about mango flavor that I don't like.
Mango Cream Pie Recipe is Here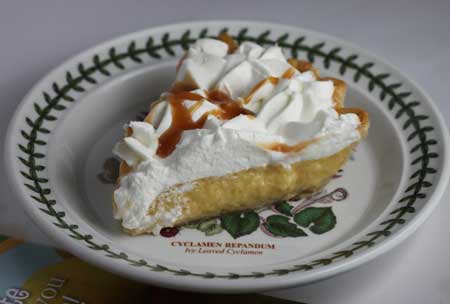 The actual recipe didn't call for whipped cream on top nor did it call for caramel sauce, but the whipped cream and caramel sauce made the pie. The filling was great, but all three tastes and textures together made it perfect, so if you use the recipe, definitely buy an extra cup of cream to whip up (I added about 1 1/2 tablespoons of powdered sugar) and some of your favorite caramel or dulce de leche sauce.