Given the hot weather, I've come to appreciate "no-bake" cookies more than ever and have been experimenting with new recipes. Since my favorite no-bakes always seem to involve Rice Krispies, I consulted with Katrina, an expert on the subject!  Between the two of us, we've made loads of different varieties (including Chipotle Rice Krispies Treats) but there was one version neither of us had tried -- Peanut Butter Rice Krispies Treats Without Marshmallows.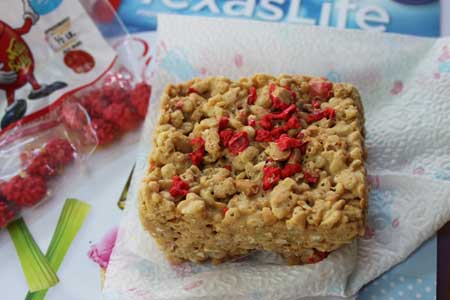 The treats themselves were good, but the French burnt peanuts didn't work so well. They weren't horrible, but they didn't do anything to enhance the recipe. If anything, their hard, crunchy texture detracted from it. Still, it was a good excuse to buy some.   If you have any other ideas for using French burnt peanuts, let me know. In the meantime, here's the recipe made without them.  Looking at the picture and thinking about the texture, I'm thinking Crunch Berries might have been more suitable....
Recipe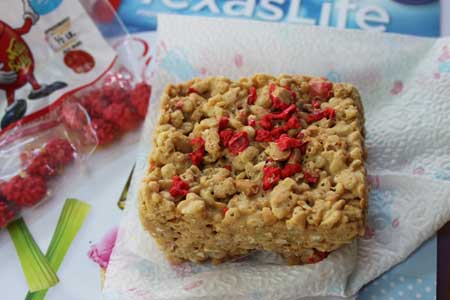 Peanut Butter Rice Krispies Treats Without Marshmallows
These Rice Krispies Treats are held together with peanut butter and melted white chips.
Ingredients 
10

oz

bag white chips

1

cup

peanut butter

4

cups

Rice Krispies

Some roasted peanuts

preferably, not French Burnt, though Katrina tried Boston Baked Beans and they were okay
Instructions 
Line an 8 inch square pan with foil and spray it with some cooking spray or rub with butter.

In a large microwave-safe bowl, combine the white chips and peanut butter. Microwave at 50% power for two minutes, stirring every 30 seconds, until chips are melted and mixture is smooth. Stir in the cereal and the nuts of choice. Transfer to the pan and chill until set.

Lift from and and cut into large squares.