I'll never be the Queen of Cake Balls, but I make a pretty good brownie and am always up for new ideas — especially if they involve peanut butter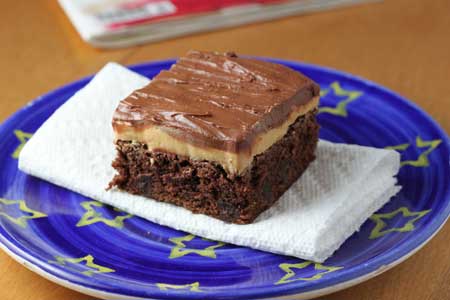 This Extreme Fudgy Peanut Butter Brownie is another one from (you guessed it) Duncan Hines and will be a featured dessert at Emmy events.  I figured I'd better make a batch before I left town; you know, in case I go searching for the brownies only to find they've been gobbled up.
To be honest, as I made the mix-based brownies I kept thinking this was a one-shot deal and I'd re-do the recipe as scratch. But as it happened, the mix version was pretty good and I've come to the conclusion that in some brownie recipes, specifically ones that are doctored with rich, rich, toppings, the texture of brownie mix brownies is kind of a relief and complements the other components.  Which is not to say you couldn't make this with a less-rich scratch or slightly cakey scratch brownie, I just tend to make really fudge, rich, dense scratch brownies with textures that might be overkill when combined with high butter toppings.  Blah, blah, blah.  Sorry to ramble about texture.  The point is, these were really good and quite convenient to put together.
Now if you're suddenly hungry for peanut butter brownies, here are a few more that come to mind.  First, this is one. It's among my all-time favorites and like the Duncan Hines brownies, it's great made with brownie mix because the toppings are so rich there's a nice yin yang.
Marshmallow Krispie Topped Brownies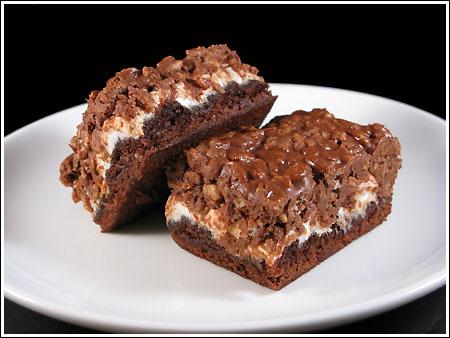 For a scratch peanut butter brownie, it's hard to beat Dorie Greenspan's Peanut Butter Fudge Brownie.
And then there's this one which I haven't made in a while but is spectacular, Peanut Butter Marble Brownies.  These are different because the base is actually a peanut butter brownie with a chocolate marble section baked in, and a chocolate ganache swirled through the peanut butter topping.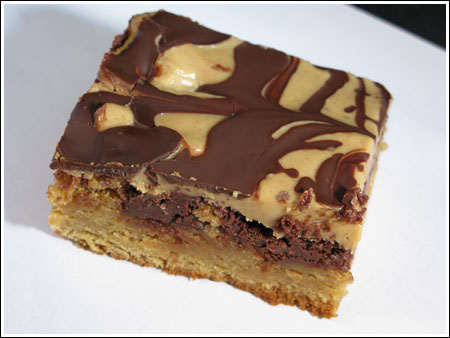 There are a lot more where these came from, but the ones on the list were the first to come to mind. If you're still on the hunt, check the side bar.