I have yet to try the Joanna Gaines -- Southern Living -- Lucy's recipe for Magnolia Brownies, but it's on my list. The marshmallow frosting is intriguing! But I do have a list of favorite Peanut Butter Brownies!  The first and second both start with brownie mix and the last two are scratch.  So let's get started.
#1. The Duncan Hines Extreme Peanut Butter Brownie recipe is super easy and very good. To be honest, I didn't expect doctored brownie mix peanut butter brownies to be that great, but these were surprisingly awesome.  At one point the recipe was on the Duncan Hines USA site, but now I can only find it on Canada's site.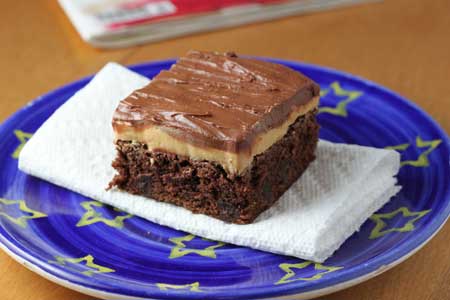 #2. I will never get tired of these Marshmallow Krispie Topped Brownies. They're a little over-the-top, but that's fine by me.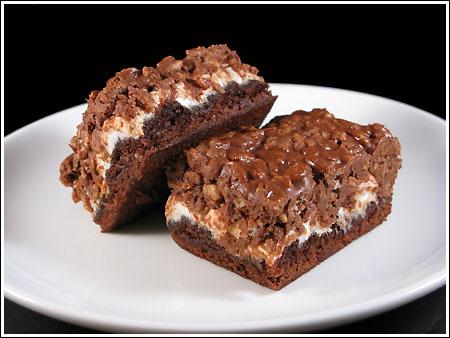 #3. No surprise here given the source. Dorie Greenspan's Peanut Butter Fudge Brownie are excellent scratch peanut butter topped chocolate brownies.
And then there's this one which I haven't made in a while but is very tasty, Peanut Butter Marble Brownies.  These are different because the base is actually a peanut butter brownie with a chocolate marble section baked in, and a chocolate ganache swirled through the peanut butter topping.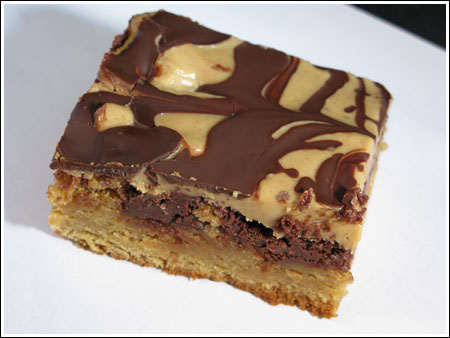 There are a lot more where these came from, but the ones on the list were the first to come to mind. If you're still on the hunt, check the side bar.