Last weekend Fuzz and I dropped some cookies off at a bake sale.  Because Kathryn, bake sale coordinator extraordinaire, had asked us to tag the cookies with twitter handles or URLs, I was hoping maybe someone would get back to me with a cookie review.  And someone did! A few hours after dropping off the cookies I got an email from Lisa at Buttery Books requesting the recipe for my peanut butter cookies.   After a little getting-to-know you email chat, we perused each others' blogs. Lisa liked my cookies and I appreciated Lisa and Annie's huge collection of book club recommendations and recipes.  I told Lisa she could have my peanut butter cookie recipe if I could have a recipe from her site.  Her recommendation was a recipe called Kelly's Sugar Cookies which are soft frosted sugar cookies.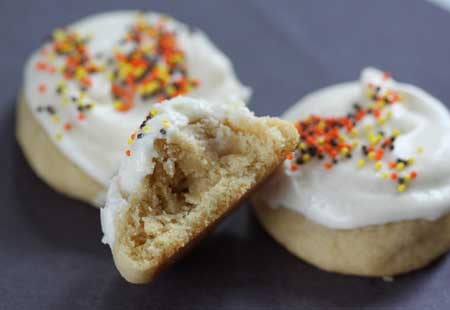 Kelly, daughter of Annie at Buttery Books, thinks these are the absolute best sugar cookies in the world.   Because I couldn't resist trying a cookie named "absolute best", I made a half batch this afternoon.  The cookies are soft, dense, and fat and pretty much geared for people who like their sugar cookies that way.  I can think of a lot of people, frankly!  I tend to prefer really crispy and light sugar cookies when eating them unfrosted, but since I like my frosted cookies slightly soft, these were perfect.

Soft Frosted Sugar Cookies
Easy soft,dense, scratch sugar cookies topped with a vanilla frosting.
Ingredients
1/2 cup Butter Flavored Crisco
1/2 cup plus 2 tablespoons granulated sugar
1 large egg
2 tablespoons maple syrup or pancake syrup
1 1/2 teaspoon vanilla extract
1 1/2 cups (6.8 oz)all-purpose flour
3/8 teaspoon baking powder
1/4 teaspoon baking soda
1/4 teaspoon salt
Vanilla Frosting
2 cups powdered sugar
4 1/2 tablespoons butter, softened
1 1/2 to 2 tablespoons whole milk
1/2 teaspoon vanilla extract
Sprinkles
Instructions
Preheat oven to 350ºF.
In a large mixing bowl using a hand-held electric mixer, beat the shortening and sugar until creamy. Add egg, syrup and vanilla; beat well. By hand, gradually add flour mixture until blended.
Shape dough into balls and roll in sugar OR leave plain if using frosting. For flatter cookies, press the dough down. For fat rounds, keep the cookie dough in balls. Bake for 8-10 minutes, depending on size and thickness of dough balls. Be careful not to over-bake. Cool 2 minutes, then remove from cookie sheets to cool.
To make the frosting, beat the sugar and butter together with an electric mixer. Add milk as needed (starting with 1 1/2 tablespoons and working up) and continue beating until creamy. Beat in the vanilla.