Fuzz had a day off from school yesterday, so I used it as an excuse to pull out the old Madeleine pan. Have you noticed Madeleines are showing up everywhere? My latest spotting was at Walgreen's drugstore. Maybe it's fallout from the macaron craze or maybe people just like the simplicity of a Madeleine, but if you've ever been slightly interested in buying a Madeleine pan, now's a good time. I bought mine off Cooking.com and it's okay, but since I'm using the pan more than anticipated, I wish I'd bought this Chicago Metallic 26631 12-Cup Nonstick Madeleine Pan
off Amazon.com. Mine is not non-stick which means I have to use a lot of grease to ensure the Madeleines pop out.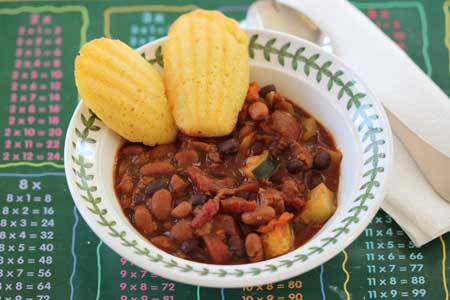 Anyhow, I've discovered my friends love Madeleines, so I decided to go the savory route and make some with cornbread batter. If you're more interested in the vegetarian chili, it's from Epicurious and it's terrific.  I did add about half a bag of Morningstar Farms Recipe Crumbles for extra protein and texture, but amazingly enough I was able to stick pretty close to the recipe without any other changes.  Considering it's chili, that's almost a miracle.
Recipe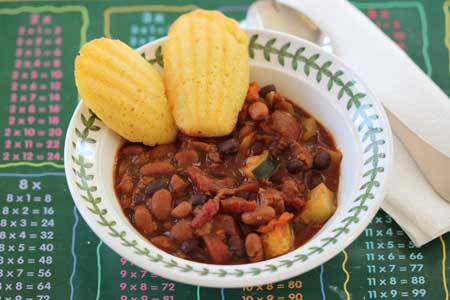 Cornbread Madeleines
Cornbread made in a Madeleine Pan
Ingredients 
1/2

cup

plus 2 tablespoons

56 grams cornmeal

1/4

cup

plus 2 tablespoons

48 grams all-purpose flour

2

tablespoons

25 grams granulated sugar

1/4

teaspoon

salt

1

teaspoons

baking powder

1/4

teaspoon

baking soda

1/2

cup

plus 3 tablespoons buttermilk

1

egg

lightly beaten

4

tablespoons

60 grams unsalted or salted butter, melted
Instructions 
Preheat the oven to 375 degrees F. Rub a Madeleine pan generously with butter or shortening.

In a medium size mixing bowl, whisk together the cornmeal, flour, sugar, salt, baking powder, and baking soda. Make a hole in the center of the dry mixture and add the buttermilk, and egg. Whisk those two things together in their little hole, then pour in the butter and mix everything together until you have a uniform batter.

Spoon about a heaping tablespoon of batter into each mold. They should be about 2/3 full. Bake until the center is firm and a cake tester or toothpick inserted into the center comes out clean, 10-12 minutes. Let cool slightly then pop the Madeleines from the pan. Makes 18 or 19, but that will probably vary depending on the size of your Madeleine molds and how you divide the batter.