Today's recipe is one I baked last week and have been eating ever since. It evolved from the fact I felt like baking banana bread, but knew no one would eat it but me and thus, decided to make a type of "banana bread" that would stay fresh for a long, long time. Taking a cue from Blue Ribbon Gloria, who recently baked a batch of biscotti using a cake recipe, I used the same technique for this banana biscotti.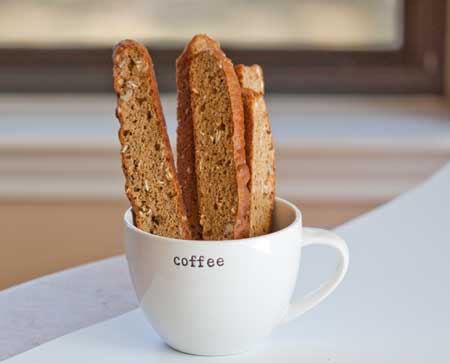 In my opinion, this recipe was slightly better than the other banana biscotti recipe, but maybe I just liked it due to the fact I was really hungry at the time.  A  second opinion would be great, so if you try it let me know!
Here are some notes:
Because the batter is softer than usual biscotti, you bake it in a pan. If you make mandel bread, it's a similar process.
I made mine in an 8 inch square pan and got a rather small batch of biscotti. If you make it and love it, you can double the recipe and make two 8 inch pans.
The second bake time, or the baking period that toasts or dries out the biscotti, was about an hour at 250F. I suspect it's because this dough had more moisture thanks to the bananas.
And finally, I used white whole wheat flour, but all-purpose should be just fine. If you experiment with regular whole wheat, I'd be curious to know how that turns out.
Banana Biscotti
1 ½ very ripe bananas
1 large egg
½ cup brown sugar
2 tablespoons granulated sugar
2 tablespoons vegetable oil
1 teaspoon vanilla extract
1 ¼ cup (5.6 oz) white whole wheat flour (or all-purpose)
½ teaspoon baking soda
½ scant teaspoon salt
½ cup oats
⅓ cup chopped, toasted pecans
Preheat oven to 350°F. Line an 8x8 inch square metal pan with foil and spray with non-stick baking spray.
In a mixing bowl, using an electric mixer, mash the banana and then beat it until smooth. Beat in the egg, followed by the brown sugar, granulated sugar, vanilla and oil.
In a second bowl, thoroughly mix together the flour, baking soda and salt. Gradually stir flour mixture into banana mixture to make a very thick batter. Stir in the oats and pecans. Pour into the baking pan and spread evenly. Bake on center rack for 32-35 minutes or until top appears brown. Let cool for about an hour or until completely cool. Remove from pan by lifting foil.
Transfer cake to a cutting board and with a large serrated knife, make ½ to ¾ inch thick slices cross-wise and slightly on the diagonal. Lay the cut pieces on a baking sheet and bake at 250F for about an hour, checking and turning every 20 minutes. Remove from oven and let cool & crisp. Biscotti may not be completely crisp when you take it out, but it should crisp as it cools. If not, just put it back in the oven for another 10-20 minutes.