A special sugar cookie recipe appeared in my inbox this week.  It's from Jean Philippe Patisserie, which you've probably seen if you've walked through the Bellagio hotel. It's hard to miss with the long line of people waiting for gelato and the big chocolate fountain, plus it's the only place I can think of to get coffee around there.    A little less crowded (and more relaxing, in my opinion) is the other shop over in the Aria casino.  What I like to do is play video poker until I'm up and then force myself to stop and go spend the winnings on sweets. But since I can't do that this year, I just baked some sugar cookies with the Jean Philippe Christmas cookie recipe. How do you like them?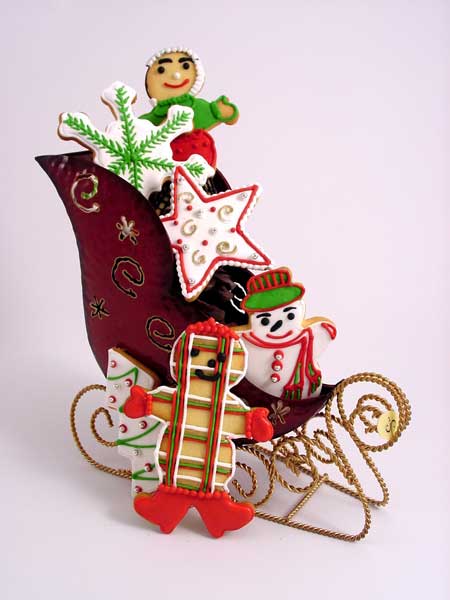 Oh wait.  These are the ones I made.  Sorry.  The ones above are from the professionals.  Anyhow, I had fun trying to improve my decorating skills and am happy to have a new cut-out cookie recipe for the collection.  The cut-outs puff out a tiny bit, but they still hold their shape nicely, and the bit of sour cream in the dough keeps the centers tender without being soft or cakey. The dough was easy to work with too, which is always a plus, but I did have to flour the board pretty well to keep the cookies from sticking. If you try the cut-outs, let me know. Conversely, if you have any video poker tips, let me know.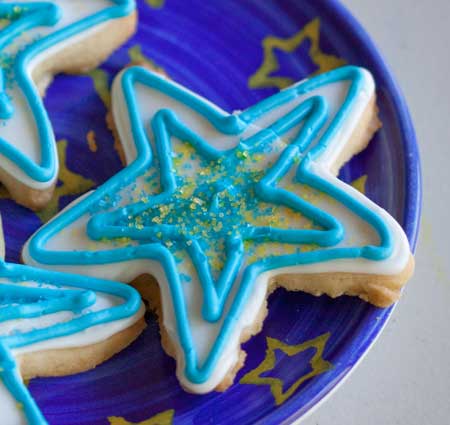 Jean Philippe Patisserie Christmas Cookie Recipe
Cookies
3 cups (13.5 oz) all purpose flour
1 teaspoon baking powder
1/2 teaspoon salt
1 cup (2 sticks) unsalted butter, room temperature
1 cup sugar
1 large egg
2 tablespoons sour cream
1 teaspoon vanilla extract
Additional granulated sugar
Sift first 3 ingredients into medium bowl. Using an electric mixer, beat butter and 1 cup sugar in a large bowl until well blended. Add egg, sour cream, and vanilla; beat 1 minute. Beat in dry ingredients in 2 additions until just blended. Gather dough together; divide in half. Flatten each half into disk; wrap in plastic and chill 1 hour. (Can be made 1 day ahead). Keep chilled. Soften dough slightly at room temperature before rolling out.)
Line 2 baking sheets with parchment paper. Sprinkle work surface and top of dough disks with additional sugar. Working with 1 disk at a time, roll out dough to 1/4-inch thickness (dough will be very soft). Using assorted 2- to 3-inch cookie cutters, cut out cookies. Transfer to prepared sheets, spacing 1 inch apart. Gather scraps and roll out on sugared surface; cut out more cookies. Repeat until all dough is used. Chill all cookies on baking sheets at least 15 minutes and up to 1 hour.
Preheat oven to 350°F. Bake cookies, 1 sheet at a time, until light golden at edges, about 12 minutes. Transfer cookies to racks and cool completely.
Icing
4 cups (or more) sifted powdered sugar (sifted, then measured)
3 tablespoons (or more) egg white
1/2 teaspoon vanilla extract
1/2 teaspoon Lemon Juice
Colored sugar crystals, sprinkles, and/or decors
Food-safe water based colors
For icing:
Combine 4 cups powdered sugar, 3 tablespoons Egg white, vanilla and Lemon juice in medium bowl. Stir until icing is well blended, smooth, and spreadable, adding more egg white by teaspoonfuls if too thick or more sugar by tablespoonfuls if too thin. Add the chosen coloring. Using small icing spatula or table knife spread thin layer of icing atop each cookie. If using colored sugar crystals, sprinkle over cookies before icing sets. Decorate cookies as desired. (Can be made 3 days ahead. Store airtight between sheets of waxed paper at room temperature.)