It's more fun than practical, but you really can make brownies with cheddar cheese soup. I tried the cheese soup brownie yesterday using the "Saucepan Brownies" recipe from Campbell's Creative Cooking with Soup, a book I've had for 20 years. How I skipped this recipe for two decades is baffling because I go through this book all the time. I guess I've been mentally writing the dessert section off, but I'm glad I finally tried this one because in a post-apocalyptic kitchen where all I've managed to save includes a case of cheddar soup and some chocolate chips, it would be a real life saver.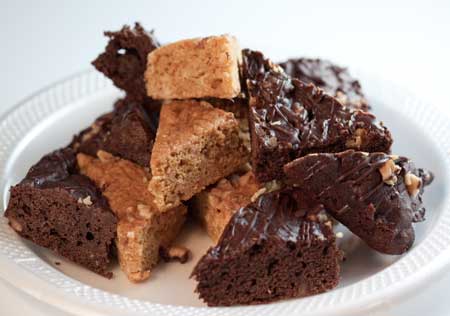 The brownies were okay -- not great, but not bad either and the soup was undetectable. The brownies were dense, but not too rich and needed something to liven up the texture, which is why I'd recommend throwing in some extra chocolate chips before baking. Since I didn't known they'd need extra chips, I just melted some extra and drizzled them on at the end.
This is a half batch version using an 8 inch square pan. If you're taking these to a party and want more, double the recipe below and use a 13x9 inch pan. If you don't like fractions or just don't believe that this recipe really exists, here's a link to where someone posted it on a Campbell's Cooking Bulletin Board. See! I'm not kidding! But here's the half-batch version. I also tried the butterscotch variation (see below), which had a good flavor but a weird mealy texture.
I'm going to eat one again today and am not throwing them out, so I didn't find them bad enough for the trash can, which is more than I can say for a lot of other cookies.
Saucepan Cheese Soup Brownies
2 oz (4 tablespoons) butter (salted or unsalted)
1 cup (6 oz) semisweet chocolate chips
¼ cup granulated sugar
½ of a can (about 51/2 oz) of cheddar cheese soup -- not the nacho flavored type!
1 large egg, beaten
¾ cup (3.4 oz) all-purpose flour, sift or fluff up and measure lightly
1 teaspoon baking powder
½ cup toasted walnuts, roughly chopped
Optional: An extra ½ cup chocolate chips
Preheat the oven to 350 degrees F. Line an 8 inch square pan with non-stick foil.
In a saucepan, melt the butter over medium heat. Reduce heat to low and add the chips. Stir until they're melted. Remove from heat and stir in sugar, then stir in the soup. Stir in the already beaten egg, then stir in the baking powder and the flour. Add the nuts (and extra chocolate chips, if using), then scrape into the pan. Bake for 24-26 minutes or until brownies appear set. Let cool completely then chill thoroughly.
When cold, lift from pan and cut into 16 squares.
Variations
Use butterscotch chips in place of chocolate chips, brown sugar in place of sugar and coconut instead of walnuts.
Use white chips for chocolate chips, light corn syrup instead of sugar and pistachios instead of walnuts.