If you're trying to find the perfect cookies for Santa – something sweet, yet nourishing enough to keep his energy level up, here's a really good oatmeal raisin cookie. It's adapted from a City Bakery recipe, but as usual, I made a few changes to suit Santa's taste. I really hope he likes Vietnamese cinnamon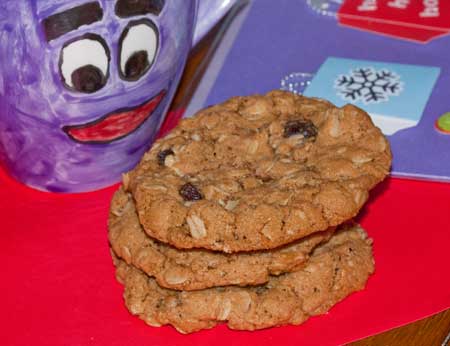 My changes to City Bakery's cookie were to add salt, vanilla, toasted walnuts and some Vietnamese cinnamon I acquired as a gift. City Bakery also recommends chilling the dough. I chilled some of it, but I also baked a few cookies right away and they were very good. These cookies are big, sweet, fairly chewy and perfect for packing in tins or sacks. Santa will love them, just be sure to serve them with some protein-packed milk to keep his blood sugar stable.
Oatmeal Raisin Cookies for Santa
Oatmeal cookies with raisins
Ingredients
1 1/2 cups (6.8 oz) all-purpose flour
1 teaspoon baking soda
3/4 teaspoon salt
1 teaspoon cinnamon
2 2/3 cups old fashioned oats
2 sticks (8 oz) unsalted butter, room temperature
3/4 cup granulated sugar
1 cup plus 1 tablespoon dark brown sugar, packed
1 teaspoon vanilla extract
1 large egg
2/3 cup raisins, flame and golden (mixed)
3/4 cup walnuts, toasted and coarsely chopped
Instructions
Preheat the oven to 350 degrees F. Line 2 baking sheets with parchment paper.
Thoroughly stir the flour, baking soda, salt and cinnamon together in a bowl. Add the oats and stir well. Set aside.
In a large mixing bowl, beat the butter and both sugars until light and creamy. Add the vanilla and egg and beat just until mixed. Using lowest speed of mixer (or by hand), stir in the flour mixture, followed by the raisins and nuts. The batter will be very thick.
Scoop up very generously rounded tablespoons (you'll be using about 2 tablespoons total) of dough and shape into dense balls. Put the balls on a plate and chill until ready to use or bake immediately.
Bake for 10-12 minutes at 350F. Let cool on baking sheets for about 2 minutes, then transfer to a wire rack.