I'm posting today's cookie in honor of Gloria Pitzer -- mother of all "secret recipes". She's also the mother of Michael Pitzer, who after years of doing nothing with www.secretrecipes.com, is bringing it back to life and hopes to have all his mom's creations from 30 years of recipe developing, on one page. It might take a while, so In the meantime you can read about Gloria in the "About" section. And where is she now? Well, she's semi-retired and tackling nickel slots. This totally fits in with my plan to eventually abandon Cookie Madness and buy into the World Series of Poker. But first, I have to work on my Texas Hold 'Em. For now, here's a cookie.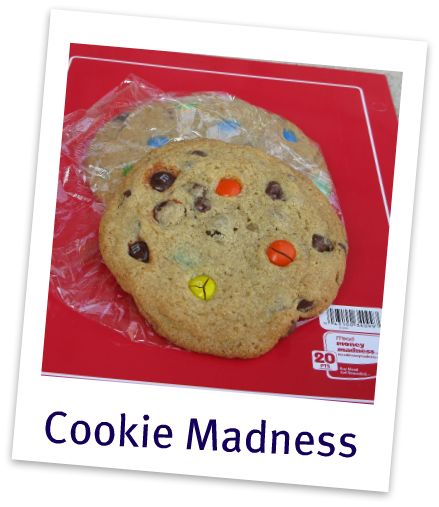 This is a clone of those big, flat, cookies see on the checkout counter of Walgreen's and certain quickie marts. They're hard not to notice because they seem strangely out of place and yet right at home, stacked next to the Blue Blockers and Skoal. At first, I thought the cookies were made by some little old lady in a nearby town I'd never heard of called Prairie City. Then I got an email from my friend Val in CT saying her store had Prairie City Bakery cookies too. I finally picked up a cookie, read the label and saw that Prairie City is a pretty big outfit. I asked the clerk if the cookies were any good. He said "Try the M&M ones".
Well, I decided to make my own and in honor of Gloria Pitzer, am calling them "Scary City" – not that there's anything scary about them. Of course, you could make them scary for Halloween by using scary colored M&M's.
Barley Flour
P.S. The secret is the barley flour. I had to go to three stores to find it, but it was worth it because it adds a little crunch and flavor. I think it also might help keep the cookies fresher longer. If you can't find the barley flour, you can use all purpose flour instead. The cookies won't be the same, but they will still be good.
Scary City Cookies
1 stick (114 grams) unsalted butter
½ cup (98 grams) granulated sugar
6 tablespoons (78 grams) packed light brown sugar
1 teaspoon vanilla extract
1 large egg
½ teaspoon salt
½ teaspoon baking soda
¾ cup (92 grams) all purpose flour, lightly spooned and swept 3.2
¾ cup (75 grams) barley flour
Handful of semi-sweet chocolate chips
Handful of M&Ms
Preheat oven to 325 degrees F. Line a large, un-insulated cookie sheet with parchment paper.
Beat butter and both sugars in a mixing bowl, using an electric mixer, until light and fluffy. Beat in the vanilla and egg. Add salt and soda and beat well, scraping sides of bowl and making sure there are no stray lumps of soda. Add both flours and stir by hand until flour is absorbed. Stir in chocolate chips and M&Ms.
Divide dough into 6 equal sections and shape into 3 inch discs. Place 3 discs, spacing as much as possible, on each cookie sheet. Bake for 22-25 minutes or until cookies have brown edges.
Makes 6 big cookies