This year's cookies for Santa are Macadamia Almond Chocolate Coconut Oatmeal Cookies! Santa won't be visiting for a couple of weeks, but I'm sharing the recipe now so you'll have plenty of time to try it. These are thick, hearty, chocolate & nut packed cookies with a chewy center and slightly crunchy shell.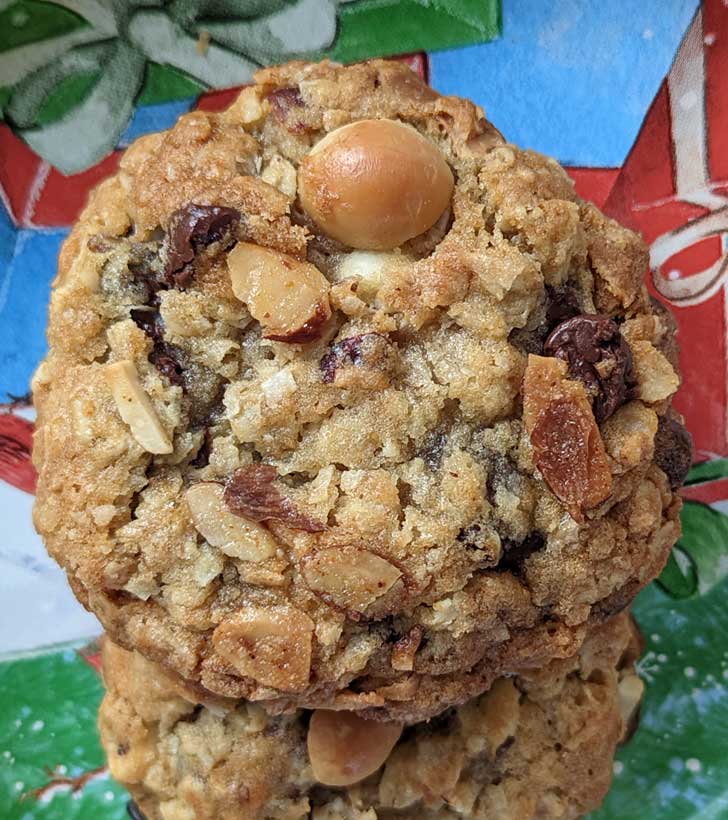 I've made these for years in different forms, varying the nuts somewhat and going back and forth between unsweetened and sweetened coconut (both work). No matter what combination of nuts are used, these cookies always get compliments. Or at least from coconut and nut fans. If you are not a coconut fan you can leave it out and increase the nuts and oats by ¼. I do not recommend leaving out the nuts. If you need a good oatmeal chocolate chip cookie recipe without nuts, try the Barbara Bush recipe or the Dark Chocolate Oatmeal which are good with or without the nuts..
Starting in a Hot Oven and Lowering the Heat
One step I always do with this recipe which may seem a little quirky is to start the cookies in a hot 375 degree oven, bake for 10 minutes, then reduce heat to 350 for the duration. I believe this gives the cookies a head start in browning and contributes to their crunchy on the outside and chewy on the inside texture. I've also found that these cookies are a little better when they are completely cool.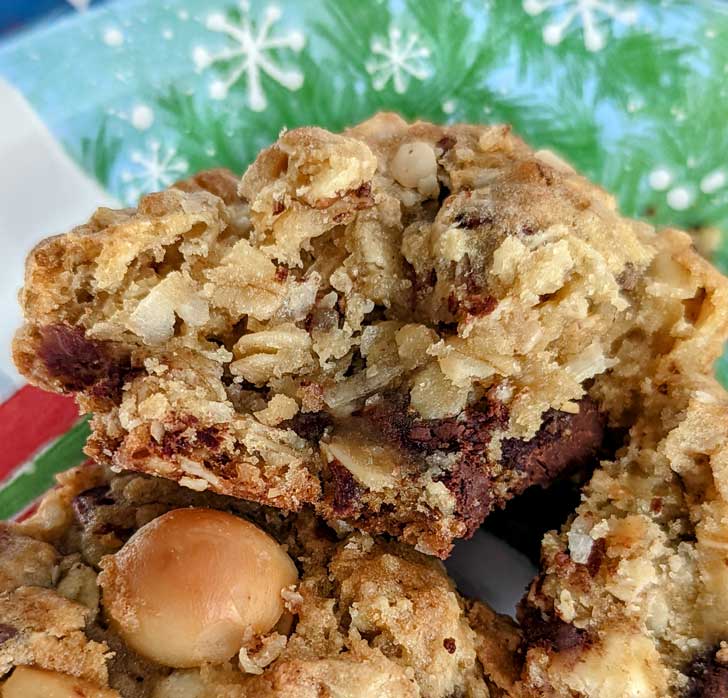 Also, Happy Holidays and thank you for reading Cookie Madness. I hope everyone who reads this has a wonderful 2022.
More Cookies for Santa (Coconut-Loving Santa)
Recipe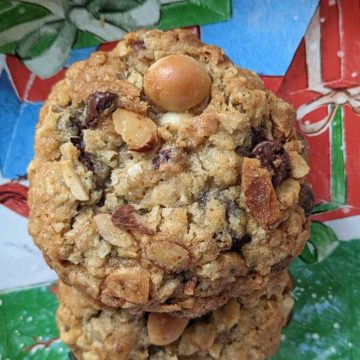 Macadamia Almond Chocolate Chunk
Use your favorite nuts in these thick, hearty, chunky cookies.
Ingredients 
1

stick

unsalted butter, cold, cut into chunks

(114 grams)

½

cup

light brown sugar, lightly packed

(100 grams)

¼

cup

granulated sugar

(50 grams)

1

large

egg

1

teaspoon

vanilla extract

½

teaspoon

salt

½

teaspoon

baking soda

⅛

teaspoon

cinnamon

can use more if desired**

1

cup

all-purpose flour, spooned lightly into cup or weigh

(125 grams)

1

cup

oats, old fashioned

½

cup

flaked or shredded coconut, sweetened or unsweetened

1

cup

bittersweet chocolate chips

or your favorite chocolate

½

cup

roasted almonds, slightly heaping or 130 gram

⅓

cup

roughly chopped macadamia nuts

Optional: A handful or so of butterscotch chips
Instructions 
In the bowl of a stand mixer with a paddle attached, beat the butter until creamy. Add sugars and beat for about 3 more minutes, scraping the bowl often.

Add egg and beat until just blended, then beat in vanilla, salt, and baking soda, scraping bowl.

Add flour and mix at low speed until just blended. Stir in oats, coconut, chocolate, and nuts.

Using a ¼ cup measure as a scoop, scoop up about 10 mounds of cookie dough and set on a plate lined with plastic wrap. Mold each mound into a compact ball and then flatten slightly. If dough is too soft to handle, chill it for about 14 minutes then shape the balls to make them more compact.

When ready to bake, place on parchment lined baking sheets.

Preheat the oven to 375 degrees.

Bake the cookies at 375 for about 10 minutes, then rotate the pan and lower heat to 350. Continue baking for another 5 to 8 minutes or until they are browned.
Notes
You can leave the cinnamon out if you prefer. I normally don't like cinnamon in chocolate chip type cookies, but in this case a little tiny bit of it enhances the cookie. If you want a more pronounced cinnamon flavor the cookies are still good with up to ½ teaspoon.