Is it granola or a sweet Chex Mix? I needed the answer, so I made a half-batch of the recipe on the back of H.E.B.'s copy-cat version of Honey Nut Chex, Honey Nut Squares.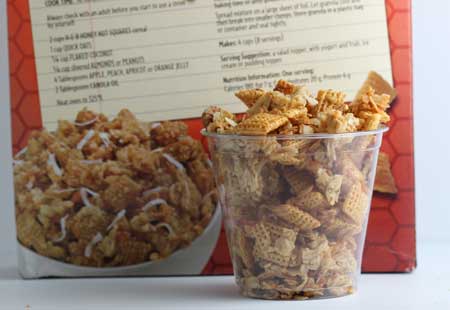 The picture on the box looked like a cross between granola and cereal, but mine (and I made it twice) was more like a sweet Chex Mix. And what's really neat is that it's held together by your favorite flavor of jelly, so you can make it whatever flavor you want. I used orange marmalade, but since I had to make it twice, I discovered that swapping out a little of the marmalade for honey helped hold it together better and toned down the orange flavor. But the honey is not necessary.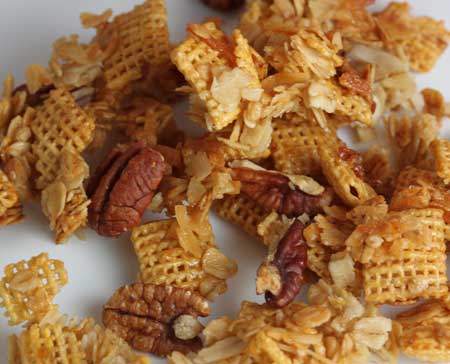 Honey Nut Crunch Granola aka Sweet Chex Mix
2 tablespoons of your favorite (reasonable!) flavor of jelly (softened) or orange marmalade or 1 T. jelly and 1 T. honey
1 tablespoon vegetable oil
½ cup oats, I used old fashioned
2 tablespoons coconut
¼ cup pecans, almonds or walnuts
1 cup Honey Nut Chex or H.E.B. Honey Nut Squares
Preheat oven to 325ºF. Line a large rimmed baking sheet with parchment paper or non-stick foil
Put the softened jelly or orange marmalade (and honey, if using) in a bowl. Add the vegetable oil, oats, coconut and nuts and stir well. Add the Honey Nut Chex/Squares and toss gently so that the cereal picks up some of the coating. It's more important that the oats get lots of coating so they're not too loose...unless you like them loose.
Spread mixture on the baking sheet and bake at 325 F for 20 minutes, stirring twice. At first I thought it wasn't done and added an extra 5 minutes. It was burnt, so watch carefully at 20 minutes. Let cool completely. Break up a bit and eat.
Makes 2 cups or 4 servings