Do you ever plan the evening meal around the bread? I don't do it often, but yesterday I made this Chunky Beef Chili (which was excellent, btw) because it seemed like a good accompaniment to these cheddar cheese biscuits.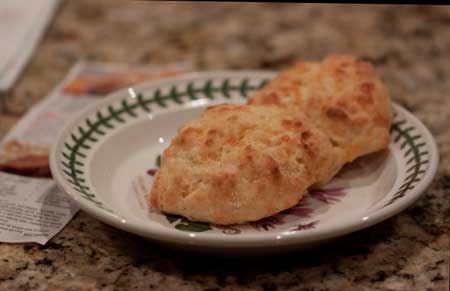 I yanked this recipe out of a Nestle ad in Food Network magazine. Its interesting feature was powdered milk, which I've been buying since I started reading Christina' Tosi's cookbook. I'd hoped it would help keep the biscuits tender, and I guess it did because they were melt-in-your-mouth delicious. But that could have just been the 6 oz of cheese.   At any rate, they were very good and I'd make them again if we ever finish this batch.  Todd hates cheddar cheese so I only made a small batch and frozen the rest. Half batch version is below and here's a link to Nestle's Cheddar Cheese Biscuits.
Oh, and one final note. I mixed all the dry ingredients early in the day, put them in the refrigerator, then added water and baked right before dinner.
Half Batch Cheddar Cheese Biscuits from Very Best Baking
1 cup (4.5 oz) all-purpose flour plus additional for kneading
¾ cups (3 oz.) shredded cheddar cheese
¼ cup dry NESTLÉ® CARNATION® Instant Nonfat Dry Milk
1 tablespoon granulated sugar (I recommend "scant" because I could taste the sugar)
1 teaspoon baking powder
¼ teaspoon salt
3 tablespoons cold butter, cut up (I used unsalted)
½ cup plus ½ tablespoon water-- add gradually and don't dump it all in!
Preheat oven to 400 degrees F. Grease a baking sheet or line it with parchment paper or non-stick foil.
Mix the cheese, dry milk, sugar, baking powder and salt in medium bowl. Cut in butter with pastry blender or 2 knives to make coarse crumbs. Stir in water just until moistened (important -- I dumped it all in and had a very soft dough)
Knead dough (About) 10 times on lightly floured surface. Pat into 4 x 6-inch rectangle. Cut into 6 biscuits. Place biscuits about 2 inches apart on prepared baking sheet and bake for 12 to 16 minutes or until light golden brown. Serve warm.